We're Sorry
There was an unexpected error with the form (your web browser was unable to retrieve some required data from our servers). This kind of error may occur if you have temporarily lost your internet connection. If you're able to verify that your internet connection is stable and the error persists, the Franklin University Help Desk is available to assist you at helpdesk@franklin.edu, 614.947.6682 (local), or 1.866.435.7006 (toll free).
Just a moment while we process your submission.
Will My Associate Degree Transfer To Any College?
Associate degrees can be a valuable stepping stone in your career. There are many reasons—from cost to time commitment—that urge people to get their associate degree before jumping into a bachelor's degree program.
However, if your long-term goal is to earn your bachelor's degree, you want to make sure that the time, effort and cost of an associate degree is worth it. It all comes down to whether your associate degree will transfer to the bachelor's degree program of your choice. Since transfer credit is determined on a school-by-school basis, and not all states guarantee the transfer of an associate degree, it pays to do your homework. 
Here's your guide to maximizing your associate degree transfer credits.
5 Factors That Determine If You Can Apply Your Associate Degree Toward a Bachelor's Degree
While some associate degrees are designed for a specific technical or occupational career, others are built to serve as the foundation for a bachelor's degree. If your associate degree is fully accepted you will earn approximately 65 credits toward your bachelor's degree and enter at a junior-level standing.
However, the transfer of your associate degree may not be guaranteed and the number of credits accepted may vary by institution.
Keep these 5 factors in mind to help determine how effectively your associate degree will transfer: 
The state where you want to earn your degree. Currently, 30 states have a statewide guaranteed transfer of an associate degree. This policy guarantees students who earn an associate degree before transferring to a four-year institution can transfer all of their credits. The majority of policies state that students are not required to complete any further general education courses. See if your state guarantees your associate degree will transfer.
The "transfer friendliness" of the 4-year institution you want to attend. Plain and simple, some colleges make it easier to transfer credit than others. While some colleges would prefer you pay to earn credits at their institution, others welcome transfer credit with open arms. For example, Franklin University accepts up to 94 transfer credits toward a bachelor's degree. That means you can maximize your associate degree, plus more, to satisfy up to 75% of your bachelor's degree requirements.
Accreditation status of your associate degree program. Program-level accreditation through a well-known and respected accrediting body can make it easier for your credits to transfer. Since the associate degree is proven to adhere to high standards that align with bachelor's degree requirements, these credits may translate to meeting more major requirements.
Similarity of your associate degree and bachelor's degree requirements. If you change your area of study, more of your associate degree credits may be applied toward electives, rather than checking off required major courses. By defining your area of study early on, you can prioritize taking classes that will put you further ahead in accomplishing your bachelor's degree.
Whether or not you finish your associate degree. Completing your degree will benefit you greatly. If your state has a degree transfer guarantee, it will ensure all of your credits transfer. If not, each course may be subject to scrutiny and may not result in maximized transfer credit.
The Math That Determines How Much Transfer Credit You Will Receive
Colleges have dedicated transfer credit departments that determine the number of transfer credit hours you receive and the course equivalencies between the two institutions.
When a transfer credit department looks at your associate degree, here's how they evaluate transfer credit:
Look at course descriptions to ensure there is significant similarity between the courses you took to earn your associate degree and the courses required to earn a bachelor's degree at their college. If enough information cannot be gleaned from the description, the department will reach out to your associate program for course syllabi.
Determine which courses count toward general education, major and elective requirements. Typically, all general education requirements are met in an associate degree program. Transfer credits for major course requirements tend to vary the most.
Define the total number of transfer credits and remaining credits and courses required to earn your bachelor's degree. For colleges that accept all credits from an associate degree, you will typically only need to complete two additional years of full-time coursework to fulfill the requirements for a bachelor's degree.
However, some institutions go further in maximizing transfer credit. Franklin University offers one-on-one transfer credit support from the time you start researching associate degrees. The transfer credit department can help you proactively find an associate degree program that transfers in full, as well as bridge courses that can be completed at a community college to meet major requirements at Franklin. 
Franklin has established 3+1 partnerships with community colleges that allow you to complete 3 years of study at your community college and one year at Franklin, which can save 40% of the total cost of a bachelor's degree.
By finding the right college or university, you can reap the full benefits of getting your associate degree first.
4 Benefits of Getting an Associate Degree Before Transferring to a Bachelor's Degree Program
There are many benefits to earning your associate degree before pursuing a bachelor's degree. Many of these benefits depend on your personal circumstances and which degree is the best fit for your needs as a student. 
Four of the top benefits for many professionals include:
Save on Tuition Costs. The number one benefit of earning an associate degree is cost savings. If you earn your associate degree at a community college, you can save a significant amount of money. According to the National Center for Education Statistics, in the most recent full-year data for 2017-2018, the average yearly cost of 2-year institutions is $10,704. Compare that to the average $27,357 at 4-year colleges, and you can experience significant savings by completing an associate degree before your bachelor's.
Explore Different Areas of Study. If you're unsure what you want to major in, an associate degree can provide a lower cost way to explore the different possibilities. Some community colleges also offer career shadowing, which can provide a tangible way to experience the day-to-day responsibilities of different jobs. Even if you decide to pursue a different major at the bachelor's level, your associate courses often transfer as general education or elective credits.  
Jumpstart Your Career. Maybe you can't commit to a 4-year degree right now. An associate degree can provide a launchpad for your career by helping you qualify for new positions. According to the Bureau of Labor Statistics (BLS), employment in associate and postsecondary nondegree-level occupations is projected to grow 11 percent from 2016 to 2026, faster than the 7-percent average projected for all occupations. 
Increase Earning Potential. According to the BLS, a person with a high school diploma can expect median earnings of $746 a week, while a professional with an associate degree can expect to earn $887. This increase in earnings equates to approximately $7,332 more dollars per year. You can expect another significant increase with a bachelor's degree, to $1,248 per week, which is why many associate degree holders go on to get their bachelor's degree.
Tips to Maximize Transfer Credit if You Get Your Associate Degree First
What's the number one piece of advice for maximizing transfer credit? Plan ahead as early as possible.
Research community colleges that have partnerships with four-year programs and can guarantee credits will transfer. 
Connect with transfer credit departments at your desired 4-year institution early in the process because they can help create a roadmap for success.
Choose a bachelor's degree you want to earn and match those requirements to substantially similar courses offered at your community college.
Find a 4-year institution that will accept a wide variety of transfer credits—not limited to previous college courses—including professional credit, military credit or test credit.
Choose a 4-Year University that Makes It Easy to Transfer Your Associate Degree
Franklin University's goal is to help maximize your transfer credit to save you time and money in earning your bachelor's degree. At Franklin, you can finish faster by applying up to 94 credit hours of previously earned college credit to your bachelor's degree. Plus, our transfer-friendly process makes it simple and seamless to evaluate your eligibility. 
Learn more about the transfer credit process at Franklin University and how we can help you accomplish your goal of becoming a bachelor's degree graduate.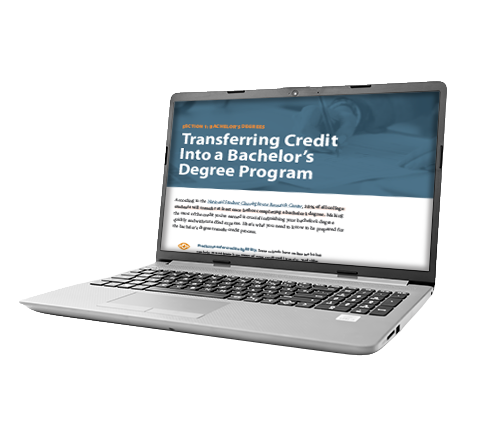 Download Now
Maximizing Your College Transfer Credit
Learn the five things you need to know, at every academic level, to make the most of your transfer credit – including credits from technical/community college and military training.