Student Life
The Office of Student Life

As a Franklin University student, you will be exposed to opportunities to learn both inside and outside your classes. To assist with this educational process, Franklin offers a specific functional area to both support and challenge you along this developmental journey through advocacy, resource attainment and engagement.

The Office of Student Life seeks to impact the co-curricular learning experience through purposeful interaction and intentional opportunities for growth and learning.

The Office of Student Life maintains three primary functions:
Student Ombuds: Serves the purpose of assisting students in overcoming obstacles and challenges in pursuit of their education. Offers opportunities to facilitate informal resolution options toward a variety of student issues.
Financial Wellness: Serves the purpose of assisting students in achieving increased knowledge and awareness surrounding the impact of financial competency both inside and outside of their formal education.
Student Organizations: Provide opportunities for involvement, learning and networking through both academic and co-curricular student collaboration. Please see below for a listing of student organizations.

For questions or additional information, please contact Christopher Tyner, Director of Student Experience and Student Ombuds, at 614-947-6781, or by e-mail at: studentlife@franklin.edu.

Experiencing an obstacle or challenge to your education at Franklin? Please take a moment to fill out the Student Ombuds Referral Form, which can be downloaded here. You will need to completely fill it out, save it and send as an e-mail attachment to studentlife@franklin.edu A Franklin staff member will be in contact with you within 2-3 business days.
Student Organizations

As a Franklin University student, you have access to a wealth of opportunities for personal and professional growth. Get involved as a student officer to serve your University community by joining one of Franklin's student organizations.

Our professional organizations will help you increase your social network by working with Franklin faculty and staff members, experienced business professionals, and peers.
Choose a student organization that interests you and connects you with other Franklin students with common interests, beliefs, or cultures.

Alpha Phi Sigma
Alpha Phi Sigma is Franklin University's Criminal Justice Administration Honor Society and recognizes academic excellence of Undergraduate and Graduate students of Criminal Justice, as well as Juris Doctorate students. Our local chapter, Pi Nu, yearns for students who are aspiring to develop within the criminal justice communities and assist in service to the university's chapter activities. Upon meeting the qualifications for membership, there are many advantages and opportunities such as: professional networking, involvement in research, scholarships, certifications, and recognition at local and national levels.

Association for Computing Machinery's Committee on Women in Computing (ACM-W)
Join with other women in computing and those who support women in computing for activities involving professional development, service, and promotion of computing among women in the industry. Take advantage of the benefits offered to student members of the national ACM-W professional organization.

Franklin University Nursing Honor Society (FUNHS)
The Franklin University Nursing Honor Society is comprised of current Franklin nursing students, as well as alumni, and community nurse leaders and invites members once a year. The society acknowledges nursing students who have excelled in their academic work and provides an opportunity for professional growth through networking and lifelong learning.

Franklin University Student Veteran's Alliance (FUSVA)
The Franklin University Student Veteran's Alliance (FUSVA) is a chapter member of the Student Veterans of America Organization. The mission of the organization is to provide military veterans and their families with resources, support and assistance in transition to both higher education at Franklin and the local community.

National Society of Collegiate Scholars (NSCS)
Become a member of an established honor society focused on service and making a difference in communities around the world. NSCS is a member of the Association of College Honor Societies, with chapters at more than 300 schools in the country and more than 800,000 members.

Scienta Pietas Veritas (ScPi)
Scientia Pietas Veritas (SciPi) is Franklin's Healthcare Honor Society for current and alumni healthcare students. SciPi recognizes academic excellence and promotes community service of its members. The organization is governed by students, alumni and healthcare professionals. The name is Latin for "Knowledge, Compassion & Truth" and represents key healthcare leadership qualities.

Sigma Beta Delta International Honor Society
Sigma Beta Delta is a selective honor society that encourages and recognizes scholarship and achievement among students in business, management, and administration programs. Selection is based on GPA, class level, and residency completion.

The Society for Human Resources Management (SHRM)
The SHRM Student Chapter at Franklin University allows students to join in with other students of similar interest in the human resources, training, or instructional design fields.


Start a New Organization
Student organizations can enhance the Franklin experience for involved students, as well as the broader Franklin community. If you are interested in establishing a new organization, please email studentlife@franklin.edu for more information.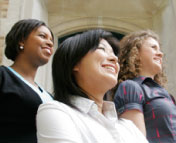 Ready to start an application?
Franklin's student-centered philosophy is one of the many reasons so many students choose us!
START YOUR APPLICATION