We're Sorry
There was an unexpected error with the form (your web browser was unable to retrieve some required data from our servers). This kind of error may occur if you have temporarily lost your internet connection. If you're able to verify that your internet connection is stable and the error persists, the Franklin University Help Desk is available to assist you at helpdesk@franklin.edu, 614.947.6682 (local), or 1.866.435.7006 (toll free).
Just a moment while we process your submission.
Bookkeeper vs. Accountant: Comparing Career Paths and Growth Potential
For aspiring finance professionals, the question of bookkeeper vs. accountant is common. Initially, bookkeepers and accountants take the same foundational accounting courses. However, accountants go on for further training and education, which results in differences in their roles, earnings expectations and career growth.
This guide will provide a detailed breakdown of what separates bookkeepers from accountants, so you can understand which accounting role is the best fit for your career aspirations now and in the future.
Bookkeeping vs. Accounting: What's the Difference?
Bookkeeping and accounting are sometimes used interchangeably—but there are distinct differences between these roles. From required education to day-to-day responsibilities, let's compare bookkeepers vs. accountants.
Bookkeepers: Bookkeepers have a narrow focus within a business. A bookkeeper's role is very literal and tied directly to the numbers. These professionals compute, classify and record financial data to keep financial records complete. They perform routine calculations and use accounting software to ensure transaction histories are accurate.
Accountants: Accountants need to have a holistic and comprehensive picture of a business's financial health. They ensure taxes are paid properly, identify potential areas of opportunity and risk, and assess financial operations. An accountant's role is more subjective and lends itself to the interpretation of data and regulations to help a business perform at maximum efficiency.
Here's an easy way to think about it—bookkeepers lay the groundwork by recording financial transactions so that accountants can analyze financial statements and provide strategic recommendations. 
 
5 Things Accountants Do That Bookkeepers Don't
Due to the additional education and training required to become an accountant, there are exclusive responsibilities that bookkeepers can't perform. 
Accountants are responsible for:
Signing off on year-end accounts: While a bookkeeper can help prepare all of the financial information that goes into end-of-year reconciliations, it is the responsibility of an accountant to ensure all information is accurate, track down any inaccuracies and resolve them.
Providing tax advice: A bookkeeper may help produce tax documents, but they don't have the detailed tax code knowledge to provide tax advisory, conduct tax planning, and file annual tax returns. It's the responsibility of an accountant to help business owners maximize their tax credits and deductions, and to ensure taxes are properly paid. 
Analyzing financial performance: Accountants review the financial information and basic reports provided by bookkeepers. They provide insights into financial trends, cost-cutting opportunities, and risk assessment in order to help businesses operate more effectively. 
Performing audits: Accountants perform internal audits to ensure accounting best practices are being followed and financial information is being tracked and stored appropriately.
Producing financial forecasts: While bookkeepers are focused on day-to-day financial data, accountants use current and historical financial information to forecast future business performance.
Bookkeeper vs. Accountant: Salary and Growth Trends
Accountants have higher salary and growth expectations than bookkeepers. To maximize earning potential and secure long-term job stability, it's worth pursuing a career as an accountant.
According to leading labor market analytics firm EMSI, the median annual salary for a bookkeeper is $42,411. Accountants, on the other hand, earn a median annual salary of $73,570, which is a 73% increase compared to a bookkeeper. This increase can be primarily attributed to the education, training and strategic role of an accountant.
Accountants are also projected to be highly sought-after over the next 10 years. The growth projection for accountants is 6.1%, while job demand for the bookkeeping profession is expected to decline by 1.9%. This decline can be attributed to the role of technology in automating many of the transactional functions of bookkeepers. Popular software has made it possible for many business owners to track their financial information, while accountants provide deeper insights and advice that software can't replicate. 
Bookkeeper vs. Accountant: Long-Term Career Paths
When it comes to long-term growth, bookkeepers should look to gain the qualifications needed to become an accountant.
Unless an individual has a bachelor's degree, the growth potential for bookkeepers is limited. However, a bookkeeping job can be a good stepping stone for a long-term career in accounting. There are many professionals who earn an associate degree in accounting in order to become bookkeepers. This path allows them to get their foot in the door while earning a good entry-level salary. 
Plus, associate degree credits can be applied toward bachelor's degrees when a bookkeeper is ready to advance. At a transfer-friendly university, such as Franklin University, up to 76% of the credits required for a bachelor's degree in accounting can be transferred.
After earning a bachelor's degree in accounting and becoming an accountant, career opportunities are wide open. Accountants can work in a wide variety of sectors, including private industry, public accounting, government and nonprofits. 
If an individual wants to work at a public accounting firm, becoming a CPA is a must to advance to management. If an accountant wants to work for a single company, they can advance to management and beyond without a CPA license. More and more, accountants are being looked to as experts in financial analysis, which can open the door all the way to the executive suite. 
Find The Right Accounting Program For Your Goals
Earning your bachelor's degree in accounting is the first step to a life-long career in the field. Luckily, a bachelor's degree is more attainable than ever before.
Transfer-friendly programs, online courses, and dedicated services for working professionals make Franklin University a top choice for those seeking a bachelor's degree in accounting. The B.S. in  Accounting will teach you accounting best practices, industry-standard software, and financial analysis skills that will set you up for success.
Explore the bachelor's degree in accounting to see how it can fuel long-term career growth in this exciting field.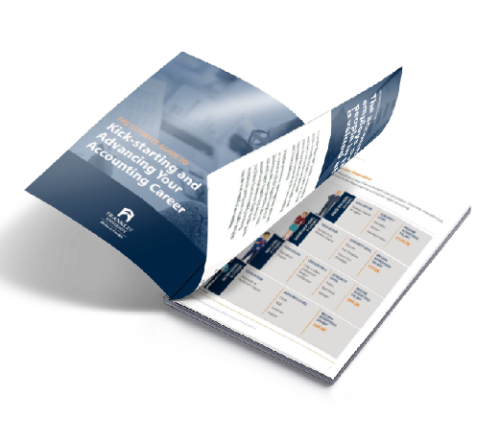 Download Now
Kick-starting and Advancing Your Accounting Career
Get tips for success from 10 in-field experts to help you climb the career ladder and increase your earning potential.