We're Sorry
There was an unexpected error with the form (your web browser was unable to retrieve some required data from our servers). This kind of error may occur if you have temporarily lost your internet connection. If you're able to verify that your internet connection is stable and the error persists, the Franklin University Help Desk is available to assist you at helpdesk@franklin.edu, 614.947.6682 (local), or 1.866.435.7006 (toll free).
Just a moment while we process your submission.
For Accounting Majors, The Future Looks Bright Indeed
Lots of things seem like a good idea at the time. Remember tribal tattoos, acid-washed jeans and scrunchies?
Unlike fashion trends that come and go, a college degree will last a career lifetime---especially when you major in something with lots of flexibility and opportunity like accounting.
Far from mere number crunching, an accounting and finance career can be as fast-paced, exciting and as varied as you want it to be.
So ignore the naysayers who claim accounting is boring, dull and nerdy.
Hardly!
It's a new era, albeit shaped previously by headline-making scandal, fraud, misdeeds and mistrust (Enron, anyone?), accounting has evolved---and rightly so---into highly complex, fascinating and very necessary work.
From tax to audit to financial accounting, getting an accounting degree can prepare you for a personally fulfilling and professionally rewarding career. And what could be brighter than that?
So to really prepare yourself to take advantage of job opportunities and earn a salary worthy of a professional, consider majoring in accounting.
Here are a things to help you decide.
What do you enjoy doing?
Math. Numbers. Counting. Of course, it's a part of the job. But so is problem-solving, strategizing, prioritizing, reporting and communication. In any given day, accountants, public accountants, certified public accountants, management accountants, internal auditors and government accountants spend their days with clients, reviewing financial statements, calculating fees, performing reconciliations, dealing with month-end activities, forecasting, budgeting, invoicing, projecting revenue and oh so much more.
Bottomline? You'd better enjoy high-volume, detail work.
Do you want to affect change?
The accounting function is mission-critical to business; which means it has a place at the top within the hierarchy of business. Whether you're physically seated at the leadership table or not, accounting professionals report to and interact with mid- and high-level management. In addition to having an obligation to uphold regulatory requirements and ensure compliance, the accounting department must work for the overall good of the business.
Bottomline? Accounting is a seriously important role requiring smart, ethical decision making.
Can you see beyond the ledger?
If you're looking for a heads-down, spreadsheet-wielding career, there are aspects of accounting, including bookkeeping, that could satisfy your itch. More typically, however, your workday will involve a very wide variety of tasks. One day you may be in your office on the computer preparing profit and loss statements, the next you could be face-to-face with clients, and the next presenting to the C-suite.
Bottomline? Prepare to wear lots of different hats.
 
Do deadlines thrill and motivate you?
From public accounting firms, to tax planning organizations, to finance accounting and related services, ask any accountant professional about their typical day and you'll likely hear something like this: "It's fast-paced and deadline-oriented." In general, accounting is a time-sensitive field that often requires more than the usual 40-hour work week.
Bottomline? Set your mind on working hard and fast.
Can you think outside the cubicle?
Verbal, written and interpersonal communication skills are an absolute must for today's accounting grad. To give you an advantage in the job, you should have the intellectual skills to handle the complexities of the accounting function, as well as the people skills to successfully collaborate with others. And you have to be able to articulate thoughts, ideas, strategies, findings, facts and figures in a way that others can understand.
Bottomline? Understand that accounting is both a numbers and a people business.
Does professional certification matter to you?
While certainly not a requirement for a successful accounting career, as you consider whether or not to major in accounting, you also may be thinking about whether you want to sit for the Uniform CPA Exam and become a CPA. Besides increasing your industry knowledge, becoming a CPA can open you up to new job titles, more career opportunities, a new career path within a new industry, a bigger salary and perhaps even a bonus. Most importantly, CPAs are often considered among the most trusted business advisors. But first, you must earn your bachelor's degree and prepare for the exam.
Bottomline? A bachelor of science degree with technical and application-focused classes can prepare you foundationally to become a CPA.
How important is career progression?
This may sound like a no-brainer question but it's not. Looking ahead 2, 5, 10 or even 20 years is important when thinking about your college major.
Here are just of the few jobs titles that an accounting degree can prepare you for:
Tax Analyst
Budget Analyst
Public Accountant
Auditor
Government Accountant
Tax Accountant
Cost Management Accountant
Financial Accountant
Accounting Supervisor
What about salary and growth opportunity, too? If these are really important to you and your future, then be encouraged! According to the Bureau of Labor Statistics, entry-level candidates with a bachelor's degree in accounting earn an average of just over $65,000 annually. And with a 13 percent projected growth rate, and an estimated 1.6 million jobs by 2022, the future for accountants and auditors is very bright, indeed.
Bottomline? The future, including salary and job growth, is bright for accounting majors.
Is a bachelor's degree in accounting right for you?
Degree programs vary by college and university, but most cover these fundamentals:
Financial Reporting & Analysis
Managerial Accounting
Cost Management
Tax Accounting
Auditing & Accounting Ethics
Financial Management
Whether you see yourself in a career as an accountant, auditor, analyst or examiner, a 100% online degree program like Franklin University's Accounting Program, can help you acquire industry-leading competencies necessary for an exciting and ever-changing career.
Bottomline? Talk to an academic advisor to learn more.
Ready to take the first step toward a bright future? Apply online, for free, HERE.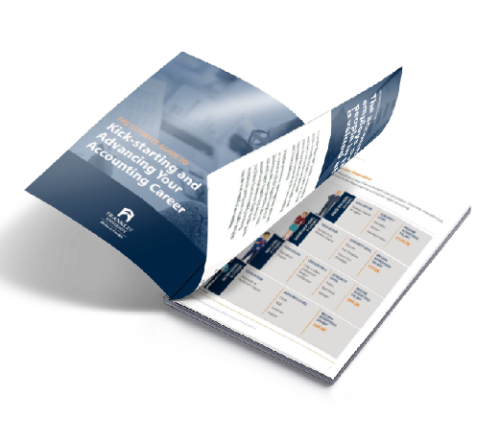 Download Now
Kick-starting and Advancing Your Accounting Career
Get tips for success from 10 in-field experts to help you climb the career ladder and increase your earning potential.