We're Sorry
There was an unexpected error with the form (your web browser was unable to retrieve some required data from our servers). This kind of error may occur if you have temporarily lost your internet connection. If you're able to verify that your internet connection is stable and the error persists, the Franklin University Help Desk is available to assist you at helpdesk@franklin.edu, 614.947.6682 (local), or 1.866.435.7006 (toll free).
Just a moment while we process your submission.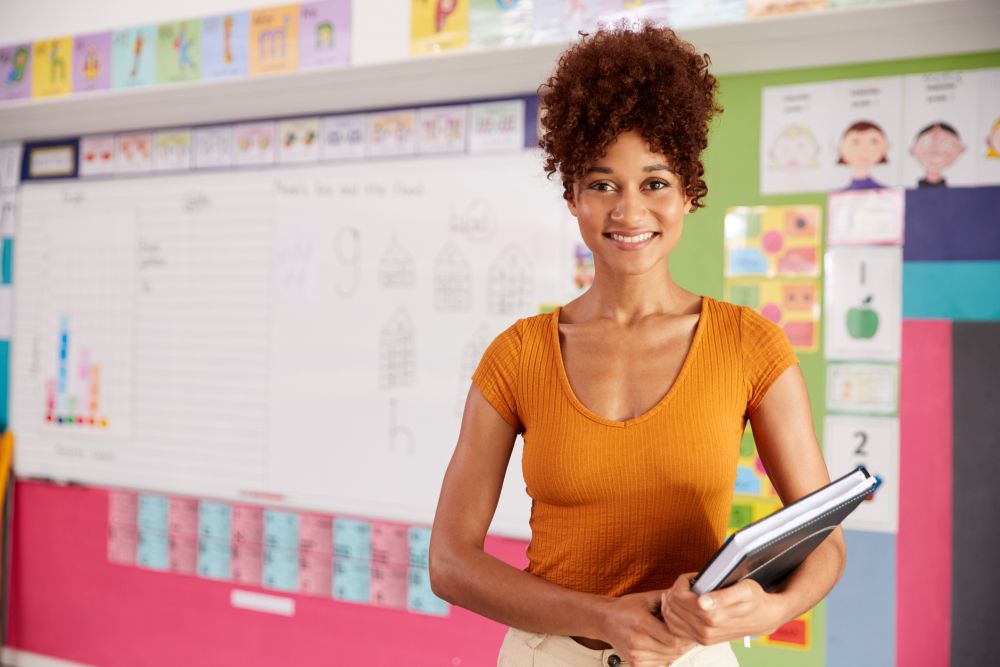 Can You Get A Teaching Degree Online? Yes, And Why You Should.
Teaching can be one of the most rewarding career paths—giving you the opportunity to change the lives of students and set them up for success far into the future. There is also a large and growing teacher shortage in K–12 schools across the country. 
For motivated individuals, this presents a unique opportunity to enter the teaching profession. There is a distinct need for credentialed teachers who have extensive in-classroom training. Can an online teaching degree program deliver the skills you need to succeed? 
Let's look at how you can identify a top online teaching degree program and the advantages of getting your teaching degree online.
Are Online Teaching Degrees Common?
Online education degree programs are increasingly common. According to labor marketing analytics firm EMSI, from 2012 to 2019, online education degree programs increased by 43%, while traditional in-person programs declined by nearly 33%. 
However, the popularity of getting a bachelor's degree in education online doesn't mean all programs are created equal. Finding a reputable online program will prepare you for the realities of teaching in a classroom, which is crucial to your career success.
Here are 4 of the top ways to measure the quality of an online teaching degree program:
Accreditation: A regionally-accredited college or university meets the highest standards in higher education and is regularly evaluated for curriculum, faculty and support services. 
Curriculum: Look for a curriculum that helps you put education theory into practice. You want solid foundations in teaching theory balanced with a 21st century approach that helps you take advantage of emerging technologies to make you a stronger teacher.
Field experience: In-classroom experience is absolutely essential to succeeding as a teacher. The sooner, and more often, you can get into the classroom, shadow teachers and interact with students, the more prepared you'll be. Franklin University helps you get into the classroom during your first term and ensures you have multiple placements throughout your online education degree program. 
Partner school network: Look for a college or university with a large network of partner schools. These programs can help you gain numerous teaching experiences, preparing you to be a successful teacher in diverse learning environments.
What Are The Advantages Of Earning A Teaching Degree Online?  
An online teaching degree provides a unique experience that comes with many benefits. For working professionals looking to change careers, the flexibility of an online teaching degree program offers the ability to:
Earn your degree while balancing other priorities, such as current job demands, social life and family responsibilities.
Pursue a more affordable degree, as you can continue to earn your salary while paying for your teaching degree. Also, many high-quality online teaching degrees can be more affordable than their traditional counterparts.
Take courses 100% online, making it easier to schedule and balance the need for in-person teaching field experience with your coursework.
Get into the classroom earlier with top online teaching programs, like the education bachelor's degrees offered at Franklin University, which get you in-classroom training in your first term.
Practice virtual communication skills, which are vital than in today's teaching environment where virtual or hybrid learning is more common.
Benefit from more diverse points of view as you learn and collaborate with students from other cities who bring unique experiences from their school districts. 
Save time and money by avoiding hidden costs like commuting to campus, paying for parking, or other small costs that add up over time.
Do Online Teaching Degree Programs Offer In-Classroom Teacher Training?
One of the most important and influential aspects of any teaching program is field experience. Getting to experience a classroom first-hand and interact with other teachers and students will directly impact your future as a teacher. 
If you're considering an online teaching degree program, you're probably questioning how you gain this pivotal experience if your degree is earned online. Don't worry, top online teaching degrees offer just as many—if not more—opportunities to gain classroom experience.
Here's what you need to know about in-classroom teacher training as an online student:
You should find an online teaching degree program that offers classroom placement with partner schools. Some online programs require you to find your own student teaching opportunities. This approach can really limit your opportunities. It requires building connections with local schools—which usually involves reaching out to schools you attended or where you know a teacher. Programs with large partner school networks can provide you with diverse experience and multiple classroom placements throughout your program.
You should find a program that doesn't charge additional fees for student teaching placement. Some colleges will charge a fee to place you in a school for your field experience. This hidden and unnecessary cost can be avoided by finding the right online teaching degree.
You will need daytime availability. While your coursework is completed online around your schedule, you do need to be available during school hours to gain classroom experience. Look for an online program that maintains flexibility in how you gain your field experience hours. For example, at Franklin University, you're required to complete 32 in-classroom hours during a 16-week course. Hours are evaluated at the end of the semester, giving you the flexibility to work with your cooperating teacher to fit hours into your schedule without necessarily committing to a specific number of hours per week.
You need to plan for a semester of student teaching, which is an unpaid internship. You need to plan how you will be able to be in the classroom full time for 16 weeks. Student teaching is completed toward the end of your degree program, so plan in advance. Many students will save additional funds or work after-hours or on weekends in order to maintain their lifestyle while student teaching.
What Should You Expect In Your Online Teaching Courses?
The other aspect of your online teaching degree is your coursework, which typically falls into two categories: teaching pedagogy and specific content areas. Teaching pedagogy focuses on the principles of education and methodologies for teaching, which is relevant regardless of the subject matter you teach. Specific content courses focus on your licensure area—like math or history—if you want to teach past the primary education level (PK–5).
Here's what you can expect from the student experience as you undertake your online teaching degree coursework:
Virtual lectures, which may be live lectures or pre-recorded lessons. 
Online meet sessions, where you have the opportunity to interact with instructors and fellow classmates.
Self-paced assignments, which can range from creating sample lesson plans to working through classroom case studies and scenarios.
Collaborative projects, where you work with other students to tackle assignments and learn from one another's experiences.
The best online teaching degree programs will use technology to their advantage, creating a supportive and engaging learning environment.
What to Avoid When Choosing an Online Teaching Program
While online teaching degrees continue to grow in popularity, you need to be careful to ensure you're making a smart investment in your future. 
Here are the top things to avoid:
Programs that don't offer free field experience and direct classroom placements.
Programs that don't offer multiple placements in different learning environments.
Programs that don't employ instructors with extensive in-classroom teaching experience.
Programs that don't meet the specific licensure requirements for the state you plan to teach in.
Programs that don't offer interview days with school districts that are hiring.
Getting the right online teaching degree will not only meet the requirements to become a teacher, it will prepare you to thrive in the classroom and stand out to potential employers.
Find the Right Program For Getting Your Online Teaching Degree 
If you're ready to change your career and become a teacher, Franklin University offers multiple bachelor's degree options to help you reach your career goals. Compare all of Franklin's education bachelor's degree offerings, or explore specific programs, including the B.S. Adolescence to Young Adult (AYA) Education, B.S. Intervention Specialist, B.S. Middle Childhood Education (MCE), and B.S. Primary Education (PK-5). 
Download Now
Where to Find Free Money to go Back to School
Learn how to get grants to cut college costs.