We're Sorry
There was an unexpected error with the form (your web browser was unable to retrieve some required data from our servers). This kind of error may occur if you have temporarily lost your internet connection. If you're able to verify that your internet connection is stable and the error persists, the Franklin University Help Desk is available to assist you at helpdesk@franklin.edu, 614.947.6682 (local), or 1.866.435.7006 (toll free).
Just a moment while we process your submission.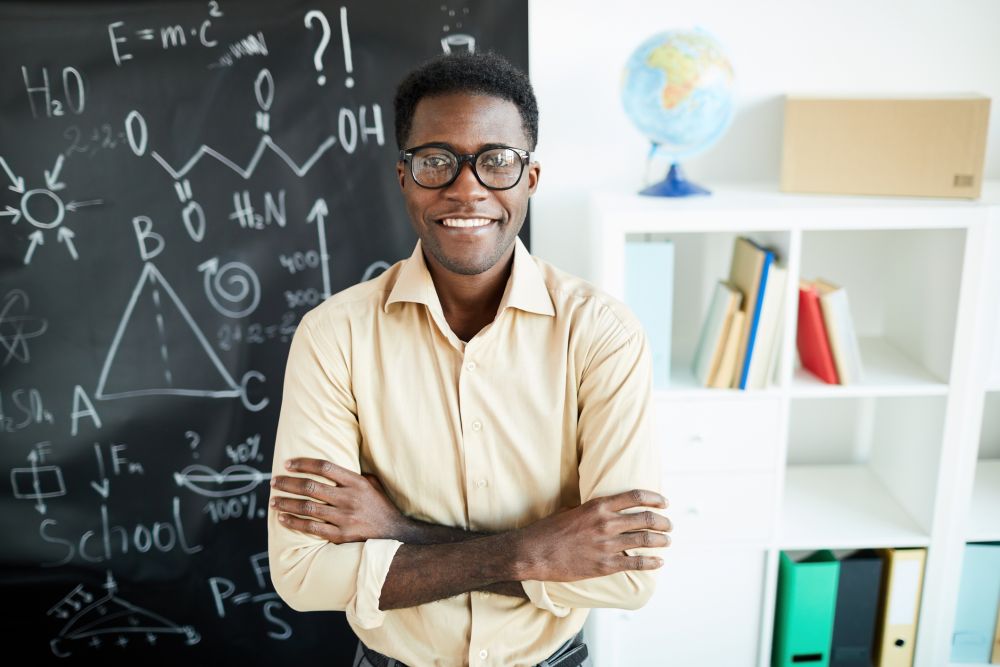 How to Become a Teacher in Ohio
Being a teacher can be an extremely rewarding career, especially in Ohio. Ohio is one of the top states for the teaching profession based on salary, employment numbers and cost of living. 
According to labor market analytics firm EMSI, Ohio is a hotbed for teaching jobs compared to the national average for areas of its size. The demand for teachers in Ohio is expected to remain consistent, with over 172,000 jobs across the state expected through 2031. 
With a bright outlook for teachers at all levels, let's dive deeper into what it takes to become a teacher in Ohio. 
What Are The Requirements To Become A Teacher in Ohio?

Whether you want to teach in a public or private school, at the elementary, middle or high school level or specialize in a certain subject area, all teachers in Ohio must possess and maintain a valid teaching license.
There are 4 options to pursue a license:
A bachelor's degree program that includes the licensure requirements 
A post-baccalaureate program that provides only the licensure courses
A master's degree with licensure
An alternative license in designated subjects grades K-12, world languages grades P-12, or intervention specialist grades K-12.
Find the complete list of approved programs on the Ohio Department of Education website. 
In addition to education requirements, you must also complete the following actions to become a teacher and maintain your license in Ohio:
Pass the Ohio Assessments for Educators. You will need to pass three different exams: a professional knowledge (pedagogy) test by grade level, a foundations of reading test and content knowledge assessments based on the job you plan to pursue.
Pass criminal background checks. All those seeking licensure must complete BCI and FBI background checks through WebCheck. You can find Webcheck locations near you through the Attorney General's Office website.
Apply for a license through the Ohio Department of Education for first-time teachers. The Resident Educator License applies to those who recently completed a traditional, university educator preparation program. You must have an active OHID account to apply.
Receive license and engage in continuing education to advance or renew your teaching license. Licenses usually need to be renewed every 4-5 years depending on the type of license you have.
How Do I Know What Assessments I Need To Take To Become An Ohio Teacher?
As we mentioned above, all who seek licensure in Ohio need to complete the Ohio Assessments for Educators. The specific examinations you will need to complete and pass vary based on the grade level and subject matter you want to teach.
All Ohio licensure candidates are required to successfully complete one assessment of professional (pedagogical) knowledge for their first license. This assessment is specific to the grade-level you want to teach. The addition of other licensure areas or endorsements will require only successful completion of the associated content-area assessment.
The broad categories for licensure area and grade level for the majority of classroom teachers include:
Early Childhood (PK–3)
Grade-level professional knowledge assessment
Early childhood education content assessment
Foundations of reading content assessment
Middle Childhood (4–9)
Grade-level professional knowledge assessment 
At least one subject-specific content assessment in Language Arts and Reading, Mathematics, Science or Social Studies.
Foundations of reading content assessment
Adolescence to Young Adult (7–12)
Grade-level professional knowledge assessment 
At least one subject-specific content assessment in Integrated Language Arts, Integrated Mathematics, Integrated Science, Integrated Social Studies, OR Physical Sciences, Life Sciences, or Earth Sciences licenses (some license options offer combinations of different sciences).
Foundations of reading content assessment
Multi-Age (PK–12)
Grade-level professional knowledge assessment
At least one subject-specific content assessment in Computer Information Science, Dance, Drama/Theatre, Foreign/World Languages, American Sign Language, Health, Library/Media, Music, Physical Education, TESOL or Visual Arts
Intervention Specialist
Grade-level professional knowledge assessment
At least one content assessment related to specialty, which include: Early Childhood Intervention Specialist (PK–3), Hearing Impaired (PK–12), Mild/Moderate Needs (K–12), Moderate/Intensive Needs (K–12), Visually Impaired (PK–12), Gifted (K–12)
Foundations of reading content assessment
For a full list of licenses and detailed assessments, visit the Ohio Assessments for Educators website.
Are There Alternative Certification Programs Available In Ohio?
There are alternative certification programs in Ohio for those who did not complete a bachelor's degree or master's degree in education. One of the most popular options for professionals with a bachelor's degree in another field is a post-baccalaureate teacher licensure program. 
Franklin University offers a non-degree, Post-Baccalaureate Teacher Licensure Program that helps you complete the necessary coursework to apply for a Resident Educator Initial License in Ohio. Through Franklin's School of Education, you get a personalized program of study for your selected teacher program to qualify for licensure. 
There is also another Alternative Pathway for candidates who have not completed a traditional teacher preparation program through an accredited college or university. If you have a bachelor's degree with a GPA of 2.5 or higher OR a master's degree with a GPA of 3.0 or higher, you may be eligible for Ohio's Alternative Resident Educator licensure pathway to becoming a teacher. The Alternative Resident Educator License applies to those who have completed an Ohio Alternative Pathway program approved by the Alternative Licensure Institute.
How Do You Find Open Teaching Jobs In Ohio?
There is a finite window to secure a job as a teacher. Hiring for the next school year typically starts as early as April and by the beginning of July, most schools like to have contracts negotiated. If you haven't secured a position in this window, there will be far fewer positions available once the school year starts and you may need to find substitute teaching jobs throughout the year.
This competitive job market is one of the reasons it's so important to complete your education degree or post-baccalaureate teaching program at a well-connected university. 
Without these types of networking opportunities, it can be more difficult to get your foot in the door, especially if you have a specific school district you want to teach in.
"If your program doesn't offer job interview days, you're going directly to a school's human resource site or a page on the department of education website to see open positions," says Dr. Tozer, "You are cold calling schools and sending applications. For some teaching positions, there are over 100 people applying for the job. Unless you have a program that helps you network with schools, it takes a lot of footwork to connect with them."
Choose a Program That Will Prepare You To Be A Teacher In Ohio
Franklin University prepares students from across the state of Ohio to become teachers. With over 145 partner schools across the state, Franklin prioritizes in-classroom field experience and gets you into the classroom in your first term. Curriculum is also offered 100% online, so when you aren't gaining first-hand experience in a classroom, you can take coursework at your pace and on your schedule.
Learn more about Franklin's education programs and how they can help you reach your goals and become a successful teacher in Ohio.
Download Now
Finding the Right In-Demand Education Career
Get expert advice on how to launch or advance your career in a field that is both challenging and rewarding.