We're Sorry
There was an unexpected error with the form (your web browser was unable to retrieve some required data from our servers). This kind of error may occur if you have temporarily lost your internet connection. If you're able to verify that your internet connection is stable and the error persists, the Franklin University Help Desk is available to assist you at helpdesk@franklin.edu, 614.947.6682 (local), or 1.866.435.7006 (toll free).
Just a moment while we process your submission.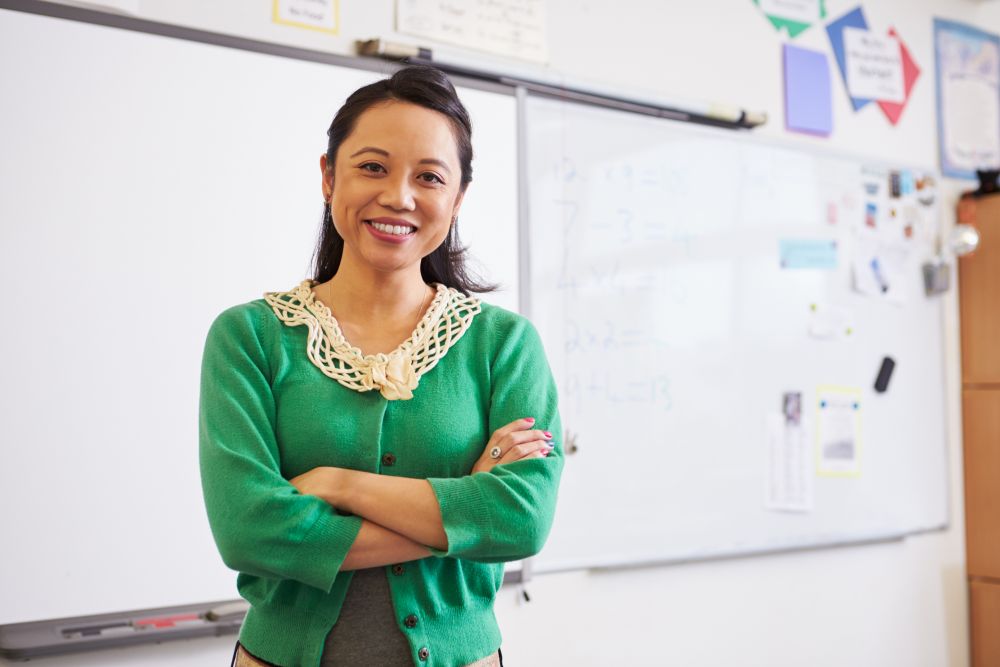 How to Become a Teacher Without an Education Degree
Teaching is an intriguing career for many people—even professionals who start out in completely different fields. 
It's not surprising, because being a teacher comes with many benefits. The schedule is ideal for parents who want their schedule to align with their children's schedule. The environment is engaging and no two days are the same. Perhaps the greatest benefit of all, being a teacher gives you the opportunity to use your skills to empower future generations.
If you aspire to be a teacher and didn't get a degree in education, you may wonder if you can qualify to become a teacher. Let's dive in to find out.
What Are The Standard Requirements To Become A Teacher?

Standards for teachers are higher than ever. All states require teachers to have a license to teach in the public school systems. A bachelor's degree is also considered a minimum requirement for full-time teachers in K-12 schools across the country. 
From there, the requirements for getting a license vary state by state. It's important to understand the specific requirements of the state where you plan to teach before determining what degree or license you will require.
Do You Need a Bachelor's in Education to Become a Licensed Teacher? Alternative Routes to Becoming a Teacher
If you don't have a bachelor's degree in education, don't worry. There are alternative paths to becoming a teacher for individuals who earned their bachelor's degree in a different field.
There are two common options for meeting the educational requirements for getting your teaching license if you have a bachelor's degree, but it isn't in education.
The first option is post-baccalaureate teacher licensure programs. Virtually every state in the country offers alternative teacher certification programs to help prospective teachers who have a bachelor's degree in another subject. These certification programs are not a degree and can be completed more quickly than an education bachelor's degree. You'll use the knowledge and experience you've already gained, while filling the gaps you need to meet licensure requirements. 
The second option is getting your master's degree in education. A master's degree in education will prepare you with the pedagogical knowledge you need to meet licensure requirements. However, if you don't have any in-classroom experience, a master's degree can sometimes make it more difficult to find a job. Schools are usually required to pay teachers with master's degrees higher salaries. They will favor bachelor's degree candidates with similar resumes because of budgetary restrictions.
If you're considering these two paths, it can be beneficial to get your foot in the door and get a job in a school system before getting your master's degree. Many school districts will reimburse teachers who seek a master's degree, so getting your post-baccalaureate first may pay off in the long run. 
Here are the top benefits of pursuing your teaching license through an online post-baccalaureate teacher licensure program:
Complete the necessary coursework to apply for licensure at your pace and on your schedule.
Gain pedagogical knowledge specific to the grade level you want to teach.
Use content courses completed as part of your bachelor's degree to satisfy content requirements for specializations such as math, English language arts, science or social studies.
Get a personalized program of study that streamlines your coursework so you only complete what's necessary to meet requirements.
Complement your online learning with in-person classroom experience that will help you prepare to get a job as a teacher.
If you're ready to pursue a direct path to becoming a teacher, applying for a post-baccalaureate program is simple. Typically, all you need is:
A completed bachelor's degree from a regionally accredited university
Official transcripts from any college where you completed credit hours
A completed undergraduate application to the university where you plan to earn your certification
Can I Get a Job in Education Without An Education Degree?
If you have an associate degree or want to get your foot in the door before pursuing licensure, there are opportunities you can pursue.
Here are 5 of the top roles in education that you can get without an education degree and/or a traditional teaching license:
Teaching assistant: Teaching assistants work in a classroom supporting a lead teacher. Most often, you can become a teaching assistant with an associate's degree. In some charter or private schools you may only be required to have a high school diploma. Most teaching assistants will need certification, which varies by state.
Preschool teacher: Head Start preschool programs and public schools require their preschool teachers to have a minimum of an associate degree. Private preschool teachers may only need sufficient experience.
Special education paraprofessional: These professionals work one-on-one with students who have special needs or disabilities. Paraprofessionals can usually get started in the field without a four-year college degree, but it helps to have completed some college courses or an associate degree.
Substitute teacher: Substitute teachers are typically required to have a bachelor's degree. However, an education degree isn't necessary for some positions. Individuals who have a postsecondary degree in a specific subject area, such as Math or English, can apply for a substitute license and teach unlimited days in the designated subject area.
Private or parochial school teacher: In some states, private and parochial schools are allowed to set their own policy regarding teacher requirements. A related subject area degree may be sufficient and a license may not be required. 
Even though there are options that require less education or training, it's in your best interest to pursue a degree or teacher training and licensure. It will improve your competitiveness in the job market, increase your salary expectations and ensure a long-term career in teaching. 
Take the Next Step to Become a Teacher
It's never too late to become a teacher. You just need to find the right program to meet the requirements to get your teachers license.
Franklin University offers multiple paths to becoming a teacher. 
If you have an associate degree, Franklin offers online bachelor's degrees in education that gives you the skills to become a teacher. At Franklin, your previous credits put you in your major area courses and on-site in a school in your very first term. Online coursework gives you the flexibility to complete your degree on your schedule, while Franklin's low per credit hour cost and free books minimize the cost of your education degree. 
If you have a bachelor's degree, Franklin's online Post-Baccalaureate Teacher Licensure Programs can help you fast-track your path to becoming a teacher. These programs can prepare you to teach at any level from pre-k through high school. Plus, you can take advantage of the coursework you already completed in your bachelor's program to meet content specialization requirements. 
See the other ways Franklin's personalized post-baccalaureate teacher licensure program can help you reach your goals of becoming a teacher.
Download Now
Where to Find Free Money to go Back to School
Learn how to get grants to cut college costs.