We're Sorry
There was an unexpected error with the form (your web browser was unable to retrieve some required data from our servers). This kind of error may occur if you have temporarily lost your internet connection. If you're able to verify that your internet connection is stable and the error persists, the Franklin University Help Desk is available to assist you at helpdesk@franklin.edu, 614.947.6682 (local), or 1.866.435.7006 (toll free).
Just a moment while we process your submission.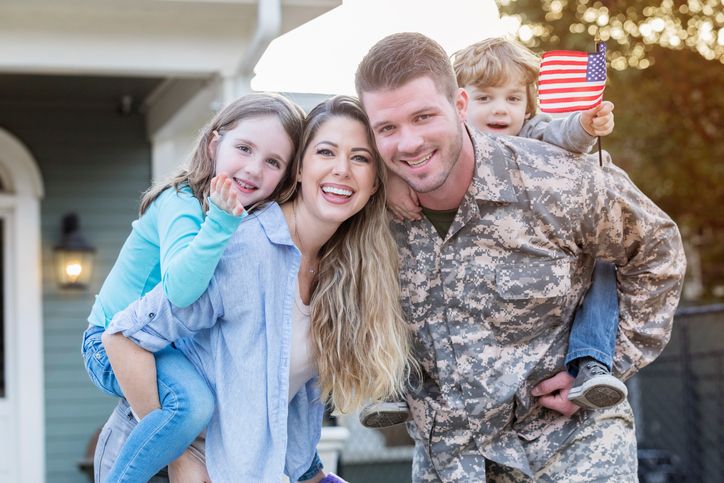 Financial Aid for Veterans & Dependents: Programs to Cut Tuition Costs
If you're a veteran transitioning from military service into civilian life, you may be considering what you'll do next -- professionally. If you're like many veterans, you might use this new beginning as an opportunity to change careers or fulfill a lifelong ambition. And this often means pursuing a college degree.
There's good news: your service to the United States may have earned you educational benefits that allow you to attend college for little to no out-of-pocket tuition costs.
Jason Howard, assistant director of undergraduate academic advising and military and veterans compliance at Franklin University, explains there are many types of tuition assistance programs for which veteran students and their dependents may qualify.
"Financial aid really depends on the individual," explains Howard. "The VA provides multiple levels of tuition assistance, depending on the time, length and type of service."
Let's take a look at financial aid for veterans and other funding options that can help make college as affordable as possible:
5 Types of Financial Aid For Veterans
1. Post-9/11 GI Bill®
The veterans GI Bill is probably the most well-known educational benefits program; it's been helping service members earn degrees since World War II. Howard, from Franklin University, says this is because it offers some of the best benefits, including covering tuition and living expenses.
Today, the GI Bill includes a few different options, but the Post-9/11 GI Bill is the most common. According to Raytheon's National Education Veteran Education Tracker, more than 2.9 million Post-9/11 veterans have pursued higher education after their service using these generous benefits.
Established in 2008, the Post-9/11 GI Bill offers:
Up to 100 percent of tuition, and up to the average in-state tuition rate
A monthly housing allowance
$1,000 toward books and supplies
Thanks to a provision of the Post-9/11 GI Bill called the Yellow Ribbon GI Education Program, students may also be eligible for extra financial support at private or out-of-state schools where tuition may be higher than the allotted cap. Participating Yellow Ribbon institutions, including Franklin University, have agreed to contribute additional funds toward a qualifying veteran student's tuition.
2. Montgomery GI Bill® Active Duty & Reserves
Also under the GI Bill umbrella is the Montgomery GI Bill, which offers two educational benefits programs: Montgomery GI Bill Active Duty and Montgomery GI Bill Selected Reserve.
The Montgomery GI Bill Active Duty, also referred to as Chapter 30, can be used for college degree programs as well as technical and vocational courses, flight training, and even entrepreneurship classes offered by local small business development centers. To be eligible for this program, you need:
at least two years of active duty experience
an honorable discharge
a high school diploma or GED
To meet the criteria of one of these four categories, as outlined by the VA
The Montgomery GI Bill Selected Reserve provides education and training benefits to eligible members of the Selected Reserve, including the Army Reserve, Navy Reserve, Air Force Reserve, Marine Corps Reserve and Coast Guard Reserve, as well as the Army National Guard and Air National Guard. To qualify for these benefits, you'd need:
a high school diploma or GED
a six-year obligation to the Select Reserves signed after June 30, 1985
completion of your initial active-duty training
to remain in good standing with an active Selected Reserve unit
The amount of monthly benefits for both Montgomery programs depends on the type of education or training and whether the student is enrolled full- or part-time, or somewhere in between. View the current rate tables here.
3. Traditional Federal Student Aid: Loans and Grants for Veterans
It's not only the VA that could provide you tuition assistance. The U.S. Department of Education also offers federal aid programs. Veterans, like any other college student, are eligible to apply for these federal grants and low-interest loans through the Free Application for Federal Student Aid, better known as the FAFSA.
Completing the FAFSA could help identify your eligibility for additional aid, beyond what you've earned through your military service. These options could include grants, which are need-based financial awards that do not need to be repaid. A few examples include:
Federal Pell grant - up to $5,920 per school year, as of August 2018
Federal Student Education Opportunity Grant (FSEOG) - $100 to $4,000 per school year, as of August 2018
TEACH grants - up to $4,000 per year for those working toward a teaching degree and plan to work in school serving low-income families, as of August 2018
While your VA benefits and federal grants may cover your tuition and fees completely, in some cases you may wish to borrow additional funds. This could be for living expenses, additional education costs, or in cases where you're pursuing additional degrees but have already exhausted VA benefits. In those cases, a low-interest student loan, such as the Direct Loan or Perkins Loan, may come in handy. It's also worth noting that members of the military may also be eligible for an interest rate cap on federal student loans, thanks to the Service Members Civil Relief Act.
Talk to the financial aid office at your school of interest to learn how federal grants and even student loans could help fill any gaps in what your veterans benefits already cover.
4. State- and Branch-Specific Financial Aid for Veterans
Depending on your state of residence and/or in which branch you're serving, you may be eligible for state- or branch-related educational assistance programs. For instance, veteran-friendly Franklin University is located in Ohio, where many of its students have served with the state's national guard.
"Some of our [in-state] students have received an Ohio National Guard Scholarship, which pays full tuition up to a certain amount of credits," said Howard, adding that, although the National Guard is a federal organization, the funding for this scholarship program comes from the state.
A quick search on the National Guard website will break down possible benefits by state.
Additionally, many states offer need-based financial aid programs; eligibility for these state grants is most often determined by the FAFSA. Often, these additional state and branch-specific benefits can work in tandem with the GI Bill and other federal financial aid programs. It's a good idea to consider what else you may be available to use based on your location and type of service.
5. Other Grants and Scholarships for Veterans: Private and Member Organizations
Aside from the benefits you've earned through your military service, other organizations may offer scholarships and grants for veterans. Here are few to consider:
AMVETS scholarships - offers a variety of scholarships with varying requirements and award amounts
The Paralyzed Veterans of America (PVA) Educational Scholarship Program - the PVA program may be of interest if you're looking for scholarships for disabled veterans; it provides awards of $1,000 to qualified individuals
American Legion scholarships - this member-organization offers a number of merit-based educational awards for veterans, active duty service members and their dependents
Veterans of Foreign Wars (VFW) scholarships - offers need-based awards up to $5,000 for those who are retired, honorably discharged, active duty, or are a member of the National Guard or Reserve
School-specific scholarships - some universities, such as Franklin, office scholarships specifically for veterans
Additionally, searching online scholarship databases such as FastWeb, may reveal other options for those who've served in the military. As a reminder, you should always be diligent in your exploration of private scholarships in both in online directories and printed guides.
Other Tuition Assistance Considerations for Veterans & Their Dependents
In addition to tuition and living expenses covered by the GI Bill, grants, scholarships and loans, you may have access to some additional funds or earning opportunities. And, it's not just veterans that qualify for some of these benefits. In this section, we'll share a few other tips related to financial aid for veterans.
Tuition Discounts
Some institutions may also offer tuition discounts for military service. This is the case at Franklin University, where Howard says active duty military students can receive a significant reduction in per-credit rates. He adds that eligible spouses and dependent children can save 15 percent on a bachelor's degree and 10 percent on a master's.
Tutoring Assistance Allowance
If it's been a while since you've hit the books and you find you need a little extra help in math, science, writing or another subject area, don't worry: the VA could have you covered. As a helpful supplemental benefit, you may be eligible for up $1,200 to use toward tutoring assistance throughout your time in school.
VA Work-Study Program
The VA can also help you earn while you learn. Similar in nature to the federal work-study program offered through the Department of Education, the VA work-study program allows you to work either on campus or for an approved VA-related or government facility.
In this program, you'd have a set number of hours you'd agree to work during a term, and you can use your earnings toward your educational and living expenses.
Veteran Dependent Education Benefits
Financial aid for veterans' spouses and dependent children may also be possible under the Post-9/11 GI Bill. Spouses may typically use the transferred benefits right away, while your children will not qualify until you've completed at least 10 years of service.
Additional programs from the Department of Education or VA geared toward financial aid for veteran spouses and dependents include:
The Iraq and Afghanistan Service Grant, available to children whose parent or guardian died during their service in Iraq or Afghanistan after 9/11
The Marine Gunnery Sergeant John David Fry Scholarship, available to children and spouses of service members who died in the line of duty after Sept. 10, 2001
The Survivors' and Dependents Educational Assistance (DEA) Program, available to qualified dependents of veterans who became permanently and totally disabled because of a service-related condition or who died while on active duty as a result of a service-related condition
Next Steps: Applying For & Receiving Your Benefits
With so many options to consider, you may need some help digesting all of the information and figuring out the best way to use and maximize your benefits.
First, you should visit the U.S. Department of Veteran Affairs website (or make a call or visit to your local office) to determine your eligibility for educational benefits.
Then, you should choose the program that best fits your needs and complete the application.
Next, you should also complete the FAFSA. It's helpful if you already have a school in mind, as you can enter that school's code into your application. Your results will then be delivered directly to that institution's financial aid office.
Finally, and perhaps even earlier, you should talk to an admissions or financial aid officer who specializes in veteran students at your school of interest. Howard explains their expertise can help you navigate the financial aid application process with both the VA and Department of Education, as well as help you explore academic programs that may be eligible for funding and connect you with other helpful services and programs related to veterans education.
Howard reminds students to start the financial aid process early.
"Be aware of all that is available to you," he says. "You may be eligible for more than one type of assistance, not just what's offered by the VA."
To learn more about using financial aid for veterans at Franklin University, visit our Office of Military and Veterans Affairs webpage.
Download Now
Paying for College Field Guide for Veterans and Active-Duty Military
Maximize your military benefits with helpful checklists and step-by-step instructions.