We're Sorry
There was an unexpected error with the form (your web browser was unable to retrieve some required data from our servers). This kind of error may occur if you have temporarily lost your internet connection. If you're able to verify that your internet connection is stable and the error persists, the Franklin University Help Desk is available to assist you at helpdesk@franklin.edu, 614.947.6682 (local), or 1.866.435.7006 (toll free).
Just a moment while we process your submission.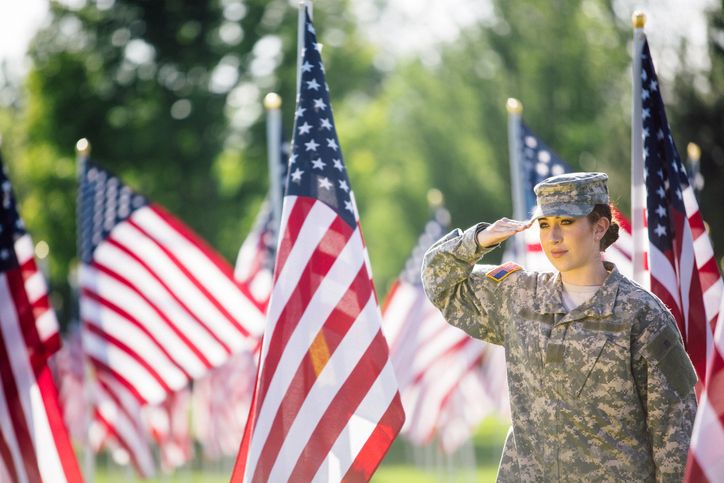 How Does the GI Bill Work?
Since its inception in the early 1940s, the veterans GI Bill® has helped millions of military servicemen and women pursue degrees and vocational training. Today, these educational benefits are still empowering veterans as they transition into their post-military lives and careers.
If you're a veteran looking to return to school or begin college for the first time, you may be wondering, how does the GI Bill work?
A Brief History: What is the GI Bill?
To understand how the veterans GI Bill works, it's worth a trip down memory lane to see when and why it was established. During World War II, President Franklin D. Roosevelt and members of congress discussed how veterans could be better prepared to assimilate back to civilian life, while at the same time helping to stimulate the economy. Signed into law in 1944, the Servicemen's Readjustment Act established new hospitals, offered low-interest mortgages, provided unemployment benefits and job counseling, and introduced new education benefits. By 1956, more than 7 million veterans had received some form of benefits from the GI Bill.
While the GI Bill has evolved over the decades, it's still giving thousands of men and women access to an education they may not have otherwise received.
The GI Bill Today
The Montgomery GI Bill® has changed throughout the years to meet the evolving needs of today's veterans and education system. The newest version of the program was signed into law in 2008: the Post-9/11 Veterans Educational Assistance Act, but better known as the Post-9/11 GI Bill. Veterans with more recent service likely receive their education benefits through this program.
Jason Howard, assistant director of undergraduate academic advising and military and veterans compliance at Franklin University, says, "Of the VA benefits available, the GI Bill is the most utilized and offers the best benefits. And the Post-9/11 Bill is the most current and widely used."
Who's Eligible for the GI Bill?
According to the VA website, you may qualify for the Post-9/11 GI Bill® if you've served on active duty for at least 90 days, with or without a break, after Sept. 10, 2001, and were honorably discharged.
Non-veterans may also be eligible for the GI Bill. If you have unused GI Bill benefits, you may be able to transfer all or a portion of these available funds to your spouse or dependent children. According the the VA, as of 2018, about 25 percent of people using these educational benefits are not veterans themselves.
What the GI Bill Covers
The Post-9/11 GI Bill benefits can include:
Up to full tuition for in-state schools up to the maximum national average (in August 2018, this number was $23,671.94)
A basic allowance for housing based on the cost of living wherever school is located; this is figured using data by ZIP code
Up to $1,000 for books and supplies
The percentage of your tuition benefit ranges from 40 to 100 percent, and is based upon how many months of active duty you served.
A few educational assistance programs under the Montgomery GI Bill are also available to active duty military and veterans meeting other criteria, such as the Montgomery GI Bill Selected Reserve and the Montgomery GI Bill Active Duty.
Extra Assistance: The Yellow Ribbon GI Education Program
What happens if you want to attend a private university where the tuition and fees are more than the in-state average? The VA and participating schools have found a solution to accommodate students interested in programs that exceed the traditional cap.
The Yellow Ribbon Program, a provision of the Post-9/11 Veterans Educational Assistance Act of 2008, extends extra financial benefits to qualified veterans attending specific institutions. Schools participating in the program agree to contribute additional funds, which are then matched by the VA.
"Franklin University is a Yellow Ribbon school," explains Howard. "If our tuition goes over a student's Post-9/11 GI Bill cap, we've agreed to split this overage with the VA."
This added financial benefit gives eligible veteran students more flexibility in choosing schools and programs since they're no longer limited to state tuition.
Next Steps & Timeline: How to Start the GI Bill
The first step in using your VA benefits is choosing an area of study that fits your professional career goals, and then finding a school with a degree program that meets your needs as a not just an adult learner, but also as a veteran. It's especially helpful if your institution of interest has an office dedicated to veterans and current service members. That's Howard's role at Franklin.
"We provide a one-stop shop for veteran students, connecting them with all of the campus services they need, such as financial aid," he said, adding that he's happy to help students navigate and maximize their GI bill benefits and explore what academic programs may be a good fit for their military experience.
The application process
Once you've applied and been accepted to a school, you can then take the next step in using your GI Bill benefits. Here's how to get started:
Determine your eligibility for the program by calling 1-888-GIBILL-1 or visiting the U.S. Department of Veteran Affairs education benefits website. (You may have already done this before you began your school search.)
Complete the application for benefits form found on the VA website; give yourself at least 30 days prior to your desired start date. (You may also apply by mail or get in-person assistance at a VA office.)
If processed successfully, you will receive a "certificate of eligibility" letter by mail.
Bring your certificate to the financial aid office; the school will then certify your enrollment with the regional VA office.
There's a chance you may be eligible for more than one educational benefit program from the VA, in which case you'll choose the one you'd like to move forward with.
The payment process
After you've been approved for the GI bill benefits and are enrolled in a program, the VA will soon make a payment to your school in one of these two scenarios:
If you are approved for 100 percent tuition, the VA will make a full payment directly to the school about 10 days before classes begin.
If you are approved for partial tuition, the VA will make the designated payment directly to the school about 10 days before classes begin, and you'll be responsible for the remaining balance. For this remainder you should adhere to your school's specific payment policy.
Finally, if you're eligible for assistance with books and housing, those funds will come directly to you. The VA typically sends book expense allowances before the start of the term, while housing stipends are paid monthly.
Howard, the advisor from Franklin University, says now is a good time to take advantage of this program.
"The GI Bill benefits are more generous now than they've ever been," he said. "Regardless of what a student's goal is, they can use their GI Bill in many ways."
To learn more about using your veterans GI Bill benefits at Franklin University, visit our Office of Military and Veterans Affairs webpage.
Download Now
Paying for College Field Guide for Veterans and Active-Duty Military
Maximize your military benefits with helpful checklists and step-by-step instructions.