We're Sorry
There was an unexpected error with the form (your web browser was unable to retrieve some required data from our servers). This kind of error may occur if you have temporarily lost your internet connection. If you're able to verify that your internet connection is stable and the error persists, the Franklin University Help Desk is available to assist you at helpdesk@franklin.edu, 614.947.6682 (local), or 1.866.435.7006 (toll free).
Just a moment while we process your submission.
How Long Does an RN-to-MSN Take to Complete?
A Master of Science in Nursing (MSN) is a top qualification employers are looking for in candidates for nursing roles – and there are a lot of employers looking. According to Lightcast™ data, in a one-year period (2020-2021) there were 5,899 nursing job postings where an MSN was a top qualification sought by the hiring organization. During that same period, only 2,917 people graduated with an MSN degree.
The need for skilled nurses is definitely there. And to meet that need there are a number of programs in place for nurses to earn an MSN. This article will explore what you should consider when looking at MSN degree programs along with what type of a commitment you will be making to earn that degree.
What is the RN-to-MSN Time Commitment?
The move up from RN-to-MSN happens on a somewhat variable timeline, which is affected by the degree you currently hold (ADN, ASN, or BSN), the class schedule of the program, your specialized area of focus and your full or part-time student status.
When considering the median averages of those variables, it is possible for an RN to earn an MSN in 16-28 months (following completion of a bridge program).
Crossing the bridge to get done faster
If you are a licensed RN, you can get a "jump start" on your MSN degree by completing bridge coursework. This is a short-term, intensive program designed so that everyone entering a particular MSN program has the same knowledge baseline.
"The RN-MSN option enables students to build upon an associate degree or nursing diploma with a 12-week bridge course that provides a pathway to an MSN degree," said Jennifer Van Winkle, DNP candidate, MSN, ACNP-BC, FNP-BC, chair of the FNP, MSN-Generalist and MSN-Nurse Administrator programs at Franklin University. "In the bridge courses, students learn the standards expected from a nurse as they relate to professionalism, research and theory, to impact practice; leadership roles in quality improvement and information management; healthcare policy and regulation; and healthcare principles for individuals and groups and communities." 
Some bridge programs also have a clinical component that can be met "on-the-job" for working RNs.
After you have completed a bridge program, you will be ready to pursue your MSN. There are three factors that can impact your completion time.
1. On-campus vs. online learning opportunities
Nurses commonly work long shifts, around the clock and on weekends. This intensive workload can make scheduling classes on-campus difficult, but not impossible. Particularly when class availability can be limited.
Taking on-campus classes means you may have to schedule your learning based on the availability of classes, which could result in stretching out your time in school longer than planned. Even so, the ability to be in a classroom setting with the instructor and your classmates does provide certain benefits. 
Online courses offer the flexibility to help you earn your degree while balancing your busy schedule. Classes will either be instructor-led or self-paced, which puts a particular responsibility for success with you. But you may be giving up the benefits of the in-class experience in the process. 
The third option is a hybrid learning model where you have a mix of on-campus and online courses. A hybrid track provides the benefits of both an in-person instructor and online flexibility. It also presents the same concerns around scheduling on-campus classes and missing the in-class experience in virtual classes.

2. Student status
Will you be going after your MSN as a full-time or part-time student? 
Full-time students typically take 6 or more credit hours each term. (There is generally a cap on the total number of credit hours you can take in any one term.)
Part-time students is a broad category covering students participating in a program half-time (3-5 credit hours) and less than half time (1-2 credit hours). 
The number of classes you take and your student status will affect how long an MSN program runs and could affect your cost of attendance (COA). 
When considering your enrollment status, in addition to considering credit hours, you may also be faced with "load hours." A credit hour and load hour are equal with one exception. Load hours for accelerated courses are equal to twice the credit hours. 
3. Work/life balance
Earning an MSN will most likely not be the only thing happening in your life. You 
may be working, have family responsibilities, community commitments, or personal obligations that are all vying for your time. It will be important to find a balance between your current life and your pursuit of an MSN.
When looking at MSN programs, consider not just what works with your current life situation and career plans, but also what fits your learning style. You want your experience to be positive and successful so you'll want to make sure that the learning track you choose fits you perfectly.
There are a variety of RN-to-MSN paths that you could take. What's important is that the path chosen will best fit your lifestyle and career ambitions.
How Many Credit Hours Are Needed to Earn an MSN? 
The number of credit hours that you need as an RN to earn an MSN will vary based on several factors such as:
Did you complete a bridge or BSN program?
Did you previously start and stop an MSN program and have credits to transfer?
What practice area are you specializing in?
As a baseline, an RN-to-MSN program could require you to earn 60 credit hours across the core program courses. This number fluctuates based on the area of specialization you will pursue. If you took a full-course load (12 credit hours) each term, you could be finished in 5 terms or 2 and a half years. 
But just meeting those class requirements doesn't mean that you've earned your degree.
MSN programs also have some level of clinical requirements that must be met. For example at Franklin University, one MSN track requires the completion of four clinical courses each requiring 150 clinical hours with a preceptor at a healthcare site.
How Much Work Will There be Outside the Classroom? 
Everyone studies at their own pace and in their own way. This makes it difficult to state how much time you'll spend outside of the classroom learning but there is a general estimate that can be used to give you some guidance when planning your MSN courseload. For every hour in the classroom, you will spend 2-3 hours on homework, projects, research and assignments.
If you are going to school full time with 6 credit hours, you may actually be spending 15 hours inside of a classroom each week. Using the formula above that would mean you could be spending 30-45 hours outside of the classroom on class-related work.
Of course, that number would flex and change with your classes, subjects and professors but it does provide a snapshot of the effort that will be required to earn an MSN.
What is Required to Complete an RN-to-MSN Program? 
An MSN offers a great opportunity to accelerate your growth, take on new leadership positions, and deliver better patient care. To be successful in earning that degree, you need to find a university that will provide the unique support you need as a working nurse.
To decide if a university is a good fit, look at the MSN program holistically and then look closer at each of the components that make up the program.
An MSN program is typically broken into four components:
1. A bridge program
A bridge program is considered an "educational gateway" to an MSN. It consists of 1-2 classes that provide a concentrated focus on some of the base concepts you will need to know in the MSN program.
If you are an RN with a BSN, you would not need to take the bridge pathway and could instead start with the core MSN classwork.
2. Core courses
The core coursework will include studies of advanced nursing theory, practice and research with a focus on clinical application.
3. Clinicals
In order to earn any MSN degree you will need to complete clinicals with a preceptor. You could be required to have 400-700 clinical hours completed before graduation.
4. Capstone project
Some degree paths require the completion of a capstone. This is usually a combination of coursework and up to 80 hours of clinical time.
Upon completion of an accredited program, you will be eligible to apply to sit for any relevant certification examinations offered by the American Nurses Credentialing Center (ANCC) or the American Association of Nurse Practitioners (AANP).
3 Easy Ways To Accelerate Earning an RN-to-MSN
Once you've made the decision to pursue an MSN degree, there are some specific choices you can make to help you earn that degree faster.
1. Choose an online MSN program. Online degrees are typically the most popular route for RNs who have earned a BSN to earn their MSN. According to Lightcast™, online MSN degree completions have increased 192.3% since 2012. Whether nurses work day or night shifts, an online degree offers around-the-clock options that can work into their busy schedules.
2. Explore RN-to-MSN programs. If you haven't earned your Bachelor of Science in Nursing (BSN) degree but have your RN license, an RN-to-MSN program provides a streamlined path to an advanced degree. Franklin University's RN-to-MSN program provides a direct route that will save you time and money. By successfully completing a 12-week online bridge course, you qualify for direct admission into the MSN program and can graduate in 16-28 months with your degree. 
3. Choose an Accelerated RN-to-MSN Program. These degree pathways are designed for RNs who don't have a BSN. As part of the program, you'll work with an advisor to create a curriculum path that gets you to graduation quickly.
Making the RN-to-MSN Transition
As demand for highly educated nurses increases, a master's degree in nursing can help you stand out from other applicants and position you as a nursing leader. Earning your MSN will certainly require hard work and dedication. However, the degree may be more achievable than you think when you find the right program to match your current work/life situation.
"Franklin University's nursing degree plans are designed to meet the demands of busy RNs," Van Winkle says. "The diverse nursing faculty consists of nursing clinical and leadership experts who maintain a current practice in their respective fields and the course curriculum is brought to life using ShadowHealth and iHuman, state-of-the-art simulation software."
Learn more about the Franklin RN-to-MSN program curriculum and how it can benefit your career goals.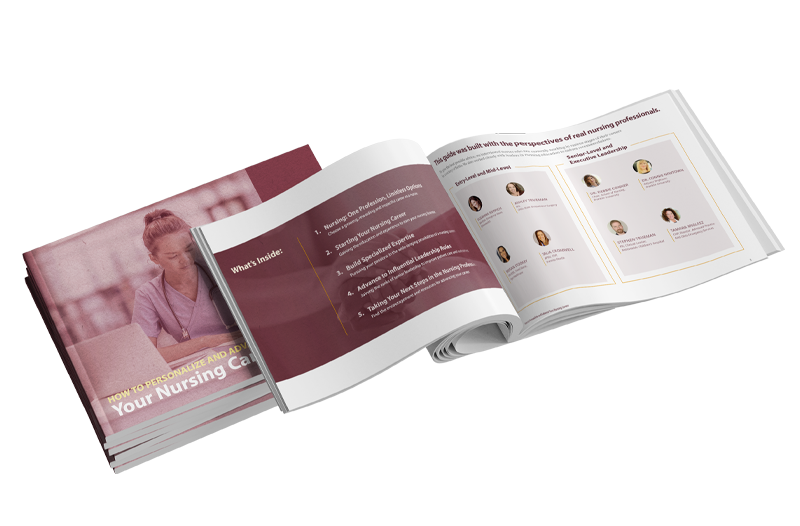 Download Now
How to Personalize and Advance Your Nursing Career
Find out how to take your nursing career further with advice from real nursing professionals.