We're Sorry
There was an unexpected error with the form (your web browser was unable to retrieve some required data from our servers). This kind of error may occur if you have temporarily lost your internet connection. If you're able to verify that your internet connection is stable and the error persists, the Franklin University Help Desk is available to assist you at helpdesk@franklin.edu, 614.947.6682 (local), or 1.866.435.7006 (toll free).
Just a moment while we process your submission.
What Can I Do with an MSN-FNP Degree?
The outlook for nurse practitioners is excellent: Nurse practitioner ranks No. 1 on the 2022 Best Health Care Jobs list from U.S. News. It also is the most in-demand medical position for the second year in a row, according to Merritt Hawkins, a national healthcare search and consulting firm.
 
The future is especially bright for family nurse practitioners (FNPs): Because these advanced practice registered nurses can serve as primary care providers, they can help mitigate the increasing gap between the demand for healthcare and the number of primary care physicians available to provide it.
 
But an MSN-FNP isn't just for family care practice. This article will explore the many ways you can use a Master of Science in Nursing-Family Nurse Practitioner, or MSN-FNP degree.
The Family Nurse Practitioner's Scope of Practice
FNPs diagnose, treat and manage acute and chronic diseases while emphasizing health promotion and disease prevention. While their scope of practice differs by state, it generally includes:
Assessing patients
Ordering, performing and interpreting diagnostic and lab tests
Making diagnoses
Initiating and managing treatment, including prescribing medication and non-pharmacological treatments
Coordinating patients' care across their team of health practitioners
Counseling
Educating patients, their families and their communities
Certain skills can increase an FNP's salary. Having a focus in one or more of these areas can help you find a position that is right for your area of competency while giving your salary a boost. And according to Payscale, when an FNP has these 10 popular skills, they'll see an increase in their salary:

For more salary information, see Family Nurse Practitioner Salary: How Much Can I Expect to Make?
Frequently Asked Questions About Family Nurse Practitioners
Here are answers to two of the questions frequently asked about FNPs compared to other medical practitioners.
Is a Family Nurse Practitioner the Same as a Doctor?
With everything covered by the FNP's scope of practice and all the skills these practitioners have, it's no wonder this question is asked. The answer is that FNPs and MDs/DOs are both highly trained medical professionals who can provide primary care services.
 
There are notable differences, however, in education, licensing, ease of access and approach. While nurse practitioners have more training than registered nurses, they receive less training than doctors. Nursing boards license NPs while medical boards license MDs. And patients can often get an appointment with an FNP, who focuses on disease prevention
Does a Family Nurse Practitioner Have Leadership Over an RN?
Yes. An FNP has achieved a higher level of education—Master of Science in Nursing versus a bachelor's or an associate degree—and has more experience than a registered nurse (RN). This results in FNPs having a more advanced role with greater scope and authority than an RN.
Where Can a Family Nurse Practitioner Work?
Because nurses with  MSN-FNP degrees are trained to provide family-focused healthcare services to patients of all ages—including infants, adolescents, adults and seniors—they are qualified to work in nearly every healthcare setting.
 
"There are so many things nurse practitioners can do," says Dr. Kathy VanRavenstein, a family nurse practitioner, an adult-gerontology nurse practitioner, and the director of clinical education at Franklin University. "One of the most surprising things I've ever done is work in a CV (cardiovascular) surgery. I worked in the OR and learned how to harvest veins from patients. So that was one thing I don't think a lot of nurse practitioners think they can do.
 
"I've also worked at free clinics, which is very rewarding.  Many states have house calls, so you can actually go to patients' homes and see and treat patients who can't get out. It's just endless opportunities."
 
Here are a few examples:
Acute or urgent care center—Help assess a patient's condition, perform sound care and prescribe tests and medications. The center's fast pace and the unpredictability of patient needs mean you'll get a range of experiences with different patients and conditions.
College or university student health clinic—Provide care for illnesses and minor injuries, conduct health screenings and consultations, deliver wellness care and provide health education.
Community health center—Act as a resource, educating and informing the public on proper health practices. You may also provide primary care, including taking patient histories, conducting exams, ordering and interpreting tests and giving vaccines.
Correlational facility—Evaluate patients, conduct health histories and physical examinations, and order laboratory tests. On any day, you might see both minor and more serious illnesses.
Doctor's office or private clinic—Assist the physician with patient care or in select states, see patients without physician oversight. You'll see fewer patients here than in a hospital or an acute care center, but you are likely to be able to spend more time with your patients and see them on repeat visits.
Homeless clinic—Depending on the clinic, provide a patient-centered approach to care with a team that treats the whole patient. Here it's especially vital that you build a trusting relationship with the patient as well as conduct a medical examination.
Hospice—Deliver general patient care, communicate with families, and provide emotional support. You will have the privilege of being with a patient and their family during a critical time in their lives.
Hospital—Provide patient care in various settings, from the emergency room to the maternity ward. You'll gain experience with a variety of conditions and patients while working non-traditional hours on your shifts.
In-home care programs—Provide home-based care to chronically ill patients, including conducting assessments, diagnosing, providing treatment, and evaluating patient care. This is another setting where you'll be able to develop a relationship with your patient over time.
Large employer—Evaluate, diagnose, treat and educate patients at a corporation's on-site health clinic. You may treat episodic and acute conditions, conduct preventative health or biometric screenings, and administer immunizations on any given day.
Long-term care facility—Provide a range of health services, including diagnosing and managing health conditions. You'll get to work with the same patients for longer than in most settings, and the pace is generally a little slower.
Movie set medical team—Keep sets and actors safe and provided for medically. During the COVID pandemic, movie set medical teams provided COVID testing and vaccinations on location.
Outpatient clinics—Similar to working in a private physician's office or clinic, but in an outpatient center where patients go for minor procedures and treatments.
Retail clinic or convenient care clinic—Provide many aspects of healthcare from treating minor injuries, fevers and colds to giving flu shots and administering immunizations and COVID tests, These clinics can be standalone or in large stores. You'll see patients who are there because it's convenient and the cost is reasonable.
School clinic —Provide care for infections, migraines, asthma and other chronic conditions. Perform risk assessments and mandated screenings (hearing, vision), provide physical exams, educate students about health issues, and prescribe medications and immunizations. You especially must be a team player here because you'll likely need to collaborate with mental health therapists, psychiatrists, dentists, health educators and supervising physicians.
Telemedicine—Support a much broader geographical and socioeconomic range of patients. FNPs can be especially valuable on these digital platforms because their extensive knowledge enables them to assess a wide range of health issues quickly.
Alternative Career Options for FNPs
Once you have your MSN-FNP degree, you'll not only be able to work as an FNP in a variety of healthcare settings, but you'll also be able to explore other career options. These can include:
Nurse educator
Use your skills, education, and first-hand experience to help prepare the next generation of nurses by serving as a faculty member in a nursing school or teaching hospital. You may also design, implement, evaluate and revise educational programs for nurses.
Registered nurse
During COVID, many NPs worked as RNs because of the crisis. "If you want to work as an RN, you've got to remember that is what you're doing. You're not making medical decisions. You're taking the orders instead of giving the orders," Dr. VanRavenstein said. "You have to draw the line between being an NP and an RN; you want to make sure you're staying within your scope."
Legal consultant
Analyze testimony and medical reports in cases that involve healthcare or injuries, serve as an expert witness, and provide testimony. You can work for government agencies, law firms, healthcare facilities and insurance companies.
Medical writer
Write health content for educational institutions, marketing companies, magazines, online media, pharmaceutical companies, etc. Research or write books. As a freelance writer, you can set your hours and work as much or as little as you like—there is plenty of work!
 
An FNP can also be a travel nurse, or locum tenens, which means the nurse fills a temporary staffing need at a facility—for example, a hospital, clinic, or home. Being locum tenens provides nurse practitioners with good pay and the freedom to choose where they live and work.
 
The employment outlook for FNPs is exceptional: Not only is employment expected to grow 52% through 2030, according to the U.S. Bureau of Labor Statistics, but the ways you can be employed with an MSN-FNP degree are many and varied.
 
Prepare yourself for this exciting career providing holistic care to patients of all ages by choosing Franklin University's flexible online M.S. in Nursing-Family Nurse Practitioner track. Through it, you'll gain the knowledge and clinical skills to assess and manage common acute and chronic illnesses, promote health and prevent disease for individuals throughout their lives. And if you already have earned your MSN degree in another specialty, Franklin's post-graduate FNP Certificate or Doctor of Nursing Practice-Family Nurse Practitioner (DNP-FNP) track will help you switch career paths and become an FNP.
 
Learn more about the program, its many options and how you can earn your MSN-FNP degree in 27 months.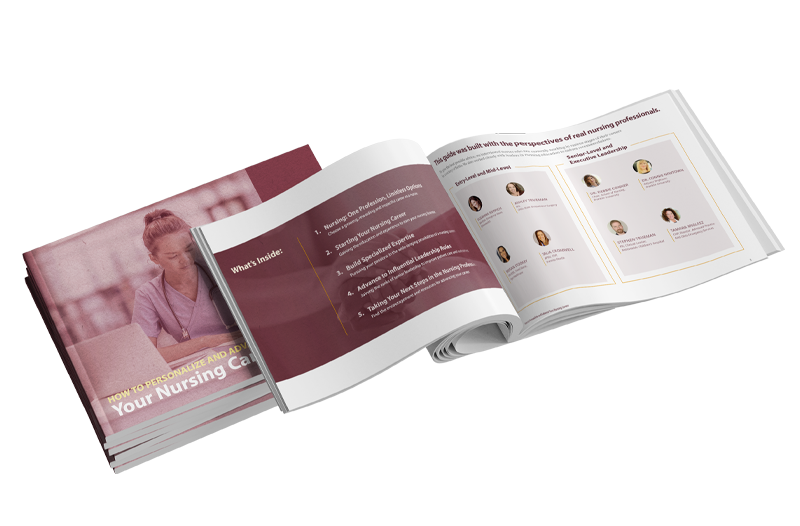 Download Now
How to Personalize and Advance Your Nursing Career
Find out how to take your nursing career further with advice from real nursing professionals.