We're Sorry
There was an unexpected error with the form (your web browser was unable to retrieve some required data from our servers). This kind of error may occur if you have temporarily lost your internet connection. If you're able to verify that your internet connection is stable and the error persists, the Franklin University Help Desk is available to assist you at helpdesk@franklin.edu, 614.947.6682 (local), or 1.866.435.7006 (toll free).
Just a moment while we process your submission.
Master's in Cybersecurity Salary: What Jobs & Pay Can You Expect?
Imagine a career with more than 700,000 open jobs that's essential to national security, healthcare and the financial system. Now imagine that it pays a six-figure salary.
Sound appealing? Cybersecurity may be for you. This field works to protect individuals, organizations and governments from the devastating effects of hacks, cyberattacks and cyberwarfare, and it's growing at a nearly-unmatched pace. The U.S. Bureau of Labor Statistics estimates that by 2031 the demand for cybersecurity professionals will have grown 35%, making it one of the most in-demand fields in the country. 
So how do you get started? One way to enter the field—and help open the door to highly-paid roles—is by earning a master's degree in cybersecurity. 
How Much Can I Make with a Master's in Cybersecurity?
Cybersecurity salaries are known for being lucrative, and with a cybersecurity master's, salaries can be even higher than average. Between January and October 2022, the median advertised salary for cybersecurity (also known as information security) professionals with a master's degree was $110,000, according to Lightcast, a leading labor analytics firm. That median salary covers a range of jobs in the field, meaning that you don't necessarily need to be in a leadership position to earn six figures. 
According to Lightcast, roles and advertised salaries for cybersecurity roles requiring master's degrees in 2022 include:
Cybersecurity Architect
Cybersecurity architects create and maintain an organization's security infrastructure, policies and procedures. This role holds significant responsibilities, including deciding which security practices the organization must follow, ensuring they are in place and up to date, and overseeing tests of the system to check that the organization's security scaffolding is working to keep networks and data safe. 
Median advertised salary: $155,500
Cybersecurity Manager
Cybersecurity managers manage teams of cybersecurity analysts who work together to protect an organization from digital threats. That includes monitoring the flow of data in and out of their organization's networks, identifying vulnerabilities and managing tasks like penetration testing, encryption and firewall implementation. They also stay on top of emerging vulnerabilities and work to make sure their organizations are not at risk.
Median advertised salary: $151,400
Cybersecurity Engineer
Cybersecurity engineers do the technical development work necessary to build secure networks. In addition to developing and maintaining technical security systems, they test and assess systems to identify risk areas. They also create solutions to manage those risks and to defend against hackers, ransomware attacks and more.
Median advertised salary: $112,600
Information Security Analyst
The duties of an information security analyst often overlap with cybersecurity managers and engineers. They include developing security procedures, keeping an eye out for new threats and vulnerabilities and installing security software and firewalls to protect the organization. In many companies, information security analysts also take on a teaching role, working across the organization to educate employees about safe cyber practices and developing company policies for technology use and data handling. 
Median advertised salary: $109,500
Network Engineer
Network engineers design, build and maintain computer networks for organizations. This includes work with hardware, such as managing network equipment including VPNs and routers, as well as software maintenance like installing upgrades and security packages. These professionals are often called in when issues arrive to troubleshoot solutions that keep the organization's systems running smoothly. 
Median advertised salary: $115,600
Penetration Tester
Penetration testers step inside the mind of a cybercriminal and simulate cyberattacks and security breaches to test an organization's strengths and weaknesses. They turn their findings into reports on risk areas and help organizations develop plans for mitigating those vulnerabilities.
Median advertised salary: $128,300
IT Auditor
IT auditors conduct reviews of a company's systems, policies and procedures, taking a high-level view in order to spot problem areas. They collect and review data on information systems and governance, data storage, security procedures and more, and ensure that the company is complying with regulations around IT practices like data storage and protection. 
Median advertised salary: $91,100
Is a Master's in Cybersecurity Worth It?
Earning a master's degree in cybersecurity undoubtedly requires a commitment of time and energy and is not a decision to be taken lightly. However, for many graduates, the payoff is both quick and clear. 
Unlike many certification programs, a master's degree in cybersecurity will never expire. It provides the broad base of knowledge and theory that professionals need to succeed in a field that's constantly changing. 
"A master's degree is essential for building soft skills such as communication, team playing, critical thinking, thinking outside the box, problem-solving, adversarial thinking, detailed reporting and documentation, presenting complex topics to a non-technical audience, attention to detail and creativity," says Dr. Bilge Karabacak, chair of Franklin's M.S. in Cybersecurity. "They are all essential soft skills for cybersecurity jobs."
Earn an Online Cybersecurity Master's at Franklin
If you're looking for a career that benefits people around the world and offers highly competitive compensation, a cybersecurity master's at Franklin could be your next step.
Franklin's master's degree is delivered 100% online and can be completed in as few as 16 months, meaning that you can launch your career faster. Since it's designed for professional adults, you don't need to sacrifice your personal or professional responsibilities to prepare for a more lucrative and rewarding future.
At Franklin, you'll learn from expert practitioners in the field by using industry-standard tools and solving real-world problems. By combining theory with practical knowledge, you'll develop both the insights and the technical skills necessary to excel as a cybersecurity practitioner. 
Are you interested in exploring a career in cybersecurity? Learn more about Franklin's master's degree program.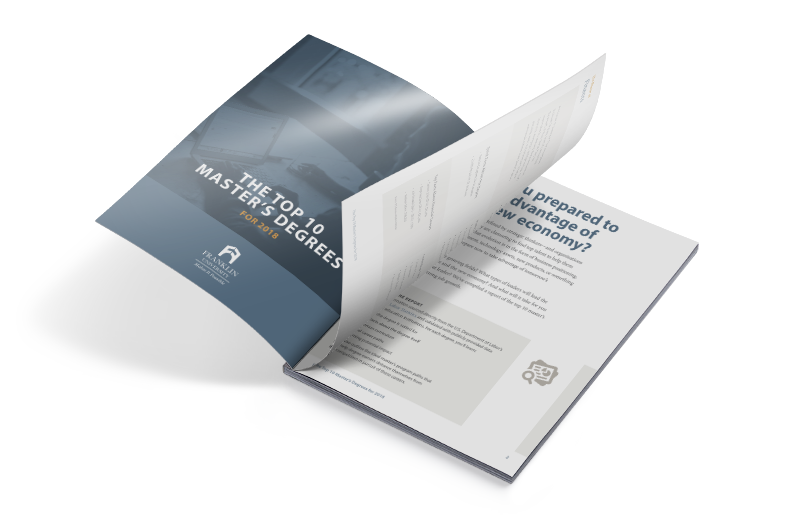 Download Now
Discover 10 of the most in-demand master's degrees based on salary and job growth.