We're Sorry
There was an unexpected error with the form (your web browser was unable to retrieve some required data from our servers). This kind of error may occur if you have temporarily lost your internet connection. If you're able to verify that your internet connection is stable and the error persists, the Franklin University Help Desk is available to assist you at helpdesk@franklin.edu, 614.947.6682 (local), or 1.866.435.7006 (toll free).
Just a moment while we process your submission.
Master's In Cybersecurity Requirements: What's Needed For Admission?
From attacks on financial institutions that lead to identity theft and fraud to hacks that endanger public utilities like water systems, cybercrime is an increasing threat to society. To counter the risks of cyberattacks, governments and organizations of all sizes need quality cybersecurity professionals. But cybersecurity experts are in dangerously short supply, and the need for these professionals is only expected to grow—according to the Bureau of Labor Statistics, demand will grow 35% by 2031. 
A master's degree in cybersecurity is an effective way to gain access to an in-demand and financially rewarding career. But what is required to enroll in one of these programs?
What Are the Requirements for Enrolling in a Master's in Cybersecurity?
The requirements for enrollment in a master's program in cybersecurity vary by school, but there are certain commonalities to know as you consider the degree. 
Bachelor's Degree
To enroll in a master's degree program, you'll need to hold a bachelor's degree from an accredited college or university. However, that degree does not necessarily need to be related to cybersecurity or even computer science, though those degrees offer a strong foundation for a master's program. At Franklin, for example, any bachelor's degree can be used for entry as long as you achieved a minimum GPA.
Prerequisite Coursework
While you can enroll in a master's in cybersecurity with an unrelated undergraduate degree, you may need to complete prerequisite coursework before starting the program. Often, you can complete this coursework online, either through the school you plan to attend for your master's or through another college or university. Common prerequisites for a master's in cybersecurity include introductory coursework in programming, computer science, networking and math. 
Test Scores
Many master's degree programs in cybersecurity require the GRE or other graduate standardized test scores, such as the GMAT. However, some schools, like Franklin, do not require test scores, so the cost and pressure of taking a test should not deter you from applying. 
Non-Technical Skills for Success in a Cybersecurity Master's Program
In addition to prerequisite coursework, it's also essential to consider the non-technical skills you'll need to succeed. While cybersecurity professionals may be stereotyped as lone coders, in reality, the profession relies heavily on effective teamwork and cooperation. 
According to Dr. Bilge Karabacak, chair of Franklin's M.S. in Cybersecurity, these "soft" skills are just as crucial for success in the field as knowledge about programming and scripting. They include:
Critical thinking
Teamwork
Attention to detail
Creativity
Willingness to learn
Ability to explain complex concepts
Is a Master's in Cybersecurity Right for Me?
Before making a financial and personal commitment to a cybersecurity master's program, it's important to carefully consider whether the degree will support your long-term career goals. Questions to ask yourself include the following.
Do you have a grasp of foundational computer programming and networking principles? If not, you can still pursue this path, but you will need to complete prerequisite coursework before enrolling in a master's degree program. However, this offers an excellent opportunity to ensure you enjoy this type of work!
Are you comfortable with mathematical thinking? You don't need to be Albert Einstein to work in cybersecurity, but working in cybersecurity, like most technology fields, does require a level of familiarity with mathematical principles and logic. Certain roles lean more heavily on math than others—for example, cryptography is math-intensive. Additionally, many industry certifications require an understanding of mathematics.
Do you enjoy problem-solving and critical thinking? Careers in cybersecurity are all about solving puzzles. You'll regularly need to use critical thinking as well as your technical knowledge and skills to find the answers to new and emerging problems, so it's vital that you enjoy solving complex challenges.
Do you want a career that involves lifelong learning and upskilling? Technology—and cyber threats—change constantly. The foundational knowledge from a master's degree in cybersecurity will prepare you to excel in the field today, but you'll also need to commit to staying up-to-date as the industry evolves. 
Find Your Career Fit with a Master's in Cybersecurity from Franklin
Whatever your academic background and cybersecurity experience, Franklin is here to help you lay the foundation for a successful and fulfilling career. Our cybersecurity master's degree was developed by industry experts to address the most pressing challenges in the field, with a curriculum closely aligned with leading cybersecurity certifications. 
Since you can complete our online master's degree in as few as 16 months, it's easy to balance your studies with your personal and professional commitments. With a focus on both theory-based knowledge and application-oriented security skills, you'll learn to develop solutions that keep organizations safe while translating complex technical principles to all audiences. You'll use industry-leading tools and real-world examples to build your skills so that you can apply your new knowledge from day one.  
Plus, since our faculty are practitioners in the field, you can be sure that our curriculum is always at the cutting edge. You'll explore emerging technologies like cloud, containers and Blockchain, which will prepare you for roles in the government or a wide range of industries.
Are you ready to take the next step toward a career in cybersecurity? Learn more about Franklin's master's degree in cybersecurity.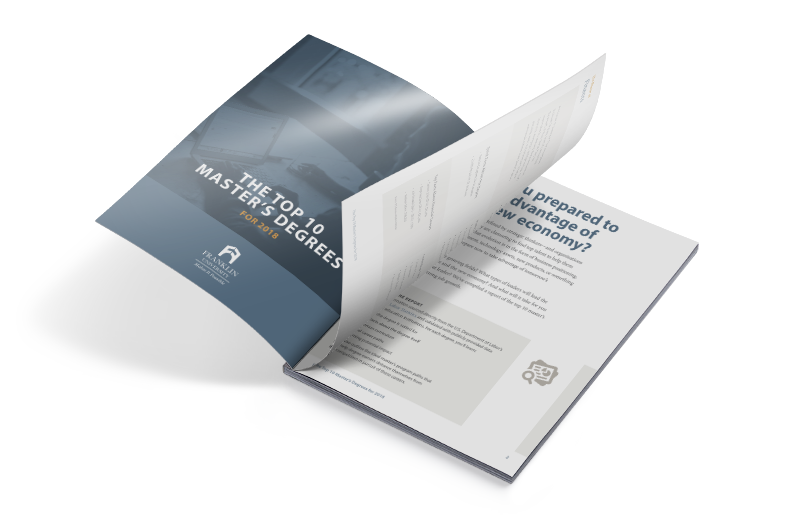 Download Now
Discover 10 of the most in-demand master's degrees based on salary and job growth.