We're Sorry
There was an unexpected error with the form (your web browser was unable to retrieve some required data from our servers). This kind of error may occur if you have temporarily lost your internet connection. If you're able to verify that your internet connection is stable and the error persists, the Franklin University Help Desk is available to assist you at helpdesk@franklin.edu, 614.947.6682 (local), or 1.866.435.7006 (toll free).
Just a moment while we process your submission.
What Can I Do with a Master's in Cybersecurity?
Since the dawn of the internet, cybercrime has been a growing threat. Today, it costs the U.S. economy billions of dollars each year, impacting individuals, organizations and governments. Beyond the financial ramifications, attacks on hospitals and critical infrastructure can potentially endanger millions of people's lives and well-being.
In this context, the world needs highly-trained cybersecurity professionals more than ever. In 2022, there were 3.5 million unfilled cybersecurity jobs around the globe, and the Bureau of Labor Statistics predicts that U.S. demand for experts in the field will grow 35% by 2031.
Entry into this in-demand and highly-paying field requires specialized skills and knowledge. One way to gain those qualifications is to earn a master's degree in cybersecurity. 
What Is a Master's in Cybersecurity Degree & What Do You Learn?
A master's degree in cybersecurity is a focused graduate degree program for professionals who wish to advance in the field or to change careers and enter the cybersecurity space. Many cybersecurity master's degrees, including Franklin's, do not require a bachelor's degree in cybersecurity, although you may need to complete prerequisite coursework to prepare for the program. 
Master's degrees in cybersecurity cover topics including engineering-level and management-level cybersecurity, theoretical and applied cybersecurity domains and offensive and defensive approaches. These degrees typically take 1-2 years to complete. Franklin's program can be completed in 16 months, entirely online. 
Between 2017 and 2021, the number of people completing master's degrees in computer and information security rose by 98%, reflecting the increasing demand for cybersecurity experts. Even so, there is still a shortage of qualified professionals in the field. According to leading labor analytics firm Lightcast, U.S. employers shared 714,548 job postings for cybersecurity job roles and skills during the 12-month period ending in April 2022. Meanwhile, in 2021, only 5,551 people graduated with master's degrees in the field.
Jobs You Can Pursue With a Master's in Cybersecurity
A master's in cybersecurity (also known as information security) prepares you for a wide array of job opportunities in nearly every field. Cybersecurity professionals are critical employees in nearly every government agency and major corporation. They are particularly in demand in healthcare, research, finance, banking and manufacturing. 
According to Lightcast, roles and advertised salaries for cybersecurity roles requiring master's degrees in 2022 include:
Cybersecurity Architect
Cybersecurity architects design and oversee an organization's security infrastructure and practices. They select and implement security practices and conduct oversight activities such as penetration testing and ethical hacking to ensure that the organization's systems and data are as safe as possible. 
Median advertised salary: $155,500
Cybersecurity Manager
A cybersecurity manager oversees information security systems and teams. They are responsible for monitoring the flow of information into and out of their organization's networks and identifying potential threats and vulnerabilities. Cybersecurity managers are typically in charge of tasks such as penetration testing, encryption and firewall implementation.
Median advertised salary: $151,400
Cybersecurity Engineer
Cybersecurity engineers perform the technical tasks that keep networks safe. They are often involved in developing and maintaining technical security systems. They test and assess systems to identify risks, then create solutions to defend the network from threats like ransomware and hacks.
Median advertised salary: $112,600
Information Security Analyst
Information security analysts share certain duties with cybersecurity managers and engineers, including developing security procedures, keeping an eye out for new threats and vulnerabilities and installing security software and firewalls to protect the organization. They may also work across the organization to educate employees about cybersecurity practices and help develop technology use and information handling policies. 
Median advertised salary: $109,500
Network Engineer
Network engineers design, build and maintain computer networks for organizations. They identify issues impacting performance and troubleshoot solutions, conduct maintenance work like installing upgrades and security patches and manage network equipment like VPNs and routers. As part of this work, they ensure that the network is up-to-date and has all the proper security protections in place. 
Median advertised salary: $115,600
Penetration Tester
Penetration testers work to identify how a cybercriminal might target an organization or network by simulating cyberattacks and security breaches. Typically, penetration testers then create reports of the weaknesses they identify and offer recommendations for how the organization can mitigate those vulnerabilities.
Median advertised salary: $128,300
IT Auditor
IT auditors work to improve a company's systems, policies and procedures. They collect and review data on information systems and governance, data storage, security procedures and more to identify potential weaknesses. Depending on the industry, they may also be tasked with ensuring that the company is in compliance with regulations (such as laws related to consumer data storage and protection). 
Median advertised salary: $91,100
 
Why Get a Master's in Cybersecurity?
A master's degree gives you the broad base of knowledge you need to work in a wide variety of contexts and to advance your career through increasingly challenging roles.
"Companies have three layers of operation, strategic, tactical and operational," explains Dr. Bilge Karabacak, chair of the M.S. in Cybersecurity program at Franklin University. "Graduate-level cybersecurity courses cover all of these layers. Cybersecurity is not only a technological domain but also a people and process-oriented domain, and the cybersecurity master's program encompasses these three areas as well."
Unlike certificate programs, master's degrees in cybersecurity go beyond technical training to help you develop in-demand soft skills like leadership and communication, preparing you to deal with the complex ethical and legal challenges related to cybersecurity. 
Launch Your Cybersecurity Career at Franklin
Whatever your level of expertise in cybersecurity, a master's degree from Franklin can help you advance in your career and prepare for more technically demanding roles or for leadership positions. Delivered 100% online, Franklin University's program is designed for working professionals, so you won't have to sacrifice your personal or professional life. In as little as 16 months, you can earn your master's degree and take the next step in your cybersecurity career.
Developed by industry experts, Franklin's curriculum is closely aligned with industry-leading certifications, including ISC2's CISSP and CSSLP certifications, CompTIA's Pentest+ certification, EC-Council's CEH Master and ISACA's CRISC certification. Throughout the program, you'll learn by doing, ensuring that you can apply your new knowledge from day one. 
Are you considering entering or moving up in this in-demand field? Learn more about Franklin's master's degree in cybersecurity.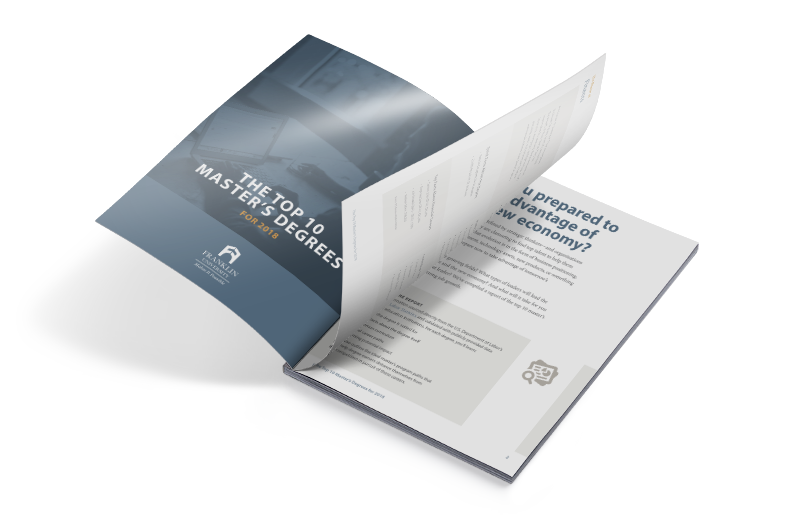 Download Now
Discover 10 of the most in-demand master's degrees based on salary and job growth.