We're Sorry
There was an unexpected error with the form (your web browser was unable to retrieve some required data from our servers). This kind of error may occur if you have temporarily lost your internet connection. If you're able to verify that your internet connection is stable and the error persists, the Franklin University Help Desk is available to assist you at helpdesk@franklin.edu, 614.947.6682 (local), or 1.866.435.7006 (toll free).
Just a moment while we process your submission.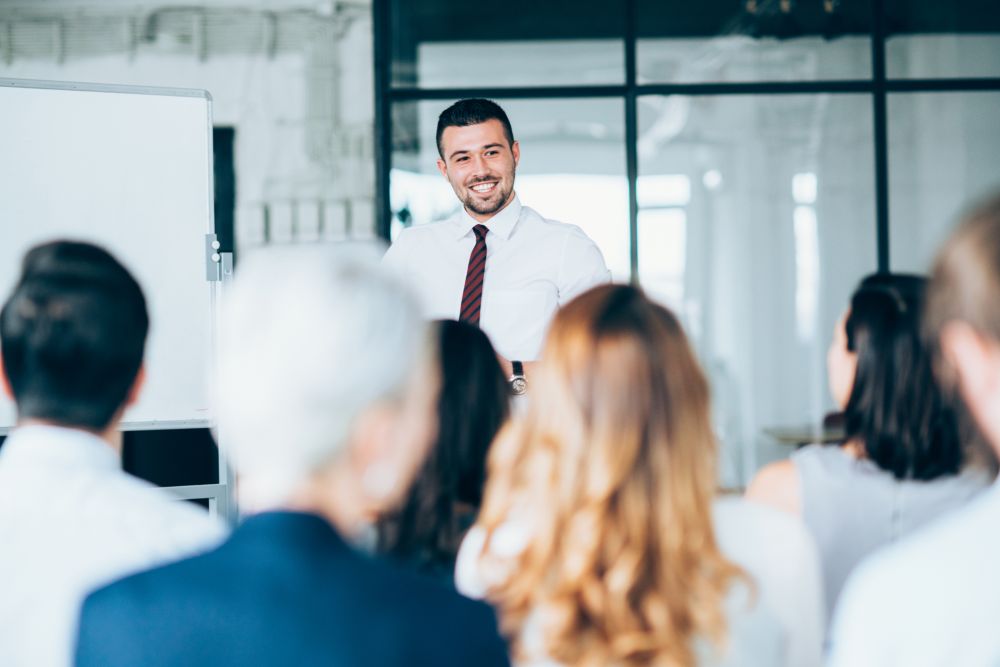 Master's vs Doctorate: Which Degree is Right for You?
Graduate degrees are becoming increasingly popular. 
According to the world's largest and most sophisticated database of labor market and talent data from Burning Glass Technologies, 19% of U.S. job openings in the year 2018 requested a graduate degree. And that trend isn't changing any time soon. In fact, the Bureau of Labor Statistics expects master's-level occupations to grow by 17% by 2026. Employment for doctoral- and professional-level degree is also projected to grow by about 13%. Both of these projections are much faster than the 7% average for all occupations. 
The demand for both master's and doctorate degrees is high. But how do you know which level of educational attainment is right for you? Does your industry or career aspirations necessitate one degree or another? Will you personally benefit more from a master's or doctorate?
We'll show you how to take all these factors into consideration to help choose if you should get a master's degree, or if you should complete your master's and go on to pursue a doctorate degree.
Master's vs Doctorate: What are typical program requirements?
Whether you pursue a master's degree or doctorate degree program, it's a significant commitment of time, energy and finances. Before you choose, you should understand the requirements for not only getting into a program, but also completing your master's or doctorate degree.
Now that you have an understanding of what committing to a master's degree or doctorate degree entails, compare the focus of the program and coursework. 
Master's vs Doctorate: What's the difference in content and coursework?
The focus of master's degrees and doctorate degrees is different. 
A master's degree is designed to deepen career-oriented knowledge and skills. A doctorate degree is a heavily research-based degree, designed to develop critical research,analytical and writing skills in an effort to fill industry knowledge gaps.
Because of these different goals, the makeup of the coursework and content is also distinct.
Master's programs feature three different types of courses:
Core courses: These courses are required to complete your master's degree and are considered essential knowledge to advance your industry expertise.
Electives: These are a selection of courses that allow you to further specialize your degree with concentrated knowledge in specific areas. They can also be used to broaden your experience in related subject areas.
Capstone course (or thesis): The culmination of a master's degree, a capstone course or thesis usually involves conducting research and presenting your findings.
Doctorate programs are broken down into four distinct parts:
Coursework: These advanced courses are required knowledge for passing your comprehensive exam. 
Research Core: These courses impart essential research, analytical and writing skills to prepare you to complete your dissertation.
Comprehensive exam: The comprehensive exam tests your understanding of key concepts learned through your coursework. Passing your comprehensive exam is essential to beginning your dissertation.
Dissertation: You work with a dissertation committee to identify a research topic. Then you complete in-depth research, analysis, and writing before you defend your original research to your dissertation committee. 
As you consider these degrees, decide which better fits your academic and professional goals, as well as your personal interests and learning style.
Master's vs Graduate: How much will the degree cost?
We know that cost is a top concern for individuals deciding what degree to pursue. Unfortunately, it's also one of the most difficult questions to answer. Cost estimates for a master's degree can be anywhere from $30,000 to $120,000—and costs for doctorates can range just as widely. 
If you're trying to evaluate the cost of a master's vs doctorate degree you need to look at important factors like:
Type of institution: Whether you choose a public, private nonprofit or for-profit school will impact how much you pay in tuition. The reputation and rankings of a university also affect the cost of tuition. 
Time to graduation: How many courses you take at one time and the total number of credit hours you need to graduate affect the cost of both master's and doctorates. Doctorates depend highly on an individual's time and commitment to completing the research and writing of an original dissertation. Also, keep your other personal and professional commitments in mind when estimating how long it will take to earn your degree (and how that will impact cost).
Transfer credit: If you have a professional certification, or have earned graduate-level course credit, you may be eligible to transfer credit toward your degree. Getting transfer credit can significantly reduce your total cost.
Remember: To complete a doctorate degree you must first complete a master's degree. So if cost is a top concern, evaluate which institution and program will give you the best value. In some cases, you may even be able to complete both a master's degree and doctorate degree at a lower cost than a master's degree at a school with high tuition. 
Master's vs Doctorate: What are the outcomes of each degree?
When it comes to the outcomes of a master's or doctorate degree, you should look at three key factors: skillset, career prospects and salary expectations. Let's dive into the differences between the outcomes of these two types of graduate degrees.
Skillset: Master's degrees focus on the expert command of industry-specific skills, while working to develop critical-thinking and problem-solving skills. On the other hand, doctorate degrees are nearly the inverse—they heavily focus on research, analysis and writing in support of developing transferable skills that can be used to fill gaps in industry knowledge.
Career prospects: Career advancement is a primary goal for people who pursue master's and doctorate degrees. Master's degrees are seen as career-oriented degrees that prepare you for management and leadership positions. More and more, doctorate degrees are becoming the norm for top executive positions, as well as opportunities to transition your career into academia.
Income: Both master's degrees and doctorate degrees significantly increase your salary expectations and lifetime earning potential. But which is worth more? According to the BLS, a master's degree has the power to boost your earnings by 17% when compared to a bachelor's degree, while a doctorate degree can bring in a salary 30% higher than a bachelor's degree. According to the U.S. Census Bureau, an individual with a master's degree can also earn more than $2.8 million in their lifetime, while a doctorate degree can earn you over $3.5 million.
Comparing the Benefits of Master's vs Doctorate Degrees
There are a lot of factors that go into choosing a master's vs doctorate degree. But as you evaluate all of the different aspects of these programs, make sure to keep your long-term goals in mind. We've outlined four key ways to compare the benefits of master's vs doctorate degrees against your goals.
Master's vs Doctorate: Popularity meets possibility with online degrees
As demand increases for advanced degrees, professionals are looking for ways to make getting their graduate degree more attainable. That's why online master's and doctorate degrees are more popular than ever. Online degrees offer working professionals the opportunity to get their degree without stalling their career.
Getting your master's degree or doctorate degree is a lifetime achievement that can help you advance your career. If you're considering your options for a master's or doctorate degree, explore Franklin University's online master's degrees and online doctorate degrees to find a program that can help you take your career to the next level.
 
Download Now
How to Complete Your Doctoral Journey
Discover common pitfalls and the 5 key metrics that will help you finish your doctorate degree.