We're Sorry
There was an unexpected error with the form (your web browser was unable to retrieve some required data from our servers). This kind of error may occur if you have temporarily lost your internet connection. If you're able to verify that your internet connection is stable and the error persists, the Franklin University Help Desk is available to assist you at helpdesk@franklin.edu, 614.947.6682 (local), or 1.866.435.7006 (toll free).
Just a moment while we process your submission.
Is a Master's Degree Right For Me? 7 Reasons Why it May Be The Right Time
Industries today are becoming more complex and interconnected. Employers are looking for people with deep subject matter expertise. They're also looking for professionals with extensive interpersonal skills who can lead their organization forward. This combination is emblematic of master's degree holders, which is why it's not surprising that completions of master's degrees increased by 31% between 2008 and 2018.
But while master's degrees are in-demand, is a master's right for you? It's a significant investment of time, energy and money, so you need to make sure you want it for the right reasons.
Here are seven really good motivations for earning your master's degree.
Reason 1: You want to become an expert in your field.
A master's degree is a credential that proves your dedication to and knowledge of a subject. Unlike a bachelor's degree—which focuses on breadth of knowledge through general education, major and elective courses—a master's degree focuses on depth of knowledge in a specific area of expertise.
"A master's degree allows you to focus on field related material, combine theory with practice, and develop academic writing and communication skills at a higher level," says Dr. Jonathan McCombs, Dean, College of Health & Public Administration at Franklin University. "A master's degree also delves more into the academic literature where research has created a body of knowledge around complex issues and problems in the field. Students bring a pragmatic approach to this body of work and make sense of how to implement solutions to complex problems based on this new knowledge."
Reason 2: You want to develop or grow your leadership skills.
Gaining and refining leadership skills is a lifelong journey. Many leadership skills are acquired through first-hand experience in areas like relationship building, evaluating organizations, strategic problem solving and people management. However, a master's degree has a unique ability to expedite this process by helping you learn from others' experiences.
"Learning about leadership from those who have extensive experience practicing it is very valuable," says Dr. McCombs. "At Franklin, the instructors of leadership courses are often in higher-level leadership positions where they can help impart the nuances of leadership that are more difficult to learn through theoretical knowledge. In this way, students gain the benefit of past mistakes and successes as they advance in their careers and learn to apply those lessons in their workplace."
Reason 3: You want to learn new skills that will help you be the best person for the job.
Over the past 5-10 years, nearly every industry has experienced significant change due to big data, technology and globalization. Some industries have been affected more than others as new positions are created and others become obsolete.
If you want to update your skills to keep up with the pace of change, a master's degree may be right for you. A master's degree will:
Give you deep insight into the greatest challenges facing your field today. 
Teach you the newest tools, technologies and methods to seize opportunities in your industry.
Build interpersonal and transferable skills, making you a better communicator, collaborator and decision maker.
But learning new skills is only part of the equation.
"Developing the ability to continuously evaluate and learn in new situations is essential to an employee who can stay current in a field," says Dr. McCombs. "This is a mindset that can be developed in a master's degree program as you discover the expanse of knowledge available to learn in your specific areas of interest." 
So while a master's degree will teach you the cutting-edge skills of today, it will also prepare you to be a life-long learner. You will learn how to navigate challenges, adapt to change, and drive progress at your organization.
Reason 4: You want to increase your earning potential.
A master's degree is proven to increase both your short- and long-term income.
"Most experts agree that a master's degree has tremendous return on the investment of both time and money." says  Dr. McCombs. "The earnings potential of a master's degree recipient is often 15-20% more than those that hold a bachelor's degree." 
To compete for these higher salaries in fast-growing occupations, you need to stand out. A master's degree is a credential that can put you head and shoulders above the rest. 
Salary Comparison for the Fastest-Growing Occupations in the U.S. (Requiring a Bachelor's or Master's Degree)

| | | |
| --- | --- | --- |
| Occupation | Median Salary | Top 25% Salary |
| Registered Nurse | $71,718 | $88,338 |
| Software Developers, Applications | $103,626 | $130,458 |
| General and Operations Managers | $100,922 | $157,123 |
| Market Research Analysts and Marketing Specialists | $63,128 | $88,670 |
| Accountants and Auditors | $70,491 | 92,914$ |
| Management Analysts | $83,616 | $112,133 |
| Financial Managers | $127,982 | $178,838 |
| Business Operations Specialists (All Other) | $70,533 | $94,890 |
| Elementary School Teachers (Except Special Education) | $58,230 | $75,330 |
| Computer Systems Analysts | $88,733 | $113,464 |
*Source: EMSI
While not every person who earns a master's degree will see an immediate salary increase, master's degrees pay off in the long haul. According to the Bureau of Labor Statistics the median weekly earnings for a master's degree is $1,401, compared to $1,173 for a bachelor's degree. Over the course of your career, a master's degree can add up to hundreds of thousands of dollars of additional income.
Reason 5: You want to change career paths.
A career change doesn't have to be a lateral move. For individuals who already have a bachelor's degree, a master's degree can be the perfect way to shift careers while moving up the ladder. A master's program will help you harness all of your previous experience, academic and professional, to transition into a new field.
"People gain tremendous perspective on what they want to do for a living once they enter the workplace," says Dr. McCombs. "Some find nuances of their field that are more interesting to pursue, while others want to pursue a new area entirely. That's why it's common for students to get a master's degree in a different area from their bachelor's degree." 
For many programs, successful completion of a bachelor's degree will give you the course credit you need to pursue a master's degree. However, highly-technical, scientific or mathematical degree programs may have prerequisites, so make sure you have all of the required courses before applying. 
Reason 6: A master's degree is a requirement for your field.
Job posting data shows a strong demand for master's degrees—with 3.82 million jobs posted requiring master's degrees. It's demand that is prevalent across a wide variety of positions in some of the fastest-growing fields.
Master's degrees are especially sought-after for senior management and executive positions.
"Many leadership positions are requiring or preferring a master's degree because employers need professionals who can think independently, come to problems with a solution mindset, and who are comfortable with complexity," says Dr. McCombs. "With the addition of automation, data analytics, and advanced technology, thought leaders of the modern world will need a master's degree to compete."
Reason 7: You enjoy learning new things and challenging yourself intellectually.
Every student has a different story, but so much of getting your master's degree should be about enjoying the journey. Many students are shocked at how much they accomplish in the end, as a master's stretches them personally and professionally for a multitude of reasons.
"In my experience, many students talk about how obtaining a master's degree changes the trajectory of their life and their perspective on the world," comments Dr. McCombs. "Many graduate students point to an entirely new worldview because of the amount of new information absorbed, the discussion with instructors and other students, and the expansion of reading comprehension and analytical skills."
Get Your Master's Degree from Franklin University
Are you convinced a master's degree can help you advance your career? Are you unsure if you have the time, energy and finances to make it happen? Franklin University specializes in adult education, helping working professionals balance their education, professional and personal commitments. That's why Franklin's master's degrees are fully-online, accelerated degrees.
Our master's degree curriculum is informed by industry best practices and the skills most sought-after by employers. You'll also learn from industry experts and peers from all backgrounds and experiences as you complete your degree.
Explore our full list of master's degree programs to find the right fit for you and your career goals.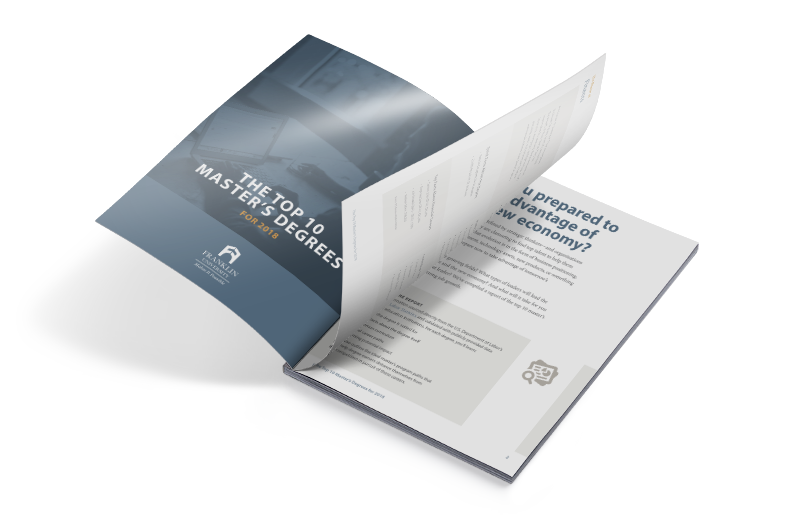 Download Now
Discover 10 of the most in-demand master's degrees based on salary and job growth.