We're Sorry
There was an unexpected error with the form (your web browser was unable to retrieve some required data from our servers). This kind of error may occur if you have temporarily lost your internet connection. If you're able to verify that your internet connection is stable and the error persists, the Franklin University Help Desk is available to assist you at helpdesk@franklin.edu, 614.947.6682 (local), or 1.866.435.7006 (toll free).
Just a moment while we process your submission.
MPA Degree Salary: Top Pay & Top Jobs For Graduates
Leaders in government and nonprofit sectors are taking center stage as our world strives to solve big problems facing communities around the globe. It's a purpose-driven vocation, where passions and professional pursuits intersect, and earning a Master of Public Administration degree (MPA) can help those leaders achieve more. With jobs in high demand, earning an MPA can not only improve the likelihood of landing a dream job, it can also help leaders increase their salaries.
If you're weighing your options as to whether or not you should pursue a master's degree in public administration, here are some things to consider as it relates to your future earning potential.
How Much Do MPA Graduates Make?
Public administration is a financially modest profession, yet oftentimes higher-ranking positions require an MPA. According to Emsi, the average income for a bachelor's in public administration is around $64,600 per year. In contrast, an average MPA salary is around $72,600 per year. While the difference may not seem significant, earning an MPA is an effective way to increase salary and set professionals on a path to continuously grow in their career. 
"If you want to advance in this field and get promoted, and if you want to be highly skilled and effective, earning an MPA is the right move. Agency directors typically make six-figure salaries and you can make more in the private sector," said Alexander Heckman, MPA, Ph.D. Department and Program Chair of Public Administration at Franklin University. 
For example, private sector salaries for jobs like financial analyst, public relations manager, and data analyst tend to be higher than the same jobs in the public sector. But regardless of category, people with an MPA have higher earning potential than those with a bachelor's degree. 
 
Top-Paying Jobs
Government and nonprofit positions account for one-quarter of all American jobs, and the top-paying jobs are granted to people with MPAs. It's one of the few ways professionals can continue to climb the ladder and be considered for higher-ranking positions where they have increased influence and the ability to improve the greater good.
If you're considering earning a master's in public administration, here are a few top-paying jobs in each sector. All salary figures are based on job posting data provided by EMSI and Glassdoor.
Public Sector:
Human Resources Director: Oversees all HR functions within an organization, creating and enforcing HR policies and programs and driving an organization's people management strategy.
Median Salary Potential: $107,000
Top-Paying Potential: $180,000
Program Administrator: Planning, directing and coordinating an organization's program or service; supervising staff, managing program budgets and evaluating the success of a program.
Median Salary Potential: $75,000
Top-Paying Potential: $200,000

Private Sector:
Director of Volunteer Services: Oversees volunteer activities within an organization, interviewing and hiring volunteers, placing volunteers in different roles based on qualifications, and managing records.
Median Salary Potential: $72,000
Top-Paying Potential: $115,000 
Government Affairs Executive: Plans and directs an organization's policies and objectives involving matters of federal government and regulations. Oversees analysis of proposed federal legislation to determine potential impact on an organization.
Median Salary Potential: $93,000
Top-Paying Potential: $250,000

Nonprofit Sector:
Executive Director: Oversees staffing, records maintenance, fundraising, compliance, and other administrative duties to ensure sound financial practices and that the organization makes timely, consistent progress.
Media Salary Potential: $73,000
Salary Potential: $150,000
"The higher up you go in an organization, generally speaking, the more money you're going to make in the private sector and the bigger the gap gets between what you made in the government vs. the private sector," said Dr. Heckman. "If you're looking to make a lot of money, the private sector can do that in a way that the government can't."
Are MPA Degrees In Demand?



It's valuable to earn a degree that appeals to your interests, but it's even better when the degree is growing in demand. According to Economic Modeling Specialists International (EMSI), from 2021-2031, jobs in public administration are expected to increase by 7%. 
Is Earning an MPA Worth It?
An MPA is about more than increased earning potential. It's about landing a position that allows leaders to impact change. Those with an MPA will be prepared to advance to a top leadership role while serving their community, cause or country, and helping ensure more efficient and effective government programs and nonprofit organizations. 
For example, people who earn an MPA increase their potential to:
Run for political office
Solve big problems facing communities
Travel abroad
Impact change improving outcomes
Make impactful financial decisions
Influence public opinion
Earning an MPA is a great way to prepare for a rewarding career that makes a difference in people's lives, and Franklin University offers flexible programs ideal for working adults. Their graduate-level degree program is designed to advance your professional qualifications and career by giving you the knowledge and competencies needed to lead and manage government and nonprofit organizations.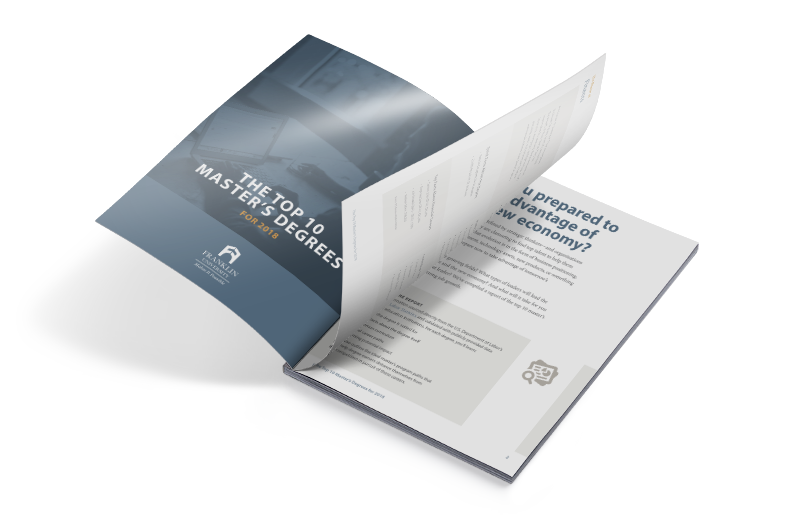 Download Now
Discover 10 of the most in-demand master's degrees based on salary and job growth.