We're Sorry
There was an unexpected error with the form (your web browser was unable to retrieve some required data from our servers). This kind of error may occur if you have temporarily lost your internet connection. If you're able to verify that your internet connection is stable and the error persists, the Franklin University Help Desk is available to assist you at helpdesk@franklin.edu, 614.947.6682 (local), or 1.866.435.7006 (toll free).
Just a moment while we process your submission.
What Is The MPA Degree? Everything You Need to Know
Meaningful change starts with strong leaders who are capable of handling complex challenges. Those individuals not only have the aptitude to lead, they also have the education that creates the foundation for an exciting and impactful career. 
This combination is particularly valuable in the field of public administration. Unlike other career paths that present linear growth potential, public administration professionals chart their own course, designing a future that meets their professional goals as well their desire to make a difference. Earning a Master of Public Administration degree (MPA) is a great place to start.
What is an MPA degree? 
A Master of Public Administration (MPA) is a professional degree for leaders in the public and nonprofit sectors. Curricula combines traditional business and finance courses with public policy courses to prepare students to serve in high-level positions. 
Most MPA programs, like the one offered by Franklin University, take about two years to complete depending on a student's personal and work circumstances. If students need to consider work and family obligations that may conflict with in-person learning, an online MPA degree program may be the best option.
 
What Will I Learn in an MPA Program?
MPA programs vary by educational institution, which is why it's important to find a program that presents a curriculum that supports your professional endeavors. An ideal program will not only provide a fundamental education, it will also give you actionable skills that can be immediately applied to your position. 
Here are some skills you can expect to attain while pursuing a MPA.
Strategy, Collaboration and Communication: Think strategically about leading organizations operating in a competitive political environment where collaboration is required to advance the organizational mission. 
Financial Management and Budgeting: Learn to use fundamental budgeting, accounting, and financial management concepts and tools necessary for leading and managing government and nonprofit organizations. 
Leading Government and Nonprofit Organizations: Putting administrative decisions and organizational plans into action, using leadership concepts, tools and interpersonal skills for working with individuals and groups to effectively execute administrative plans and make decisions. 
Management Decision-Making Methods: Students learn specific techniques for analyzing common administrative problems and how to use project management tools for effectively managing administrative projects. 
Foundations of Government & Nonprofit Administration: Examine fundamental public service values that differentiate the mission and purpose of government and nonprofit organizations from those of private, for-profit, organizations. Learn to think systematically about delivering programs and improving organizational performance. 
Methodological Reasoning and Quantitative Analysis: Become a critical consumer of academic research and professional reports and confidently apply statistical concepts and techniques for professional decision-making. 
Who Is a Master's in Public Administration For? 
There are many professionals who are ideal candidates for earning an MPA degree. They work in the public, nonprofit, and private sectors in a wide variety of roles. 
"The bachelor's degree is becoming the new high school diploma, making the master's degree an increasingly important way to differentiate yourself for positions in the field and to be effective as a leader and manager," said Alexander Heckman, MPA, Ph.D. Department and Program Chair of Public Administration at Franklin University.
What Can I Expect From an MPA Program?
A dynamic MPA program will prepare students for the unique opportunities and challenges that face professionals in this specific field. No mission-oriented institution can do without a leader who has specialized skills to drive change and empower transformation. Franklin's MPA program prepares students to take on public administration leadership much the same way an MBA prepares a business executive. 
"A master's degree is increasingly needed because these fields are getting more specialized and complex," said Heckman. "You need people with a more sophisticated, higher level of education to be able to understand the fields they're dealing with and lead and manage in those areas." 
Franklin University offers a current, applied curriculum focused on preparing students to be real-world practitioners, upon graduation they'll be ready to enter the workforce and immediately take on the top issues facing government and nonprofit organizations. For example, experts in the field teach ways to navigate the political system from an organizational and professional perspective; real-world ethics and professionalism; critical thinking and process improvement; fundamental budgeting and financial analysis. The university also emphasizes critical skills that are not addressed in other programs including methodological reasoning, strategic organizational communication, and applied analytical techniques for decision making and problem solving.
"Franklin's program is balanced so you get insights and experience that you can apply to any sector," said Heckman. 
What Are the Benefits of an MPA?
Beyond the exceptional education students receive with an MPA, a world of opportunities also becomes available. From 2021-2031 jobs in public administration are expected to increase by 7%, giving those with an MPA the opportunity to impact real, positive change in a variety of fields.
Impact political advocacy and legislative analysis: Develop and support research and policy agendas, conduct legislative and policy research, and work with public policy stakeholders to assess government and industry actions. 
Solve big problems facing communities: Lead strategic planning and change efforts, coordinate external and internal services and intergovernmental affairs, and provide administrative oversight of programs to ensure compliance.
Foster success-oriented organizational environments: Drive best-in-class talent management, lead and support efforts to attract, recruit, manage, and inspire highly qualified and ethical employees, and foster an organizational culture that promotes workforce diversity.
Impact change that helps people: Spearhead and support government relations, community outreach, and other advocacy efforts in support of legislative and public policy priorities and organizational initiatives.
Earning an MPA is a smart investment for any purpose-driven professional who wants to achieve more and impact change, and Franklin's transfer-friendly online program is the graduate degree program of choice for government and nonprofit organizations seeking leadership talent. 
See how the Franklin MPA can help you earn your master's degree and jumpstart your career advancement.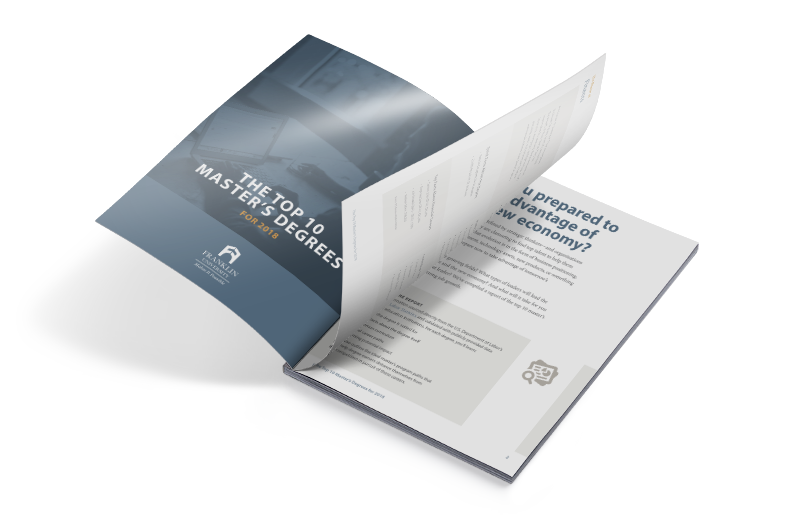 Download Now
Discover 10 of the most in-demand master's degrees based on salary and job growth.