We're Sorry
There was an unexpected error with the form (your web browser was unable to retrieve some required data from our servers). This kind of error may occur if you have temporarily lost your internet connection. If you're able to verify that your internet connection is stable and the error persists, the Franklin University Help Desk is available to assist you at helpdesk@franklin.edu, 614.947.6682 (local), or 1.866.435.7006 (toll free).
Just a moment while we process your submission.
Will My College Credits Transfer?
If you're considering going back to school, switching to a new postgrad program, or transferring from a community college to a 4-year university for a bachelor's degree, transfer credit can be a huge time (and money) saver.
But it's often an opportunity that many fail to seize.
The Transfer Credit Dilemma
Far too many students leave credits on the table when transferring programs. According to a 2014 report by the National Center for Education Statistics, approximately:
● 39% of students transferred no credits (an average loss of 27 credits)
● 33% of students transferred all eligible credits (retaining an average of 24 credits)
● 90% percent of all student credit transfers were between institutions that were accredited regionally, instead of nationally
● 56% of transfers originated from public 2-year institutions
● 35% of first-time undergraduate students transferred at least once
● 21% of students transferred once
● 11% of students transferred more than once
This is crucial—the number of credits you transfer can impact how long it takes you to complete your degree, and by extension, how much money you spend on it and how quickly you'll see a return on that investment.
Here are the most common questions we hear when it comes to transferring credits—and what you need to know about them.
Question 1: Will My College Credits Transfer?
The short answer is maybe.
The good news is that if you've accrued substantial credits from your undergrad work, chances are some (not all) will transfer over.
Articulation agreements are transfer agreements between schools. Schools evaluate the curriculum to determine its transferability. They help by doing the following:
Ensure your credits transfer whenever possible
Eliminate confusion and complexity surrounding the transfer process
Provide you with a clear degree pathway
However, while many universities have adopted policies to improve credit portability, no university or college is obligated to accept your already-earned credits. For doctoral or master's students who are looking to transfer to a new program, this process can be even more restricting at most institutions.
This reality can make it difficult to predict what credits transfer, and why.
 
Question 2: How Many Credits Can I Transfer?
This answer varies by school.
The Higher Learning Commission—one of six regional institutional accreditors in the United States—has yet to establish clear expectations around the volume of credits you can transfer. Most schools establish a specific number of credits that must be earned at that school, which is referred to as a residency requirement, and the most transfer-friendly schools have lower residency requirements.
In an effort to increase student retention rates, some schools cap the number of transfer credits they'll allow in at 12 hours. Some will not accept any transfer credit for graduate programs. Other colleges and universities are much more transfer-friendly in their policies, as they're built to support transfer students.
At Franklin, we give students a chance to transfer in up to 94 previously earned credits toward a bachelor's degree. We do cap our master's level transfers at 12 hours, like many other schools.
Question 3: How Can I Know What Will Transfer?
A few institutions have developed their own proprietary credit transfer research tools to facilitate the process of credit approval. You may be able to get access to this tool at your program to forecast how many of your credits may transfer over.
For example, Franklin University's myTransfer Credit tool walks you through the process of finding out exactly which credits may be transferable, and provides the option to save your searches so that you can access them later on.
This tool highlights exactly where your credit applies for your desired program(s):
You'll be able to input your information and the free tool will provide you with an estimate of transfer credit approval. If you'd like to save your work, create an account with a few easy steps and we'll hold on to your information for you. Pro tip: The tool allows you to identify and compare other degree programs that may be better suited for your transfer.
Question 4: What Determines if Credits Transfer?
There's no set standard that outlines if credits can transfer between schools. While some programs have transfer agreements between them, the majority do not. In either case, transfer approval is always at the discretion of the registrar's office.
The likelihood that a credit will transfer is not black and white. In most cases, it revolves around three sets of criteria:
Where you earned those credits. Are you transferring credits from a non-accredited, nationally accredited, or regionally accredited school? Courses from regionally accredited programs are more likely to transfer over. Those from non-accredited schools are nearly impossible to transfer.
How you performed in those classes. Often, programs will research transcripts to see how well you performed in the class. Most will only transfer the credit if you earned a B or above in the program. However, many reputable programs may give you transfer credit as long as you had a passing grade.
Where you are transferring the credits. Transfer credit policy can vary wildly between schools. It's best to ask your admissions rep at the school you're considering.
Question 5: What Can I Get Credit For?
Adults going back to school are often surprised to learn that transfer credit is not limited to coursework from undergrad and other programs.
Select graduate programs may award credit for the following:
Professional Training: You may be able to win transfer credit if you have taken courses or professional training offered through business and industry. Examples include the American Institute of Banking (AIB), or the Life Office Management Association (LOMA), to name a few. The amount of credits earned are determined by The National Guide to Educational Credit for Training Programs (published by the American Council on Education), or The Directory of the National Program on Non-Collegiate Sponsored Instruction.
Old AP Classes: if you have taken Advanced Placement classes in high school and have taken the AP tests on college board, once you score a 3, 4 or 5, you can get credit for them.
Straighterline Classes: Straighterline offers GenEd courses for which you can receive transfer credit.
Proficiency Exams: Clep Tests and Dante Tests allow you to test out of college courses. Once you get an appropriate grade, your credit will transfer.
Military Training Courses. ACE recognizes some military courses, which may help you apply those completed courses to your master's or doctorate.
Life Experience: If you have worked in a field for a long time, and you're able to show, through a portfolio, that you have gained the knowledge needed to earn credit for a specific class, you could get transfer credit.
Pro Tip: If you're considering transferring to a new program, or starting a graduate program for the first time, ask your advisor if there are credit opportunities for life experiences or proficiency exams.
Question 6: How Many Relevant Credits Will Transfer?
They key isn't to ask how many credits will transfer, or what credits are easiest to transfer, but to ask what credits are relevant to the program you're transferring into.
"Relevance is paramount. It's not just about the volume of credits you can transfer, it's also about the relatability of those credits to your program path. Our standard is that 70 percent of the previously completed course work has to apply to our program."
Tina Poliseno, Transfer Credit Evaluator at Franklin University
 
Some programs guage credit relevance to determine if the credit or experience can transfer in. Programs using this model are often more accepting of credit earned elsewhere.
Prioritize Programs With Generous Transfer Policies
A few transferred credits could make a year's difference in your path to graduation.
If you're transferring to another school to finish your bachelor's degree, or transferring to a completely new program, transfer credits should be a priority on your checklist. Be sure to ask either your admissions representative or the registrar at your desired program of the opportunities available to you.
And, look out for institutions with competitive transfer policies; odds are you'll earn the same quality education, faster, without the heavy overhead.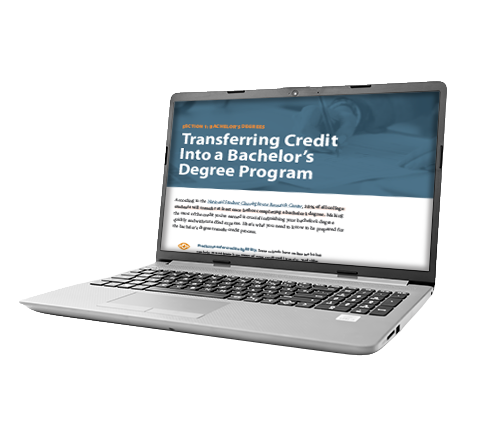 Download Now
Maximizing Your College Transfer Credit
Learn the five things you need to know, at every academic level, to make the most of your transfer credit – including credits from technical/community college and military training.