We're Sorry
There was an unexpected error with the form (your web browser was unable to retrieve some required data from our servers). This kind of error may occur if you have temporarily lost your internet connection. If you're able to verify that your internet connection is stable and the error persists, the Franklin University Help Desk is available to assist you at helpdesk@franklin.edu, 614.947.6682 (local), or 1.866.435.7006 (toll free).
Just a moment while we process your submission.
Doctoral Programs That Accept Transfer Credit: What to Know
Students entering a doctoral program most often bring with them years of formal education experience. Occasionally, that experience equates to transfer credits that can reduce the number of classes students need to take to earn a doctoral degree. 
A doctorate typically takes four to six years to complete. However, this timing depends on the program design, subject area of study, the institution offering the program, and whether or not transfer credits are accepted. Transfer credits can shave off significant time and financial investment in a doctorate program, but some students aren't aware of this viable option.
Reasons vary, but most often it's because students aren't aware that they are able to transfer credit or universities don't work with students to make sure they get credit where credit is due. That's why it's important for students to not only choose a program that will help them reach their educational goals but will also help them earn their degree quicker and potentially spend less money. 
Why Doctoral Program Transfer Credits Matter
 
Doctorates are prestigious for a reason: they're rare and challenging to earn. In the United States, only 2% of the population has a doctorate, and according to a study by The Council of Graduate Schools on Ph.D. completion and attrition, the completion rate 10 years after students begin their doctoral program remains low at 56.6%. But transfer credit can help more doctorate students turn their dreams into realities. 
Sara Burris, Associate Director of Graduate and Doctoral Admissions at Franklin University, says the value of transfer credits cannot be overstated. "Students need to make sure they get a good return on investment in terms of time and money. The more transfer credits they can bring in results in a shorter amount of time they'll be a student and less money they will have to pay." 
Students earning bachelor's and even master's degrees often supplement expenses with scholarships and grants. However, those opportunities rarely exist for doctoral students, creating an even greater need to find different ways to reduce costs. Transfer credits are a viable option. 
So let's look at the credits that might transfer into a doctoral program and the factors universities consider when deciding if credits are transferable.
Types of Credits That Can Transfer
Every program has its own standard for accepting transfer credits, and doctoral program rules can be particularly stringent, but with good reason. Courses are designed to reflect the necessary intellectual requirements to achieve the highest level of education. 
But with all rules, there are exceptions. Here are some frequently accepted transfer credits: 
Previous Doctoral Credit
If you pursued a doctorate but didn't complete the program, your credits may be eligible to transfer to another institution.
 
Master's-Level Credits
Assuming a student earned more than 32 credits, they can sometimes use previously earned master's-level credits to satisfy elective requirements for a doctorate. 
Special Licenses and Certifications
Some licenses, including superintendent licenses, can fulfill up to 15 of the required credits for an Ed.D. degree. 
Without a doubt, transfer credits are worth exploring and should play an important role in deciding where to earn a doctorate. But not all programs apply credits the same way, so it's important to ask questions.
"A lot of programs won't allow for any transfer credit, and only a few programs provide resources to help students identify earned credits and work experiences that apply," said Burris. "Franklin University now allows master's-level credits to come in as electives, and sometimes we approve course-for-course transfer. So we're very generous on the transfer credit front."
Factors Schools Consider for Transfer Credit
Students seeking transfer credits for a doctoral program will need to provide ample proof that what they learned in a previous program is almost equal to course requirements in a doctoral program. While that may sound daunting, it helps to preserve the integrity of a doctorate— benefiting students and universities alike. 
Franklin University is a transfer-friendly institution, helping students earn their degrees (even doctorates) faster and save money. Nearly half of Franklin doctoral students take advantage of the school's generous transfer credit policy. Franklin's transfer-friendly process makes it seamless for students to get credit for what they already know. Some students discover they can transfer up to 24 previously earned credit hours to their doctorate.
"Prepare to provide documentation such as a syllabus and all official transcripts," said Burris. "We review all materials to award what is fair and comparable to what they have taken. We want to offer as much transfer credit as we can. Just because you have taken doctoral-level courses doesn't mean it's an automatic transfer into our program." 
What to Look For In a Doctoral Program When Transferring
Choosing to earn your doctorate is a big commitment in many ways: personally, professionally and financially. It's appealing to students — many of whom are working professionals — to seek programs that fast-track success. But there is a right way and a wrong way to achieve that goal. Fast-tracking is only beneficial when it doesn't take away from the educational experience. 
That's why transferring credits is so appealing. It allows students to get ahead without sacrificing education quality. But first, students need to find a program that can place them on the right path from the start. When exploring doctorate programs, don't forget to inquire about features and benefits offered by the university that prevent common pitfalls that impact student success.
Examples of Valuable Support
At this education level, programs should offer ample support that goes beyond the classroom to help students achieve their goals.
Coaching: 1:1 support provides the best ongoing guidance, particularly when you're assigned a faculty advisor.  
Community: From your academic advisor and faculty advisor to a network of peers.
Resources: To be a successful student, support is vital. Ensure the program provides access to research assistants, editors, advisors and technology tools.
Dissertation Assistance: Coursework should assist with the dissertation process, making it less daunting and time-consuming.
"When people don't feel confident that they're on the right track, they drop out without finishing their degree. Franklin has created support programs because we want everyone to be successful and for our students to evolve and be impactful leaders," said Burris. "Also, the people teaching at Franklin not only have their doctorates, but also have professional experience and valuable networks. It's really a unique program with a lot of support and people wanting you to succeed."
Choosing the Right Doctoral Program is Critical
Not all doctoral programs accept transfer credits, so choosing the right program is critical to getting the best head start. Franklin University's start-to-finish program lets you earn your highest professional credentials sometimes in just three years—including your dissertation. 
"I can't tell you how many heartbreaking stories I hear from transfer students who complete their coursework, invest lots of time and money, and weren't prepared for the comprehensive exam and dissertation." said Burris. "We provide a faculty advisor from the first day a student is in classes who takes the student from beginning to end to ensure they're on track for their dissertation. We want to make sure that when a student starts, they are going to be successful and finish the program."
Explore Franklin's doctoral programs to see how Franklin University can help you achieve your educational goals.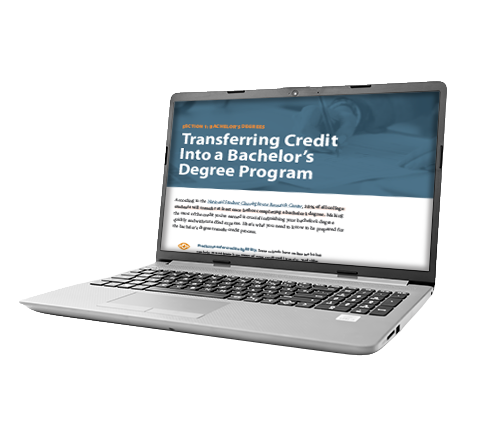 Download Now
Maximizing Your College Transfer Credit
Learn the five things you need to know, at every academic level, to make the most of your transfer credit – including credits from technical/community college and military training.