We're Sorry
There was an unexpected error with the form (your web browser was unable to retrieve some required data from our servers). This kind of error may occur if you have temporarily lost your internet connection. If you're able to verify that your internet connection is stable and the error persists, the Franklin University Help Desk is available to assist you at helpdesk@franklin.edu, 614.947.6682 (local), or 1.866.435.7006 (toll free).
Just a moment while we process your submission.
Ed.D. Completion Programs: Finishing Your Doctorate in Education
According to the National Science Foundation, the median time from entry into graduate school to earning a doctorate in education is 11.9 years. For many other areas of study, the median is around 6 years. This figure shows just how common it is to start and stop a doctoral program in education before finishing the degree. 
If you've started your Ed.D. degree and want to get back on track to graduation, you need to find a program that will help you maximize your previously earned credit. 
Ed.D. completion programs are designed to accelerate the completion of an Ed.D. degree for doctoral transfer students. While some programs are specifically referred to as completion programs, not all transfer-friendly programs will share that moniker. It's more important to know the characteristics and qualifications that make an Ed.D. program a good option for professionals with previously earned credit.
We're here to help you go beyond the name to uncover what you need to know about completing your Ed.D. degree at a new university.
How Do Ed.D. Completion Programs Typically Work? 

There are two different types of students who need to complete their Ed.D. degree. Depending on the type of student you are, there are different qualities you should look for in an Ed.D. completion program.
The first type of student is one who still needs to complete coursework requirements. Ed.D. programs require the completion of approximately 60 credit hours. The majority of these credit hours include courses in the research core, major area, focus area and electives. Students must complete these required courses before they sit for their comprehensive exam. After passing the exam, students then move on to the dissertation or dissertation in practice phase of the Ed.D.
 
Here's what you should look for in a completion program if you're an Ed.D. student who has completed some, but not all, coursework:
Transfer-credit friendly: Look for an Ed.D. program that maximizes your transfer credits. For example, Franklin University accepts up to 40% of the credits required to complete an Ed.D.In addition to previously earned master's and doctoral credit, you can also receive transfer credit for a superintendent license if you are interested in a PK-12 leadership focus.
Focus area: Look for an Ed.D. program that offers the flexibility to focus your degree to align with the career path you want to pursue. For example, Franklin University offers three different focus areas in the Ed.D. program. Students can choose from organizational leadership, PK-12 leadership or higher education leadership to align their studies and dissertation with their career goals.
Dedicated faculty advisor: Look for an Ed.D. program that offers dedicated mentorship from a faculty member. Your mentor can help motivate you, hold you accountable and set you up for success as you transition into the dissertation phase of your Ed.D. program.
The second type Ed.D. student is one who has completed all but the dissertation, also known as ABD. ABD students have completed all coursework and passed the comprehensive exam. They need to research, write and defend their dissertation in order to graduate. For many students, this is the most difficult undertaking in a doctorate program and a common reason students stop pursuing their Ed.D. However, there are programs with resources and support systems in place to help students go from ABD to Ed.D.
If you're an ABD student, you should look for a program that checks all of the boxes of a coursework completion program, plus:
Structured dissertation process: Look for an Ed.D. program that offers a step-by-step completion process that includes built-in faculty mentoring and guidance and peer-to-peer support. This structure and support will help you proactively plan your dissertation, navigate challenges and stay motivated along the way.
Dissertation in practice: Look for an Ed.D. program that allows you to focus your dissertation on a project you're currently engaged in at your workplace. This additional flexibility can help you integrate your dissertation into the work you're passionate about, while allowing you to apply new research skills to propose evidence-based solutions.
How Can I Maximize Credit When Transferring Into An Ed.D. Completion Program?
Maximizing transfer credit is the most important aspect of choosing an Ed.D. program to complete your degree. Here are 3 things that make it easier to get the most credit as you transfer into a new Ed.D. program:
Your previous course credit was earned at an accredited university. Accredited universities adhere to the highest standards of academic quality, which makes it easier to transfer credit to the university of your choice. 
You have thorough documentation of the coursework you already completed. Courses are evaluated on a case-by-case basis for doctoral transfer credit. This means that the more documentation you have—from course descriptions and syllabi to projects or exams—the easier it will be for the transfer credit team to evaluate.
You completed your coursework within the last 7 years. While doctoral credits never technically expire, the likelihood they will transfer does diminish over time. Each Ed.D. program will set different requirements for time to degree completion, but the more recent the credits, the better.
The best Ed.D. completion programs will offer one-on-one transfer credit support. As you're researching programs, don't hesitate to reach out to transfer credit departments at each university to better understand how your previous credit will transfer. 
What Can I Expect In A Typical Ed.D. Completion Program? 
An Ed.D. completion program shouldn't be fundamentally different from any other high-quality Ed.D. program. However, there are ways to tell if an Ed.D. program is a good place to complete your degree. 
Here is what you can expect from an Ed.D. program designed with transfer students in mind:
You will have extensive support. From dedicated academic and faculty advisors to peer support groups and a dissertation committee, you should be surrounded by people and resources that make it easier to complete your degree. 
You will have the ability to focus your degree based on your desired career path. Whether through coursework or the topic of your dissertation, an Ed.D. program should offer the flexibility to gain both interdisciplinary and career-specific skills. Look for a program that is focused on the aspects of leadership or education that will prepare you for the next stage in your career.
You will work to solve challenges, not further theory. The later stages of an Ed.D. are heavily research focused. During this period, you should be applying academic research skills to real-world issues to offer evidence-based solutions that will move the industry forward. 
You will be able to accelerate time to graduation. Whether you're ABD or only completed a few credit hours, a transfer-friendly university can help you maximize your transfer credits and plan your courses around your schedule to help you graduate sooner.
Are There Online Ed.D. Completion Programs? 
Yes, there are many Ed.D. completion programs that can be completed fully online. However, not all of these programs are created equal. A high-quality online Ed.D. program will:
Be accredited and adhere to the highest standards for curriculum, instruction and student experience.
Offer extensive resources, like library access, writing center support and faculty advisors, that are available to support you on your schedule.
Accept transfer credit only after evaluating each course in detail to ensure they align with the program's learning outcomes.
Require you to complete a dissertation or dissertation in practice to culminate your degree. 
If you want to complete your Ed.D., don't look for the easy way out. If an Ed.D. completion program seems like it cuts corners or doesn't adhere to high standards, it may not be worth getting your degree. If a program meets all of these standards (and more), getting your Ed.D. degree will be a lifetime accomplishment that ushers in the next stage of your career.
Complete Your Ed.D. at Franklin University 
Franklin University is an accredited university that offers a 100% online Ed.D. program. Franklin's Ed.D. program accepts up to 24 transfer credit hours, making it ideal for students who have some credit but haven't completed their degree. The Ed.D. at Franklin also takes the fear out of the dissertation by creating a structured process for completing your dissertation with support every step of the way. 
Learn more about the Ed.D. program at Franklin and how it can help you finish your degree and realize your career goals.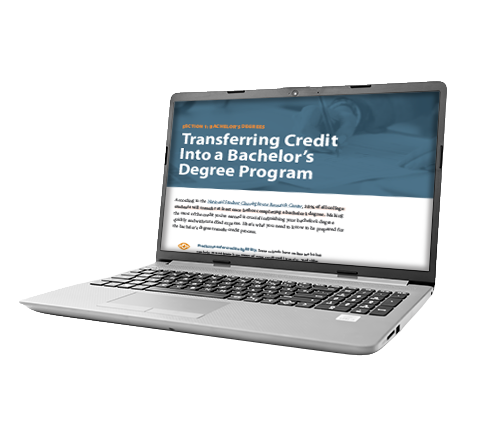 Download Now
Maximizing Your College Transfer Credit
Learn the five things you need to know, at every academic level, to make the most of your transfer credit – including credits from technical/community college and military training.