We're Sorry
There was an unexpected error with the form (your web browser was unable to retrieve some required data from our servers). This kind of error may occur if you have temporarily lost your internet connection. If you're able to verify that your internet connection is stable and the error persists, the Franklin University Help Desk is available to assist you at helpdesk@franklin.edu, 614.947.6682 (local), or 1.866.435.7006 (toll free).
Just a moment while we process your submission.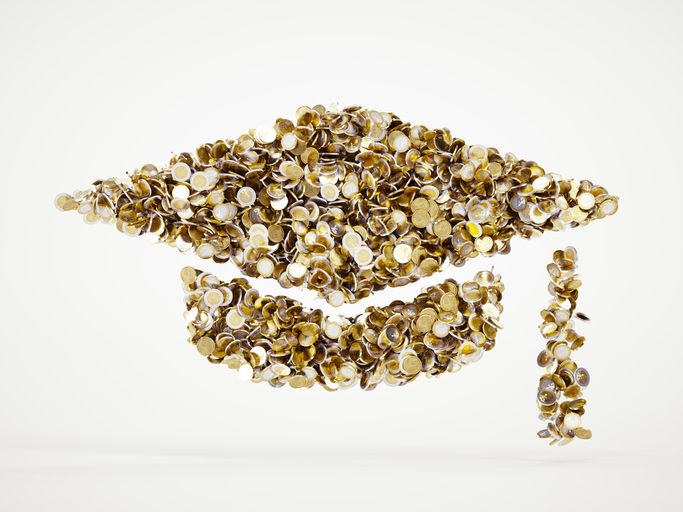 Financial Aid For Master's Degrees: 5 Big Questions To Ask & Research
Getting a master's degree can be an excellent way to advance your career and increase your earning power. Consider this: The average master's degree is worth $2.5 million in lifetime earnings while a bachelor's degree brings in $2.1 million. (U.S. Census Bureau). But can you afford it? Many assume financial aid is limited for graduate students. The reality might surprise you. Let's answer some of the most common financial aid questions for graduate students.
Should I Fill Out the FAFSA as a Graduate Student?
Answer:Absolutely. The FAFSA is applicable to graduate students, yet only 64% of grad students filed a FAFSA for 2016-2017 school year. Filing the Free Application for Federal Student Aid (FAFSA) should always be your first step. This enables you to be considered for federal and state financial aid. The biggest difference in applying for federal aid as a graduate student is you are no longer considered a dependent. Your income, and your spouse's income if married, will be evaluated independently. Your parents' incomes will no longer be taken into consideration. For many graduate students, this can actually open the doors to more aid. To qualify for aid you must:
Be a U.S. Citizen or eligible noncitizen
Be enrolled or accepted for enrollment as a regular student in an eligible degree or certificate program
Demonstrate financial need
For more information on filing as a graduate student, visit the FAFSA website.
What are the Most Common Types of Federal Aid for Graduate Students?
Answer:The Federal Stafford Loan and the Federal Grad PLUS Loan. If you have to borrow, the Federal Stafford Loan should be your first choice. It has a lower interest rate and significantly lower fees. However, both of these loans come with significantly lower interest rates than private loans. Depending on the college or university you're planning to attend, you may also be eligible for:
School-based Aid: Scholarships and grants may be awarded by your college or university based on merit or financial need.
Work-study: If you're offered work-study you will work an on-campus job and your salary will go toward financing your education.
Unlike undergraduate students, graduate students do not qualify for Pell Grants.
How Else Can I Pay for Graduate School?
Answer: There are a lot of options available to graduate students. Personal Savings This option may seem obvious, but it's also the best way to defray costs for your education. We recommend that you are able to pay for some portion of your graduate education out-of-pocket. If you need saving tips or help creating a budget, the Federal Student Aid Office can help you get started. Employer Reimbursement Some employers will help you defray the costs of furthering your education. According to the Society for Human Resource Management, 54% of employers offer tuition assistance. Even if your employer doesn't advertise education reimbursement, you should always ask. Make sure you have a convincing argument for why your education should be funded and how it will benefit your employer. Private Grants and Scholarships Grants and scholarships are funds that do not need to be repaid. With a little research, you may be able to find organizations that will offer grants or scholarships based on considerations like your personal background, career field or professional organization affiliations. If you're looking for private grant and scholarship opportunities, here are some resources that can get you started in your search.
Career One Stop is sponsored by the U.S. Department of Labor and lists grant and scholarship opportunities.
GoGrad provides scholarship resources for graduate students.
Scholly is a mobile app that makes finding grad school scholarships easier.
JobStars provides a list of professional organizations that offer funding.
Be sure to research any opportunities thoroughly to ensure they're legitimate. Veteran GI Bill If you're a veteran, you may be eligible to use your GI Bill funds toward your graduate education. For graduate education, the VA will pay your benefits based on what the college or university determines as full-time study. Private Loans Banks and other independent lenders offer private loans to help you pay for your master's degree. Private loans are subject to lender approval and credit checks. We recommend always pursing federal loans before private loans due to their lower costs and more flexible repayment options.
Should I Take Out a Loan for Graduate School if I Already Have Student Loan Debt?
Answer: It depends. This is perhaps the most complicated question when it comes to financing your master's degree. It's a highly personal choice and you must weigh the costs and benefits carefully before taking out additional loans. We recommend that you never take out loans for more than you absolutely need. If debt is at all avoidable, you should choose other methods of financing your education. If you think you will need to take out a loan, here's how you can evaluate if it may be in your best interest. Try answering the following questions.
Income potential: Will a graduate degree significantly increase your earning potential? You should weigh the short- and long-term costs of a loan against your income prospects if you earn your master's degree.
Loan amount and repayment: How much additional debt are you going to go into? How long will it take you to pay off your debt? These are some of the pertinent questions you should ask yourself before considering additional loans.
Loan type: Which loans do you qualify for? Make sure you're getting the lowest interest rates and fees on any amount you borrow, which will most commonly be offered through federal student aid programs.
We never recommend borrowing more than you need to finance your education. You should consider all other funding sources before borrowing. You may also want to consider taking classes at a slower pace or part time if it will help you afford your education.
Are There Tax Considerations to Paying for A Master's Degree?
Answer: Yes. There are tax credits, deductions and savings plans that can help you with the expense of higher education. You may be eligible to pay less in taxes based on the amount of income you're spending on your education. For more specific information, we recommend you visit the IRS website to better understand your options.
Advice for Financing Your Master's Degree
Now that you understand your options, how do you go about choosing the right way for you to finance your graduate education? When it comes to paying for your master's degree, here are some of our top recommendations. Financial Aid for Master's Degrees at Franklin University Franklin University is dedicated to helping students find a way to pay for their education. If you have additional questions, want to understand the financial aid options at Franklin University, or better understand your eligibility, visit the Tuition & Financial Aid section of our website or reach out to Student Financial Services through email at sfs@franklin.edu or by phone at 614.797.4700.
Download Now
How to Win The Admission Essay for Grad School
Get effective tips and examples to move your essay to the top of the pile.