We're Sorry
There was an unexpected error with the form (your web browser was unable to retrieve some required data from our servers). This kind of error may occur if you have temporarily lost your internet connection. If you're able to verify that your internet connection is stable and the error persists, the Franklin University Help Desk is available to assist you at helpdesk@franklin.edu, 614.947.6682 (local), or 1.866.435.7006 (toll free).
Just a moment while we process your submission.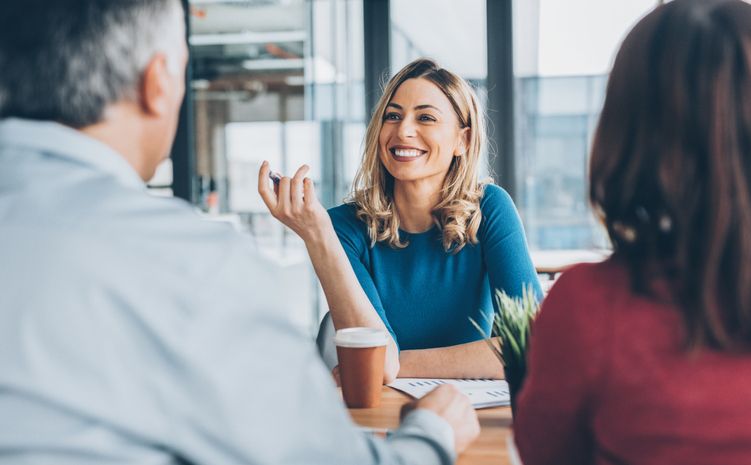 How to Pay for a Master's Degree: 6 Big Tips For Working Adults
You know a master's degree can be pivotal to your success. You've read how it can help advance your career, increase your salary, or transition into a brand new field. But, how will you pay for it? For many prospective master's students, being able to afford the degree is their biggest hurdle.
We're here to tell you it's more attainable than you think. Here are our six top tips for paying for your master's degree as a working professional.
Tip 1: Determine How Much Money You Need
Tuition is only one factor when considering the cost of a master's degree. You need to understand the full scope of your expenses, as well as your personal income and assets, to know if there is a financial gap you'll need to make up with outside funding.
After you've considered all of these factors, you'll have a net cost for your master's program. Once you understand that expense, you can start figuring out how to pay for your master's degree.
Tip 2: Choose a Quality and Cost-Effective Institution
According to the National Center for Education Statistics, the average yearly graduate tuition cost is between $10,408 and $23,698. This wide range of tuition expenses makes it essential to find out how much your program will cost at each institution you're considering.
Here are the top cost factors in a master's degree program:
Public or Private Institution: Public universities tend to charge less in tuition than private universities. One of the biggest cost factors for public programs is in-state or out-of-state tuition. In-state can mean significant savings, while out-of-state costs may rival private institutions.
On-Campus or Online:Online programs can lead to significant cost savings. Compare tuition and fees per credit hour to determine if an online program will cost less.
Program Structure: Tuition is charged on a per credit basis. If your master's degree requires more credits to graduate, your program will cost more. Make sure you have a solid understanding of the graduation requirements for your master's program so you understand the full cost.
Pro Tip: Online programs usually charge a lower cost per credit hour and eliminate many of the miscellaneous student fees—like student activity fees—that are unnecessary for working professionals. They also allow you to maintain your current income and may offer more generous transfer credits to defray costs.
Tip 3: Go All In On Financial Aid
It's a common myth that financial aid isn't available for master's degrees. The first step to getting financial aid is to complete the FAFSA. Submitting the FAFSA means you'll automatically be considered for all eligible forms of federal and state financial aid. You may also need to complete scholarship applications for your individual institution to cover all your bases.
These are the most common sources of financial aid for graduate students.
Federal Stafford Loan
This loan should always be your first choice due to its low, fixed interest rates and origination fees. However, this loan has a lower borrowing limit than others and does require demonstration of financial need.
Current Fixed Interest Rate: 6.6%
Current Fees: 1.062%
Borrowing Limit: $20,500
Federal Grad PLUS Loan
Another federal loan, the Grad PLUS, has slightly higher interest rates and fees than the Stafford Loan. However, it has a higher borrowing limit and doesn't require a demonstration of financial need.
Current Fixed Interest Rate: 7.6%
Current Fees: 4.248%
Borrowing Limit: $75,246
Institutional Aid
Scholarships and grants are another option and are offered directly by the college or university you plan to attend. These types of aid may be based on merit or financial need. Institutional aid varies widely, so be sure to research available funds for your specific institution.
Work-Study Programs
Depending on your institution, you may be eligible for work-study. If you're offered work-study you'll work an on-campus job and your salary will go toward your tuition and fees. This may not be a viable option for working professionals, but should be taken into consideration.
Tip 4: Research Professional Funding Opportunities
Leverage your career experience and connections to help pay for your master's degree. Two key funding sources to explore: employer tuition reimbursement and industry and professional association scholarships.
Employer Tuition Reimbursement
Pursuing your master's degree isn't only beneficial for your individual career, but for your employer as well. Your employer may or may not have an official tuition reimbursement program. Either way, you'll need to make your case for why you're a good candidate for tuition reimbursement.
Here are some of the most compelling arguments for employer tuition reimbursement:
You plan to earn your degree while maintaining your current responsibilities, meaning all new knowledge and skills can be implemented immediately in your day-to-day role.
Higher levels of education are proven to increase employee productivity, allowing you to take on new projects that will benefit the company's bottom line
You'll be poised to take leadership positions on projects and advance within the company.
You can also help make your case by coming to these conversations prepared with what degree or certification you want to earn, the institution you want to attend and sample agreement with stipulations for your employer providing tuition assistance.
Industry and Professional Association Grants and Scholarships
Whatever industry you're in, there's likely a scholarship or grant out there. Look for scholarships and grants that match your personal background, industry and experience. Start with professional associations you belong to and branch out to see if there are similar organizations that offer educational funding that doesn't have to be repaid.
Tip 5: Watch Out for Sneaky Spending Habits
If you're serious about getting your master's degree and staying out of debt, you need to watch your spending habits closely. A night out here or there over the year can add up to big dollars that could be put toward your education.
Look for ways to cut back on unnecessary expenses and put those savings toward your education costs.
Here are simple ways you can save money:
Create a budget and stick with it. Account for tuition and fees as part of this budget.
Eat meals at home. It's always cheaper to cook your own meals. If you're spending money on entertainment, try eating at home before you go out.
Evaluate repeat spending. Do you have subscriptions you rarely use? Could you do workouts at home instead of an expensive gym? Cut the hidden costs you've put on autopay.
Every dollar you save is one you won't have to take out in loans, which in the end, can save you thousands in interest.
Tip 6: Only Take Out Loans for What You Absolutely Need
We can't emphasize this point enough. Pursue every avenue for funding before you determine how much you'll need to borrow to pay for your master's degree.
You Really Can Pay for A Master's Degree
Earning a master's degree while accruing minimal debt is more attainable than you think. Especially when you choose an institution like Franklin University, which offers flexible, online programs and generous transfer credit policies to help you reduce your tuition costs.
Explore our master's degree programs to find the right one for you and contact our financial aid department to get resources and personal advice on financing your master's education.
Download Now
How to Win The Admission Essay for Grad School
Get effective tips and examples to move your essay to the top of the pile.