We're Sorry
There was an unexpected error with the form (your web browser was unable to retrieve some required data from our servers). This kind of error may occur if you have temporarily lost your internet connection. If you're able to verify that your internet connection is stable and the error persists, the Franklin University Help Desk is available to assist you at helpdesk@franklin.edu, 614.947.6682 (local), or 1.866.435.7006 (toll free).
Just a moment while we process your submission.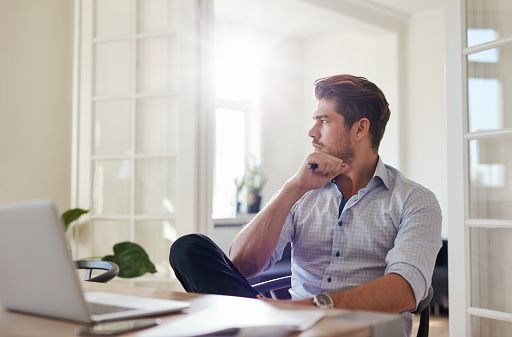 Is a Master's Degree Worth It?
Choosing to get a master's degree is a major financial decision. For many, it'll be one of the biggest purchases of a lifetime, right behind a house and a car. So, a natural question is:
Is a graduate degree worth the cost?
To answer that question effectively, you must view it as an investment and not a cost. When it comes to investments, forecasting the return on investment (ROI) is a critical step. It can be difficult to quantify the ROI of a decision that will affect you financially, emotionally and professionally.
In this post, we offer some ways to evaluate your situation holistically and look more deeply at the cost-and-benefit return. Because, in truth, the value of a degree goes far deeper than a price tag or recouping cost. It's personal. As a guide, we've compiled seven important questions into two big steps.
Step 1: Determine Your Cost Comfort
Of course, the first part of an ROI evaluation is to fully understand both the cost and the impact that cost has for you in particular. That leads to our first four questions.
Question 1: What's the True Cost of the Degree?
It's a simple enough question, but the challenge comes in answering it fully. There are many, many costs to consider beyond just tuition. Additional expenses factor into the total cost for a degree, and they differ from school to school, so be sure to ask what is and is not included (for example: fees, materials, and the cost of necessary student resources).
According to JoAnna Williamson, Ph.D., J.D., chair of the Franklin University Department of Management and Marketing, "You need to fully understand all of the expenses you may be facing so you can plan your finances ahead of time." Know what you're getting into with no surprises, and that way you can focus on your school work, not how to pay for it all.
Question 2: What Will I Actually Have to Pay?
When evaluating the actual dollar cost of your degree, don't forget three important ways to reduce your costs:
Find out from the admissions department if there are scholarships available
Work with admissions to see if you qualify to transfer in any credit from previous coursework (be sure to ask if any of your professional certifications or experience might translate into course credit)
Ask your employer if they have a tuition reimbursement program
TIP: Ask: Am I taking advantage of every opportunity to reduce the cost of my degree?
Question 3: How Much Debt Will I Take On?
Knowing how much the degree costs is one thing, but understanding how much you can afford is entirely different. A high-priced program—especially in pursuit of a career that may not be a high-paying choice—may not be an option for someone who has tight finances, a mortgage and a family. You need to know what is and isn't feasible for you.
One common piece of advice is that it's more affordable to save and spend than it is to borrow. "Try taking the same approach with your education as you've successfully used with other important investments that required you to plan and save," explains Williamson. "How did you budget to buy a home and a car, to pay for a wedding, to move to a new city, to have children? What can you juggle in your personal budget? What luxuries can you live without? You've already invested in yourself before; consider using the same planning, discipline and creativity to save and invest in your graduate degree."
If you plan to borrow money, it's good to follow a common rule of thumb: Don't have loans that are greater than your starting salary out of college. There are many online calculators to help you set your own guidelines for student loans. "The most important thing," according to Williamson, "is to have a plan to pay it off and to try to pay it off early to reduce the amount of interest you'll pay."
TIP: Ask: Can I budget or save now to pay for college without taking on debt?
Question 4: What Is the Impact of "Opportunity Cost?"
According to Williamson, "There are tangible education costs like tuition, textbooks, and lab fees. Those costs are generally found in any school's online information. But you also have to look at the economic concept of 'opportunity cost,' which can be harder to evaluate."
Opportunity cost is a way to put a value on what else you'd be doing with your money and your earning potential if you weren't pursuing a master's degree. You might be taking your tuition money and instead you'd be investing it into your 401k for retirement. You might be taking your time spent on coursework and instead you'd be working overtime hours or maybe a second job. Or, more personally, you might be spending it on family time, vacation time, travel, or relaxation with friends.
Remember to build in practical costs beyond tuition, like the cost of transportation, gas and parking fees, which can add up over the course of many months.
Step 2: Quantify the Return
The second part of figuring your master's degree ROI is to estimate the benefits you're likely to reap from having a degree. Here are three questions that may help you explore your likelihood of return.
Question 5: How will the degree affect my take-home pay?
It's important to recognize that a degee's impact on your take-home pay should be calculated in a cumulative way, over the course of decades. According to the National Center for Biotechnology Information, U.S. National Library of Medicine, there's a notable pay gap between people with a bachelor's degrees and those with master's degrees. In most cases, a change in salary or in job prospects may not happen right away; the anticipated increase in annual income and life earnings will come to you over time.
In a carefully indexed longitudinal study by Christopher Tamborini et al, published in 2015 in Demography, the authors mapped out the "lifetime earnings trajectory from age 20 to 69 for men and women by their highest educational attainments using median annual earnings." The graphic below--based on the data from Tamborini et al--shows the gap in average lifetime earnings for people with a bachelor's degree vs those with both a bachelor's and a graduate degree.
TIP: Ask: What's the financial outcome of this degree?
Question 6: What new professional opportunities will I make happen?
One of the things Williamson shares with students is the idea that a degree is an active tool, not a passive trophy to hang on a wall. "I've always said that a degree isn't going to walk down a street, introduce itself to new people, and attend networking events or job fairs. That's you. Having a graduate degree isn't about what career opportunities will come to you; it's about what opportunities you will seek. There is nothing, absolutely nothing, about a master's degree that is passive; it involves actively understanding what you want, actively participating in your own educational process, and then actively using your degree to open doors."
The impact can include new relationships, promotions, career advancements, and new job opportunities. By actively engaging during all of your coursework, you will be building new friendships, business partnerships and a mentoring network that may last decades.
TIP: Ask: How will earning my master's help me achieve my short-term job prospects and my long-term goals for career, networking and advancement?
Question 7: What is my expected outcome for a degree?
Many earn their master's to simply learn a new skill or acquire new knowledge. Others, because they need it to get their foot in the door for a particular job. Cost may be less important to these people than outcomes.
According to Williamson, "It's hard to anticipate what outcomes will be, but it might be an easier question to answer if you ask, 'How will you better yourself?' A graduate program is a goal-setting process. Whatever your goals are, maybe a degree will help. It's up to you to take that 'maybe' and turn it into action."
TIP: Ask: What's the one big thing my degree needs to accomplish, the big thing I want it to fulfill?
Prepare, Plan, and Pace Yourself
Before beginning the process of earning your master's degree, just know that it's a huge commitment and requires a substantial effort. Ask now if you really want it; that hunger will be key in helping you maintain the challenging pace of graduate school.
Download Now
How to Win The Admission Essay for Grad School
Get effective tips and examples to move your essay to the top of the pile.