We're Sorry
There was an unexpected error with the form (your web browser was unable to retrieve some required data from our servers). This kind of error may occur if you have temporarily lost your internet connection. If you're able to verify that your internet connection is stable and the error persists, the Franklin University Help Desk is available to assist you at helpdesk@franklin.edu, 614.947.6682 (local), or 1.866.435.7006 (toll free).
Just a moment while we process your submission.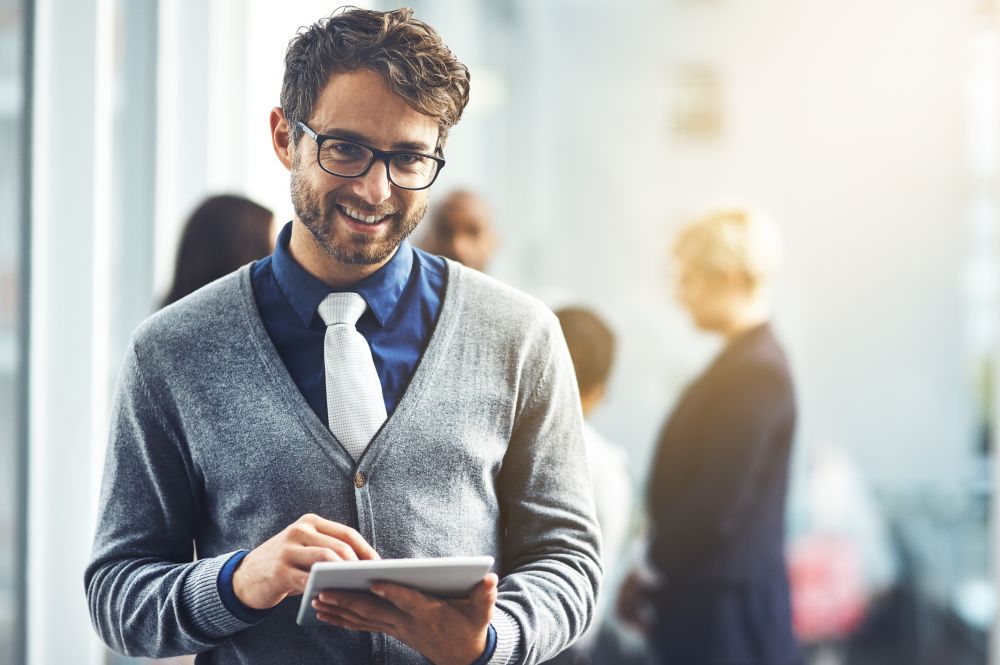 How To Go Back To College: 5 Steps To Get Started
Are you looking to finish a college degree you started? Or do you want to go in an entirely new direction with your education? It can seem daunting to go back to college after dropping out, but know that it's never too late to get your degree.  
If going back to college is your dream, we want to help you turn it into a reality. Follow this step-by-step guide to start your journey back to college.
Step 1: Choose the Right Degree For Your Goals
Before choosing the college you want to attend, you need to decide on the degree you want to pursue. You should never choose a college rashly—whether that's for features like its well-recognized name or because it has the lowest tuition rates. By selecting a degree and major first, you put the emphasis on your needs and goals.
To help narrow down your search, ask yourself these questions:
What is your ultimate goal and what do you want to get out of your degree? Start by defining your desired outcomes. Whether it's higher salary, job stability, changing careers or other reasons, understanding your motivations will help you determine the best fit degree for your goals.
What types of job-ready skills will I develop? Make sure the degree you choose will teach you both the hard and soft skills you need to succeed in your desired field. Courses should teach you to use the latest tools and technology, while building critical interpersonal and problem solving skills.
Will this degree help me break into a new field or advance in my current field? Determine how this degree will make you stand out from other professionals in the field. Look for a curriculum that integrates real-world challenges and is taught by industry experts to give you a leg up in your field.
Will the degree benefit my career long term? A degree is a big investment. Make sure that any degree you choose won't just provide short-term gains. Look at long-term job prospects and job growth projections to ensure you're entering a stable or growing field.
Am I truly passionate about this area of study? It's easy to be motivated by higher salaries or increased job prospects. However, sometimes those outcomes alone aren't enough to motivate you to complete coursework. True interest and enjoyment of a subject will help you stay engaged.
Insider Tip: When choosing a degree, identify whether you want to earn a generalist or specialist degree first. A generalist degree, like a bachelor's in business administration or public administration, will prepare you with a wide breadth of knowledge and skills. Its well-rounded approach gives you more career flexibility to work across functions. On the other hand, a specialist degree, like a bachelor's in accounting or cybersecurity, prepares you for very specific roles. Choose a specialist degree if you want in-depth knowledge and skills in one area and can see yourself working in that function long term.
Step 2: Identify Your Funding Plan
Financial limitations is one of the top reasons people leave college before finishing a degree. If you want to go back to school, make sure you have a clear understanding of the different options for funding your degree.
The cost of your degree and funding options will vary by each college. Here are questions you need to ask to make sure you maximize your funding opportunities to reduce your cost of attendance.
Does the college offer financial aid that does not have to be repaid, including scholarships or grants?
Will your employer help offset tuition costs through partnerships with colleges or tuition reimbursement?
Which college will help me maximize transfer credits to help reduce the cost of my degree?
Does the college offer flexible scheduling to complete (and pay for) my degree on my schedule?
What are the most advantageous types of loans I can take out if I need them?
Insider Tip: Always, always submit a FAFSA, even if you don't think you'll qualify for aid. Many colleges also offer scholarships, especially within specific areas of study. Professional organizations are another source of scholarship and grant funding. Take the time to apply for any scholarship or grant for which you're eligible. You should exhaust every funding opportunity before taking out loans.
Step 3: Explore Your Options and Pick The Right College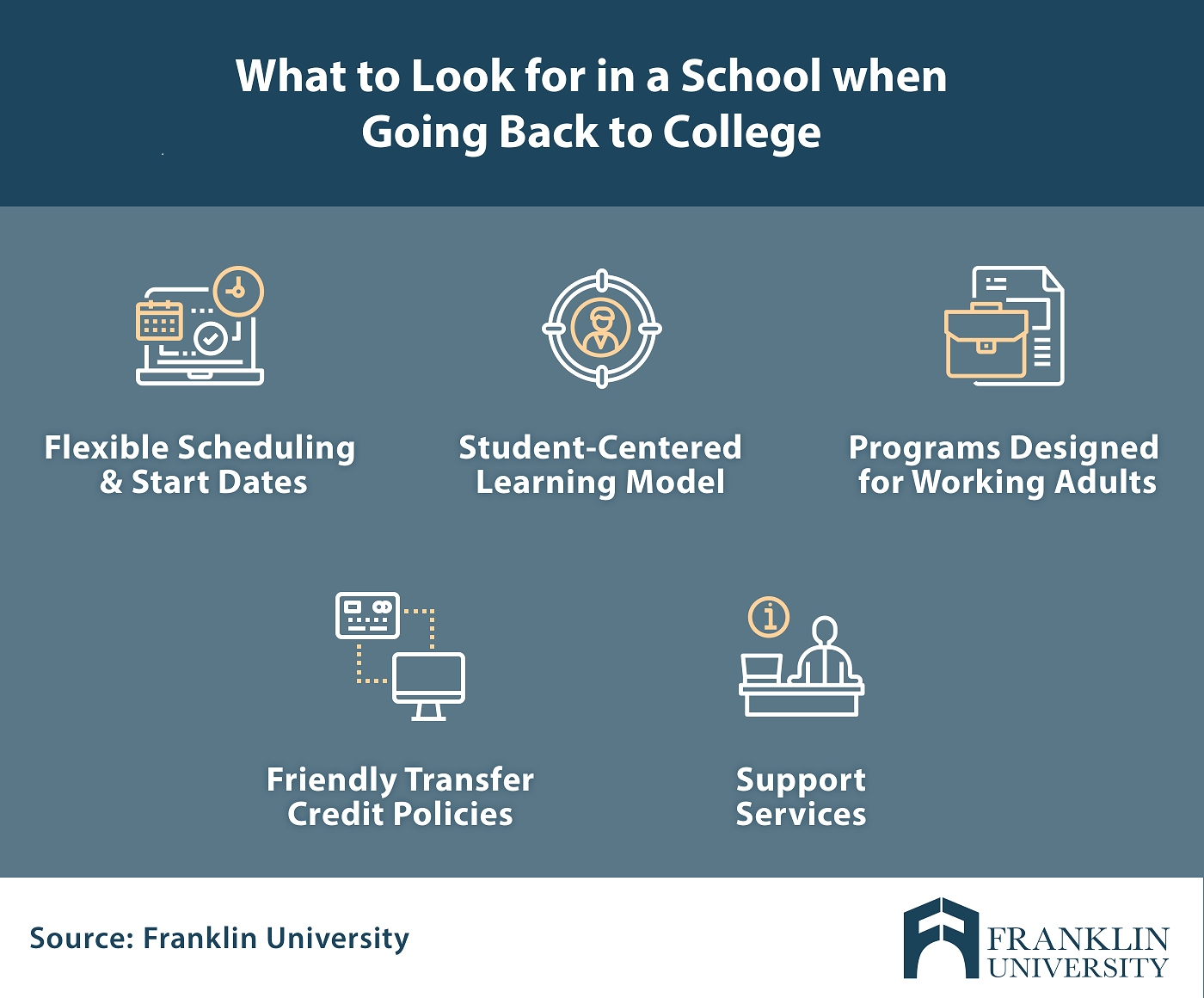 If you want to go back to college, you want to thoroughly research and vet schools to find the right one. Not only are you looking for overall degree quality, but how a college will fit your needs and support you as a learner.
Here are five questions to ask yourself when evaluating colleges:
How do you want to earn your degree? There are many options for returning to college—from in-person to online and hybrid learning experiences. Even within these broad options, each college varies. Take the realities of your schedule and commitments into consideration before choosing.
What type of learning experience are you looking for? If you want to earn your degree online, make sure you understand the fundamental differences between competency-based and student-centered learning. If you thrive on collaboration, structured courses and immediate feedback, student-centered learning is right for you. If you want to be completely independent and self-paced, competency-based may be more your speed.
Is the college welcoming to working adults? For people who decide to return to college later in life, having peers who mirror their age, have similar experiences and share their goals can help make it easier to switch from the real world to the world of higher education. 
How will the college help you apply previous credit or experience toward your degree? How much transfer credit you receive can be a gamechanger for both the cost of your degree and time to completion. Look for colleges that will maximize your transfer credit through one-on-one transfer credit consultations, as well as nontraditional credit like professional experience or military service.
What services does the college offer to support your success? From tutoring and writing support to 24/7 online library resources, make sure there are support services that will be available on your schedule.
Insider Tip: If you're a working adult returning to college, look at the average student age, number of transfer credits accepted and course flexibility to see how much a college will cater to your needs.
Step 4: Apply and Enroll
Once you decide on a college, you have to apply, get accepted and enroll at the college. This process varies slightly depending on the school, but a general checklist includes:
Determine if standardized tests or placement tests are required by your college.
Submit your application and application fee if necessary. Most often, your application will be submitted online. Be aware of any admissions deadlines that apply.
Enroll and submit a deposit if necessary.
Send previous college transcripts to be evaluated for transfer credit.
Finalize your financing by accepting any financial aid or loans you may be taking out.
Register for classes and pay the required tuition and fees.
Step 5: Build A Plan To Successfully Complete Your Degree
Even after you enroll, the journey back to college has just started. Take advantage of the momentum you've built and make a proactive plan for success. It pays to get ahead of the curve so you don't get overwhelmed.
Plan your schedule. Time management is key to success. Figure out how much work you can realistically take on at one time. Know when you are most productive during the day. Be proactive in removing obstacles that may detract from getting your degree.
Choose a strong support system. Make sure you have people who will hold you accountable and motivate you to complete your degree. Whether it's a family member, friend or classmate, it helps to have a well-rounded support system made up of people who can empathize with different challenges you may face.
Know when to ask for help. There is no shame in asking your professors, classmates or advisors for additional support. Know if there are resources available, from tutoring to office hours and student support groups.
Create a dedicated learning environment. Set up a space that is designed for productivity and removes distractions—whether that's an office or just a specific table or corner in your house.
Don't let fear get in your way. Don't let anyone (especially yourself) tell you that you aren't college material. Fix your sights on your goals and have confidence that you can to reach them.
Explore Student-Centered Online Degrees at Franklin University
Franklin University is a student-centered university designed for working adults who want to go back to college and finish their degrees. More than 90% of students transfer credit from other schools. You can transfer up to 94 credit hours into a bachelor's program, which equates to approximately three years toward a four-year degree.
Our online degrees are designed to produce industry-ready hard and soft skills that will make you stand out to employers. All courses are taught by industry professionals and are regularly evaluated and updated for industry best practices. With over 30 bachelor's degrees to choose from, it's easy to find a match for your career goals.
Explore our full list of online bachelor's degree programs to find the right fit for finishing your degree. When you're ready to apply, there's a simple online application with no fees or deadlines.
Download Now
Where to Find Free Money to go Back to School
Learn how to get grants to cut college costs.