We're Sorry
There was an unexpected error with the form (your web browser was unable to retrieve some required data from our servers). This kind of error may occur if you have temporarily lost your internet connection. If you're able to verify that your internet connection is stable and the error persists, the Franklin University Help Desk is available to assist you at helpdesk@franklin.edu, 614.947.6682 (local), or 1.866.435.7006 (toll free).
Just a moment while we process your submission.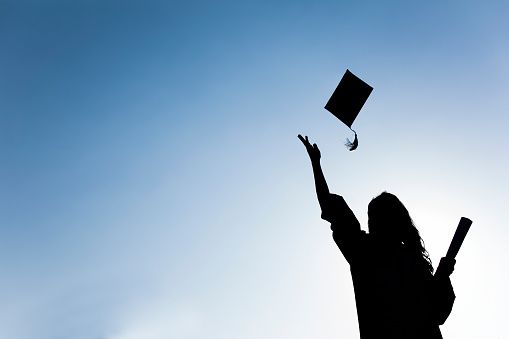 How To Earn Your Bachelor's Degree in Under 3 Years (Without Beating Yourself Up)
How long do you think it takes to earn a typical undergraduate degree? 4 years? 5 years maybe? Astonishingly, only 56 percent of university students who begin a bachelor's degree program finish within 6 years, according to a recent study.
Although college enrollment is up, most students do not earn their degree in the time they had planned to do so, if at all. Many reasons may be to blame for this, including:
A big life change, such as getting married, having children, or a spouse being laid off
A big opportunity, like a chance to intern or travel abroad while working on a degree
A shift in preference, perhaps choosing an area of study that didn't feel right
Financial changes, such as tuition increases or maybe losing a scholarship or aid
What these people don't know is that it doesn't have to be that way. In fact, most adults—even busy ones with active personal and professional lives—can achieve a traditional 4-year degree in under 3 years. But it takes some effort and planning.
6 Keys to a Bachelor's Degree in 3 Years
You may be nervous about going back to school, setting the right pace, and making it work. Or maybe you're confident as aces and just need some advice on planning. Either way, the following list will help give you a fast track to your bachelor's degree.
1. Build a Plan to Get There
Earning your bachelor's degree requires time and attention. But remember, you can complete a bachelor's degree in a much shorter time period if you have some previous coursework toward a bachelor's degree of if you've completed an associate degree. Some of those old credits are likely to transfer toward your new degree, allowing you to finish it in a shorter timeframe.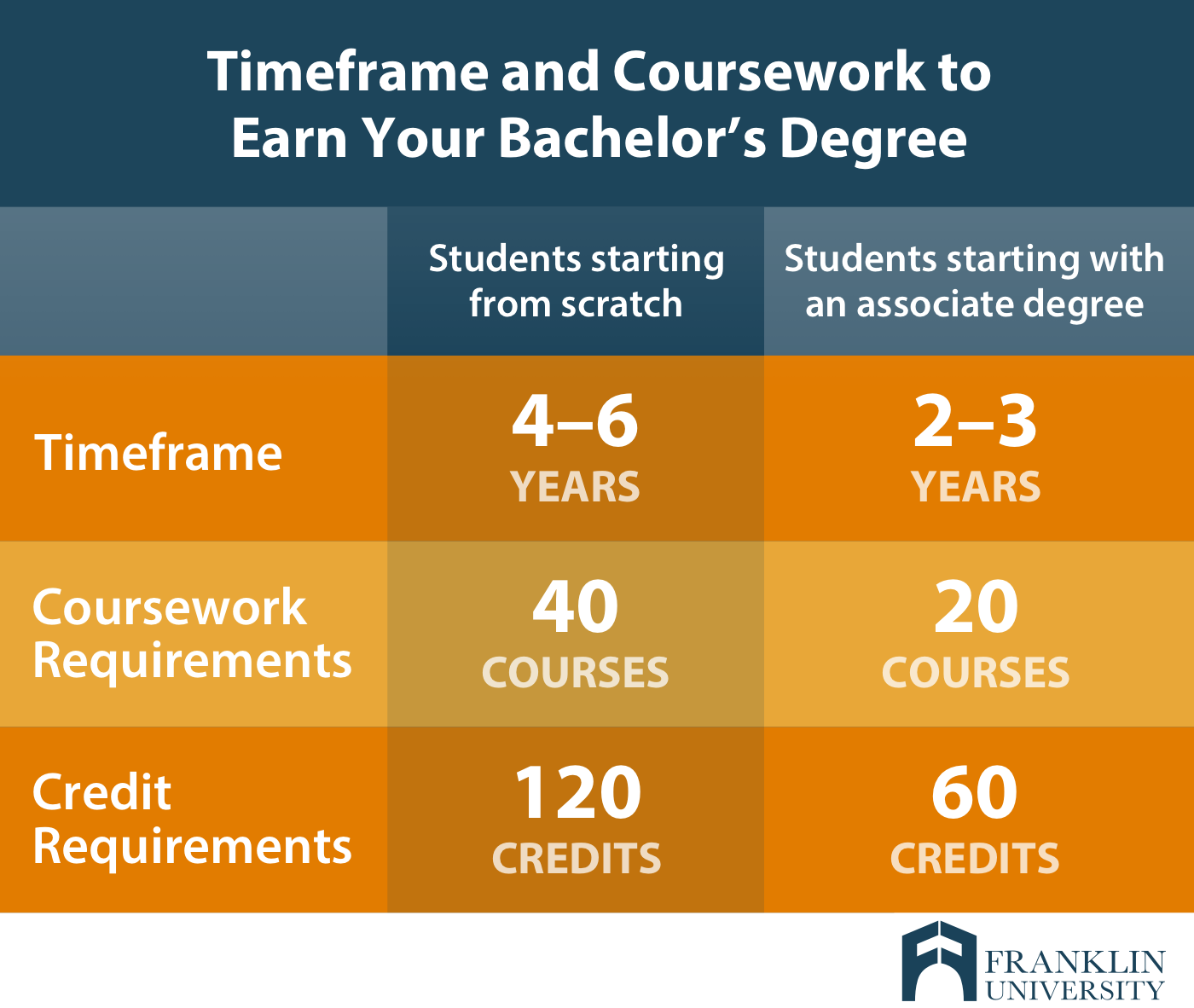 A false start can actually set you back. So it's best to plan ahead.
Think of your responsibilities: work, home, family and personal
Be ready for coursework to become a priority
Figure out how you will actively carve out time for the regular commitments of reading, researching, writing and studying
There's no established timeline required for earning a bachelor's degree. Students who want to earn their degree quickly can take a heavier load of coursework with each semester or quarter. If you need a lighter workload, you can space out your classes over a longer period of time. Talking with the school's academic advisor will help you create the right balance for your life.
Especially important in the planning process is considering your career goals. Some degrees may seem like an obvious choice—but is it really the best option to rev up your career? There might be a similar degree, one with more specialization (or even less), that may better suit your needs.
2. Get Credit for Your Old Credits
A key component in attaining a bachelor's degree is determining where you currently stand. Establishing a good relationship with your college admissions contact can be a tremendous asset. If you've already earned an associate degree or part of a bachelor's degree, your past coursework may be applied. When you get approved transfer of previously earned credit, it saves you time and money. It's important to choose a school that will not only maximize your transfer credits, but also will also apply the credits to your specific program of interest. That way, you'll benefit the most from transferring credits and save the most possible time.
Ask your school if it offers special programs that may help streamline the path from an associate to a bachelor's. Some online assets such as the Franklin transfer credit equivalency tool can help you determine how many of your previous academic credits you can transfer.
3. Stagger Your Course Load
Some coursework is available in semester format, where students generally take more than one subject at a time.
When shopping for a university, consider one that offers flexible options for busy adults and professionals. Maybe your school already offers different options or timing that will suit you. According to Robert Lewis, admissions advisor at Franklin University, "Students who plan ahead can stagger their coursework." For example, if courses begin every 6 weeks, students can start one course on June 1 and another on July 15, letting them stay more focused on each topic. "They earn the credit hours they need to stay on track—and they can do it without getting overwhelmed."
TIP: Consider online courses, which can reduce your time for course completion by about 30 percent. If you prefer in-person learning, ask your school about hybrid coursework, which offers both classroom work and online efforts. Choosing the kind of training that suits you best can help you do the work at a pace and in an environment that helps you thrive.
4. Use Experience to Test Out of Courses
Did you know that your previous work experience and current knowledge may help you test out of coursework?
You can do it by using the testing companies, CLEP (College Board's College-Level Examination Program) and DSST (DANTES Subject Standardized Tests). They offer tests in dozens of subjects, like financial accounting, business management, and introductory psychology. When you pass, you've shown that you're proficient in the topic and you've earned the right to the relevant college-level credits. The exams cost around $100 to take, but passing could save you much more in terms of tuition and time.
You should also look for other opportunities beyond DSST and CLEP. For example, Franklin University has a program that allows students to submit a portfolio of work they've done so that they can prove proficiency in a subject.
Example in action: A student's bachelor's degree may require him to take a class on tax law—but he's already well versed because it's a been part of his job for the past 5 years. The student will make a submission package to the dean, who will consider whether the experience shows proficiency worthy of granting him the appropriate credit hours.
TIP: Not all colleges and universities accept CLEP or DSST, so be sure to talk with your academic advisor before paying for or taking an exam.
5. Keep Your Funds in Order
Money is the biggest reason people leave or delay college, according to a recent study by the Bill & Melinda Gates Foundation. Most adults attend school while working full or part time to support themselves, and their job's demands sometimes grow too strong to sustain a work-school schedule.
Nobody wants to run out of finances when they're only halfway to the goal. Planning now to make college more affordable will increase the likelihood that you'll graduate on time. Consider all of the ways to plan ahead for the funding you'll need:
Personal savings
Income
Grants
Financial aid
Student loans
Understand the long-term repercussions of each source of funding, knowing if, when, and how you'll repay.
6. Look for Accelerated Degree Options
An accelerated-degree program is a way to speed up your efforts. Whereas a traditional program has a certain pace and curricula, the design of an accelerated program streamlines work and enables a student to earn a degree on a faster timeline. There may be special admission requirements to prove that a student is ready for the rigors of the coursework. The number of credits per course may differ from other coursework in a regular program.
Accelerated degrees can most often be found in business, nursing, law, and medicine. These accelerated educational opportunities are priceless for those who want to learn and get back to the real world
Shorten That Long-Term Commitment
As you begin the academic process, understanding and applying each of these 6 tips will help you gain a greater sense of confidence about going back for that degree. With the right effort and planning on your part, you just might turn a bachelor's degree into a not-so-long-term commitment.
Download Now
Where to Find Free Money to go Back to School
Learn how to get grants to cut college costs.