We're Sorry
There was an unexpected error with the form (your web browser was unable to retrieve some required data from our servers). This kind of error may occur if you have temporarily lost your internet connection. If you're able to verify that your internet connection is stable and the error persists, the Franklin University Help Desk is available to assist you at helpdesk@franklin.edu, 614.947.6682 (local), or 1.866.435.7006 (toll free).
Just a moment while we process your submission.
What Can You Do With an Accounting Degree?
An accounting degree might seem straightforward. It probably calls to mind spreadsheets and tax forms. But that's only part of the picture. As technology advances and the financial landscape becomes more complex, there are a growing number of careers for accounting majors—CPA or not.
Not sure if an accounting degree is right for you? Here's how it can give you the skills you need for a wide variety of high-growth, well-paying and rewarding careers.
The Benefits of an Accounting Degree
If you're interested in a career in finance or business, an accounting degree can provide vital skills—no matter which career path you pursue. Regardless of your profession, you must be able to understand, interpret, and communicate complex financial information and its implications for a business. That's why accounting degree programs focus on teaching these cornerstone skills:
Strong business acumen: Getting your accounting degree includes taking a general business core, exposing you to best practices in areas like management, operations, economics and marketing. Not only do you gain deep accounting skills, you will also learn how accounting operates in the bigger picture—making you a more effective collaborator and giving you cross-functional skills.
Advanced math and analytical skills: Math has always been a foundational skill for accountants. And now, data is the driving force of business decision-making. The best accounting programs will marry mathematical, analytical and database skills that help you understand the numbers and provide actionable insights to your organization.
Critical problem solving: Accountants will consistently encounter errors, discrepancies, and inaccuracies. If these are not detected and addressed, employers and clients can face significant consequences. These problems are often multi-faceted, which means accountants must approach them by considering all variables and risks in order to remedy the situation. 
Organization and planning: Time management and organization are core to success in any accounting program and in the profession. As an accounting professional, you must be able to effectively manage deadlines, documentation and reporting guidelines to produce accurate work products.
Adaptability: Finance laws and regulations are constantly evolving. Technology advancement is having a significant impact on the industry. These changes are just some of the dynamics in which accountants must operate, which is why being flexible and adaptable are essential for long-term success.
 
9 High-Growth Career Paths for Professionals with an Accounting Degree 
According to the Department of Commerce, the finance and insurance industry in the United States is worth over $1.5 trillion and is nearly 7.5% of our national GDP. The size and scope of this industry creates a huge number of jobs for accounting graduates.
Here are nine of the fastest-growing positions in finance and who is the best fit for each.
For the Aspiring CPA: Tax Accountant
A tax accountant helps individual clients and companies with their financial and income tax statements. They research, study and interpret tax law in order to prepare payments, find tax savings, and scrutinize tax issues.
Median Salary: $70,500
Projected Growth (2029): 11.2%
How to Become One: Most accountants need a bachelor's degree in accounting or similar field. Certification, including the Certified Public Accountant (CPA) license, can significantly improve job prospects and advancement opportunities.
For the Hyper Detail-Oriented: Internal Auditor
Internal auditors are responsible for performing the full audit cycle. These tasks include risk and control management over the effectiveness of operations, including financial responsibility and compliance with all applicable laws, regulations and policies.
Compliance officers ensure a company operates in a legal and ethical way, while still meeting its strategic business goals. Their duties include creating effective compliance programs, reviewing company policies in accordance with laws and regulations, and advising leadership on possible risks.
Median pay: $68,848
Projected Growth (2029): 10%
How to Become One: Complete a bachelor's degree in accounting or related fields like business or finance. The minimum educational requirement is an undergraduate degree and many candidates will have a master's degree.
For Those Dedicated to the Bottom Line: Budget Analyst
Budget analysts help public and private companies, as well as government agencies. They are responsible for developing budget reports, evaluating budget proposals and monitoring institutional spending. By using data, they determine the costs and benefits of various programs, and recommend funding levels based on their findings. 
Median Salary: $76,232
Projected Growth (2029): 7.2%
How to Become One: A bachelor's degree is usually required to become a budget analyst. According to labor market analytics firm EMSI, an accounting degree is the number one educational path for budget analysts, giving you the skills you need to succeed.
For the Investment Aficionado: Financial Analyst
Financial analysts advise businesses and individuals in making investment decisions. They assess the performance of stocks, bonds, and other investments by looking at trends in specific products, geographies and industries.
Median Salary: $85,654
Projected Growth (2029): 10.6%    
How to Become One: The minimum requirement to become a financial analyst is usually a bachelor's degree. A license is generally required to sell financial products, which applies to some positions. Because most licenses require sponsorship by an employer, companies do not expect you to have licenses before you start a job.
For Those Who Want to Fight Financial Crime: Financial Examiner 
Financial examiners usually work in either risk assessment or consumer compliance. If you specialize in risk assessment, you help protect the stability of the financial system, making sure financial institutions offer safe loans and can cover unexpected losses. Consumer compliance keeps banks and other financial institutions from discriminating against borrowers.
Median Salary: $80,184
Projected Growth (2029): 10.9%    
How to Become One: Financial examiners typically need a bachelor's degree, and an accounting degree is preferred. Entry-level financial examiners are trained on the job by senior examiners, making it a great option for new accounting graduates.
For the Diligent Decision Maker: Credit Analyst
Credit analysts are responsible for evaluating credit data and financial statements of individuals or companies to determine the degree of risk involved in increasing credit or lending money.  The level of risk is used to decide if a loan or line of credit should be offered, and if so, the financing terms of a loan, including interest rate. 
Median Salary: $71,510
Projected Growth (2029): 7.9%
How to Become One: Over half of credit analysts have a bachelor's degree, with accounting being the number one educational background for these positions. To advance, a master's degree may be needed.
For the People Person: Personal Financial Advisor
Personal financial advisors provide guidance on an entire range of investments—including insurance, mortgages, college savings, estate planning, taxes, and retirement—to help plan for short- and long-term financial health.
Median Salary: $88,878
Projected Growth (2029): 13.2%
How to Become One: Personal financial advisors typically require a bachelor's degree. A master's degree and certification, like the Certified Financial Planner (CFP), can improve your chances for advancement and increase your salary.
For the Statistical Expert: Operations Research Analyst
Operations research analysts use advanced mathematical and analytical systems to help organizations solve problems at all levels. They guide management on how to allocate resources, create production schedules, manage the supply chain and set prices. 
Median Salary: $83,387
Projected Growth (2029): 29.5%
How to Become One: Typically, entry-level positions require a bachelor's degree, however, some employers may prefer applicants with a master's degree. Accounting is a great fit due to its advanced math focus.
Choose Franklin University for Your Accounting Degree
Franklin University offers fully-online bachelor's and master's degrees in accounting, making it easier for you to get your degree on your schedule. Our accounting programs follow industry best-practices, teach you the latest tools and software, and are taught by faculty with in-depth experience in the industry. 
Explore our Bachelor's in Accounting and Master's in Accounting to see how these programs can help you reach your career goals.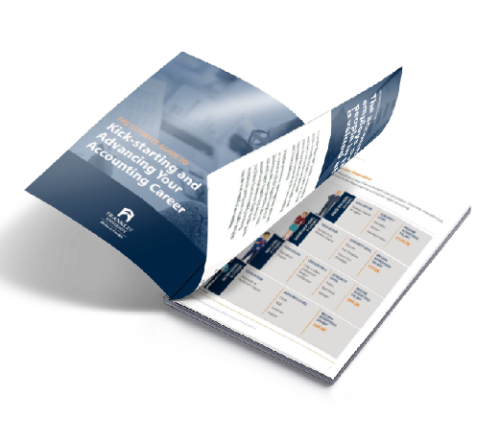 Download Now
Kick-starting and Advancing Your Accounting Career
Get tips for success from 10 in-field experts to help you climb the career ladder and increase your earning potential.