We're Sorry
There was an unexpected error with the form (your web browser was unable to retrieve some required data from our servers). This kind of error may occur if you have temporarily lost your internet connection. If you're able to verify that your internet connection is stable and the error persists, the Franklin University Help Desk is available to assist you at helpdesk@franklin.edu, 614.947.6682 (local), or 1.866.435.7006 (toll free).
Just a moment while we process your submission.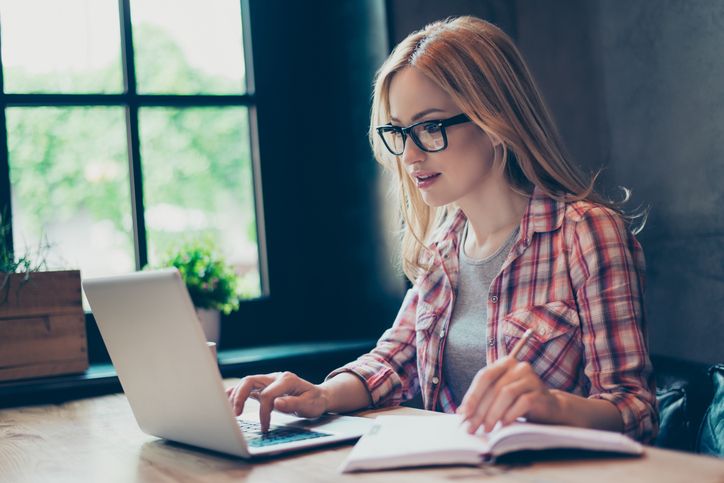 Accounting vs Finance Degree: What's Right For Me?
So, you're good with numbers. And you're trying to figure out whether a degree in accounting is the right way to go, or maybe a degree in finance. But there can't be that much difference between them, right? Actually, yes, there is quite a difference. Check out the following article for some guidance on how to decide which career might be best for your great-with-numbers skill set.
What is the difference between finance & accounting?
The easiest way to look at it is like this:
Accounting is narrow.
Accounting involves the detailed preparation of financial statements. There's an example we can all understand: in a household, someone needs to know where the money comes in and where it goes out. Someone makes budgets and plans for cash flow. Someone knows how much money is on hand and if it's enough to pay the bills, this month and next month, and the next and the next. It's a constant need. It's the same with a business: an accountant needs to handle a lot of paperwork and details in order to manage the cash flow for a company.
Finance is broad.
A person in finance doesn't make the statements. She looks at and evaluates all the statements. The job is about understanding the financial situation of the company and making decisions about what to do with the finances. It's a constant question of: How does the company spend and invest its money?
How to Choose the Right Major
Accounting can be broken into three categories of public accounting, tax accounting, and auditing. And finance can be divided into two categories of traditional finance and financial planning. "When I see students that are really talented with numbers and they want to make a career of it, I prefer not to just show them the different course directions and tell them to decide," according to Dr. Martina Peng, PhD and Chair of the Department of Accounting, Finance and Economics at Franklin University. "Instead, I prefer to ask them what they like, what they want to do, and what kind of work interests them."
Specialization Paths for Accounting Majors
A major in accounting perhaps offers the most different directions to go. In the field, it is generally divided into three major categories:
Public accounting. Public accounting involves preparing and maintaining records and financial statements. It suits a personality type that enjoys detail and doesn't mind the tedious nature of continually preparing accurate, detailed statements on a daily basis.
Tax planning. This career option involves not just preparing tax returns, but you might also do tax planning and tax consulting services. The job requires reading a lot of regulations. Because it's impossible to memorize the constantly changing tax codes, you must be a research type of person. You have to be patient and eager to learn. You have to have a personality that is driven to help clients. They count on you to file correctly and to be familiar with ways to save them money on tax breaks. Sometimes, tax planners might also offer financial advice.
Auditing. In this role, you will spend a great deal of time checking financial records. It's the auditor's role to ensure that records are correct. You'll frequently be auditing someone else's work. The job is very detail oriented, sometimes checking others' work line by line. You have to be a personality type that is able to dig in, investigate, and handle a great level of detail.
 
Specialization Paths Ideal for Finance Majors
A major in finance will generally land you in one of three career areas:
Traditional finance. In this area, you must have a command of both finance and economics. You need to know global markets and deeply understand investment decisions. Jobs in finance require a person who is ready and willing to make many difficult decisions. The company relies on your input and expertise for its financial health now and into the future. Government departments, businesses, and nonprofits all need to manage their money wisely, and they all rely heavily on people with finance degrees to do that.
Financial planning (or financial advisor). This career choice might be ideal for someone who's not interested in the detailed financial statements that are required to do corporate accounting. In financial planning, you will sit down with people who need your help. You will look at their income, taxes, investments, and insurance. You get to work with them so that you understand their level of risk tolerance, their financial goals, and their timeline to achieve those goals. Perhaps they want to invest for retirement. Given their age, income, and other financial elements, you will help create a fuller picture of their current financial health. Then, using your knowledge of investments, taxes, and global markets, you can create an investment plan that we'll help them achieve their goal in the time frame they want. Perhaps a family wants to put four kids through college or buy a vacation home. A financial advisor helps them pick the right asset mix in the current economy and stock market to plan ahead for those goals. Also, a small business might contact a financial planner to seek input on setting up a 401(k) plan or a profit sharing program.
Tips on How to Decide on a Career
Do a little sleuthing. In order to fully understand how a job feels, find a way to "shadow" someone at their job in finance or in accounting. Shadowing is a perfect way for you to learn the day-in-and-day-out of the job. Ask questions and be honest with yourself about whether you'd enjoy the work on a daily basis. You might also want to conduct some online research to understand the earning potential:
Also, you'll want to consider your personality and whether it's a fit for each job's typical work schedule
Be thorough in your research. Once you choose your profession, It may not be easy to switch. Though the different careers in finance and accounting all have a similar need to work with numbers on a regular basis, they're all really quite different one from the other and it may not be so easy to switch.
Think of it this way: to get a CPA (Certified Public Accountant), a student needs to earn a total of 150 credit hours. If you choose your major correctly, you can more wisely spend your time in school by earning the credit hours you need. If you don't choose well, you might end up scrapping quite a few credit hours that cannot be applied to your new field of study. Finance majors earn their degree and then may become certified as a CFA (Certified Financial Advisor). There is very little overlap in the coursework that helps you prepare to take the CFA exam as compared to a CPA. So it's not possible to just "switch" without any serious repercussions. You pay for your education, so you should spend your education dollars wisely.
Moving into the Future
Accounting and finance will always be necessary positions of importance and influence. By doing your research up front and learning what the job entails, you can be more confident that you're moving toward a career that will be rewarding, both financially and personally.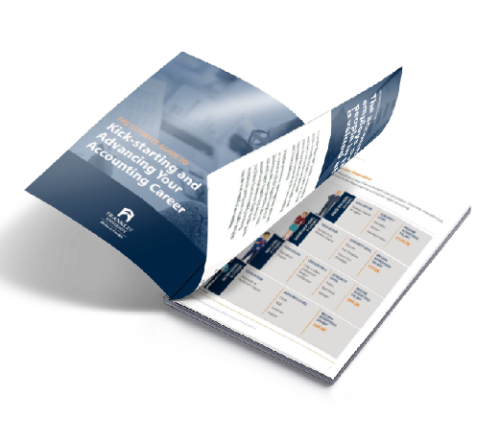 Download Now
Kick-starting and Advancing Your Accounting Career
Get tips for success from 10 in-field experts to help you climb the career ladder and increase your earning potential.