We're Sorry
There was an unexpected error with the form (your web browser was unable to retrieve some required data from our servers). This kind of error may occur if you have temporarily lost your internet connection. If you're able to verify that your internet connection is stable and the error persists, the Franklin University Help Desk is available to assist you at helpdesk@franklin.edu, 614.947.6682 (local), or 1.866.435.7006 (toll free).
Just a moment while we process your submission.
How Many Years for an MBA: 4 Big Questions Answered
An MBA degree is a powerful tool for advancing your career. Whether you want to apply for a promotion, explore new positions or increase your salary expectations, an MBA can help you get you where you want to go. 
MBAs are also increasingly in demand. According to labor market analytics firm EMSI, in the year from January 2020 to January 2021, there were nearly half a million jobs posted that required an MBA. The average salary for these positions was $100,300.
The need and value are there. But do you really have the time to complete an MBA degree? Getting your MBA will take hard work, but it may take less time than you think. Let's break down how many years it takes to complete the different types of MBA programs—and how to choose the program that fits your needs.

How Long Does It Typically Take to Get an MBA?

A full-time MBA program usually takes 1 to 2 years to complete. From online to on-campus and full-time to part-time, you can choose from a variety of programs based on your needs. The number of years or months it takes to complete your MBA will vary based on the path you choose.
To understand the time commitment required for an MBA, you need to look deeper than the number of years you'll be in school. You need to understand the time commitment it will take to be successful. 
Depending on the MBA program, you can expect to take between 9 and 12 courses in total to finish your MBA. For each course, expect to spend 7 to 8 hours per week reading, studying and completing projects. Keep all of this in mind as you choose the program that best fits your personal, professional and educational needs.

Can You Really Complete an MBA in One Year?
 
Absolutely, there are many credible, accelerated MBA programs that can be completed in one year. In fact, one-year MBA programs are becoming increasingly popular as professionals look to level-up their skills without putting their careers on pause.
According to the Wall Street Journal, rising tuition costs and a strong job market led to a steady decline in applications to traditional two-year MBAs in recent years—even in top-tier programs. In response, the number of accredited one-year programs has surged more than 250% since 2012, according to business-school accreditation firm AACSB International.
Even though one-year programs are still in the minority—making up just 10% of all AACSB-accredited MBA programs offered in 2018—47% of prospective students that year said they had considered the shorter degree, according to the latest survey data from the nonprofit Graduate Management Admission Council.
"In the end, the difference between a high-quality one-year and two-year MBA isn't the content—it's the context," says Dr. Alyncia Bowen, Dean of the Ross College of Business at Franklin University, "The circumstances are different—courses are usually taken online and completed in 6 to 8 weeks instead of the 12 to 15 weeks of a traditional semester. However, you're doing the same amount of work and learning the same concepts, just at an accelerated pace."

What Factors Impact The Time It Takes To Complete an MBA?

There are four major factors that influence how many years it takes to complete your MBA degree. While some of these factors are dictated by the university and MBA program you choose, other factors are based on your individual learning preferences.
Admission Requirements: Before you even begin the program, you should think about the time required to complete necessary application steps. Does the program require entrance exams? How long will it take for your application to be reviewed? If the program offers transfer credit, how long will it take to get a transfer credit decision? All of these steps can add hidden time to your MBA. Look for programs with quick, online admissions processes, no GMAT requirements and a streamlined transfer credit process if you want to accelerate your MBA completion.
 
Program Format: Whether your program is in-person or online can impact how many years it takes to get your MBA. Most online programs operate shorter course lengths of 6 to 8 weeks, while traditional in-person programs adhere to 15-week academic calendars. Online courses may also be easier to take while working full time, which can speed your time to completion.
 
Enrollment Status: If you're enrolled full-time you will be expected to take more than one course at a time. If you plan to work full-time and complete your MBA you'll need to decide if you can balance multiple courses with your current responsibilities. It's not always about finishing faster, it's about getting the most out of your degree program. which can be difficult if you're juggling too many priorities. 
 
Additional Specializations: When completing an MBA program, you may have the opportunity to choose a concentration or area of focus. These programs require additional courses beyond the core MBA curriculum, which can extend the time it takes to complete your MBA. However, this extra time can be well worth it if you plan to apply your MBA to a specificialized industry or profession.

How Do I Know What Pace Is Right For Me?

You need to ask yourself the right questions to determine how many years it will take you to complete your MBA. There is no one-size-fits-all MBA—it's about finding the right program for your needs. Accelerated programs can be a great fit for some, while others may appreciate pacing out their MBA across multiple years. Ask these questions as you research MBA programs, especially if you plan to work full time while getting your degree:
Based on your current commitments, can you devote 7-8 hours per week for each MBA course you take?
 
Can you prioritize your MBA education over competing priorities? Will you be able to turn down other activities to focus on your coursework?
 
Based on where you are in your career, do you have a flexible enough schedule to accommodate taking MBA courses?
Will you have a support system at work and at home that can help you manage competing priorities should they arise?
If you answered yes to the majority of these questions, a 1-year accelerated MBA program may be right for you. Otherwise, you may want to consider taking an online program part time so you can take one course at a time.

Find the Right MBA Program to Accelerate Your Career Advancement
Getting your MBA is a commitment—but it's well worth the time you put into getting your degree. The key is finding an MBA program that will fit your schedule, support your goals and give you the job-ready skills to advance.
Franklin University's accredited Online MBA can be completed in one year. Through industry-standard curriculum, practical learning experiences and real-world practitioners, you will gain the skills and knowledge you need to lead.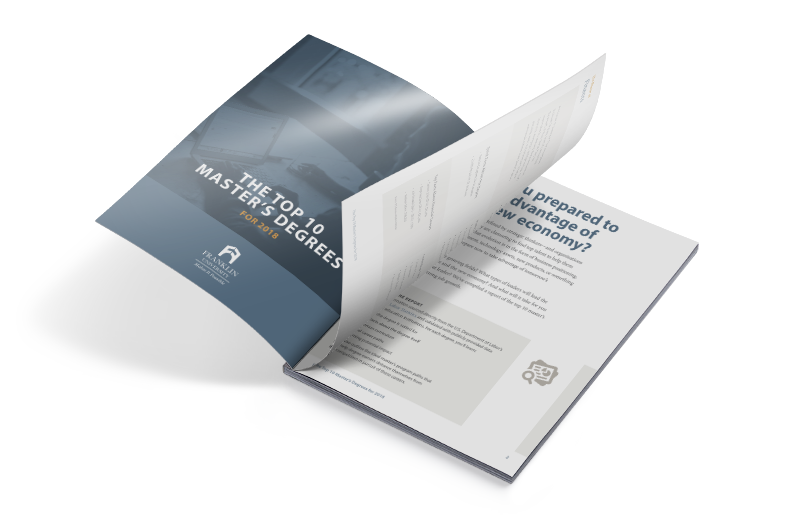 Download Now
Discover 10 of the most in-demand master's degrees based on salary and job growth.