We're Sorry
There was an unexpected error with the form (your web browser was unable to retrieve some required data from our servers). This kind of error may occur if you have temporarily lost your internet connection. If you're able to verify that your internet connection is stable and the error persists, the Franklin University Help Desk is available to assist you at helpdesk@franklin.edu, 614.947.6682 (local), or 1.866.435.7006 (toll free).
Just a moment while we process your submission.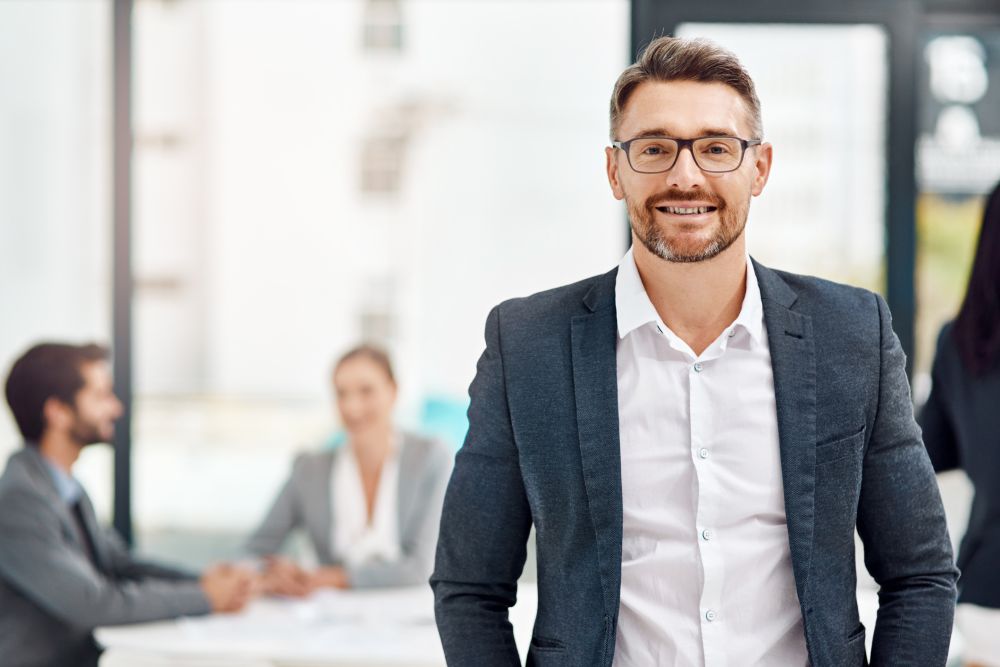 What Can You Do With an MBA in Finance?
The world of finance is vast—and growing. In fact, according to labor analytics firm Lightcast, the U.S. government predicts that finance-related jobs will grow 10.9% by 2032. But you'll need to stand out if you want to move into a senior-level finance role in this highly competitive field. One of the best ways to do so is by earning a Master of Business Administration (MBA) in Finance.

Not only is an MBA a great way to gain the skills needed for finance roles, but it's also a powerful investment in your future. According to Lightcast, in 2022 the median advertised salary for finance positions requiring an MBA was $120,200 per year, with plenty of opportunities to achieve even higher rates of pay.
What Is an MBA in Finance?
An MBA with a specialization in finance is a graduate degree that combines the broad management curriculum of a standard MBA degree with focused coursework on advanced financial topics. This degree is geared toward professional students who wish to take on financial leadership or executive roles in various industries.

While the specific time to completion varies between programs, it typically takes one to two years of full-time study to complete an MBA in finance. Franklin's flexible online MBA in finance can be completed in as few as 12 months, though students may enroll in courses at their own pace to fit within their professional and personal lives.

Learn more about what makes an MBA in finance unique. 
What Is an MBA in Finance Used for?
From becoming a chief executive officer to taking on a specialized financial position, the options are endless with an MBA in Finance. Roles in this field are poised for continued growth and offer highly competitive salaries, according to 2022 data from Lightcast. Common career options and salaries for MBA in finance graduates include:

Financial Manager
Financial managers work with business leaders to develop and implement plans that help the company grow. They also ensure that the company remains financially stable even during turbulent times. Financial managers' day-to-day tasks include financial reporting and directing investment activities. 
Median annual salary: $131,706
736,000 positions in the United States
Projected growth by 2032: 16.4%
Financial and Investment Analyst
Financial and investment analysts typically work at brokerages, financial advisory firms or investment banks. While their specific duties vary depending on the type of organization they work for, financial and investment analysts are typically responsible for helping companies and individuals choose where to invest their money using quantitative analysis. 
Median annual salary: $91,582
 311,000 positions in the United States
Projected growth by 2032:  8.5%
 
Personal Financial Advisors
Personal financial advisors help individuals make and execute plans to meet their financial goals. This includes advising on retirement savings, real estate investments, tax planning and more. Some personal financial advisors work for financial planning firms, while others run their own private practices. 
Median annual salary: $94,162
 277,000 positions in the United States
Projected growth by 2032: 11.4%
Other Financial Specialists
MBA in finance graduates also take on numerous other financial positions. These roles include working for state or federal governments in financial oversight roles, managing insurance or benefits funds or working on securities or commodities contracts. Professionals who are willing to lean into learning a new industry can find a wide array of unique opportunities in financial services. 
Median annual salary:  $73,237
134,000 positions in the United States
Projected growth by 2032: 7.4%
Is an MBA in Finance Right for You?
Taking on a graduate program is a big decision. It's important to reflect on your career goals, personal strengths and likes and dislikes carefully before enrolling. While an MBA in finance program will help you develop the skills you need for professional success, comfort in the following areas will help you make the most of your program. 
Problem-solving skills: Financial leadership roles involve solving a wide array of complicated problems. Do you enjoy troubleshooting and finding new ways to approach challenges?
Accounting skills: While an MBA in finance is not an accounting degree, comfort with complex corporate accounting processes is essential for nearly any finance position. Do you have strong attention to detail and the ability to use critical thinking to drive decision-making?
 Financial reporting skills: Financial reporting, the process of documenting and sharing a company's financial health, is a critical task in many finance roles.The ability to organize and communicate complex information effectively will help you succeed in this area.
Analytical abilities: To succeed in finance, you'll need to be able to analyze large sets of information and use it to make informed decisions. Consider whether you enjoy solving puzzles—especially under pressure.
Technical skills: During your MBA program, you'll learn how to use software and modeling to make financial plans and projections. Are you comfortable learning and using new digital tools? 
Are MBAs in Finance Flexible?
An MBA in finance also requires a significant commitment of time and energy. Many traditional full-time MBA programs are difficult to balance with career and personal responsibilities. On the other hand, Franklin's online MBA program is designed for working professionals, ensuring that students can maintain their earning power and ability to support themselves and their families while studying. Choosing to enroll in an MBA program part time, full time, online, or in-person is ultimately a personal decision that you should make based on your specific circumstances.
Take Your Next Step with an MBA in Finance at Franklin
Whether you hope to run a company or help set up individuals for financial success, an MBA in finance can help set you up for success. Our online degree program can be completed in as little as 12 months, putting you on the path to advancement in no time at all. We understand that you're juggling multiple personal and professional priorities, and we designed our MBA program to maximize flexibility and help you earn your degree without missing a beat. 

At Franklin, we believe in learning by doing. That means that you'll learn through simulations and hands-on projects using industry-leading software and tools in addition to classes. By the time you graduate, you'll be ready to take on tough real-world challenges in any role.
Learn more about how an MBA in Finance at Franklin can help you meet your goals.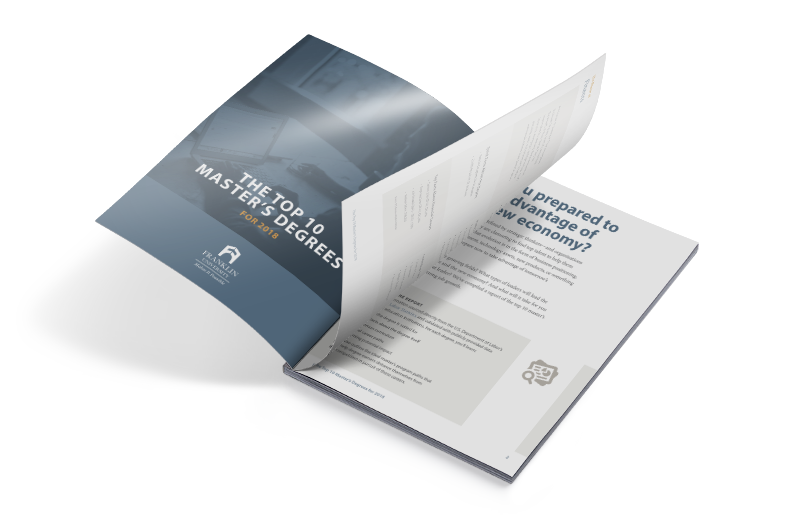 Download Now
Discover 10 of the most in-demand master's degrees based on salary and job growth.