We're Sorry
There was an unexpected error with the form (your web browser was unable to retrieve some required data from our servers). This kind of error may occur if you have temporarily lost your internet connection. If you're able to verify that your internet connection is stable and the error persists, the Franklin University Help Desk is available to assist you at helpdesk@franklin.edu, 614.947.6682 (local), or 1.866.435.7006 (toll free).
Just a moment while we process your submission.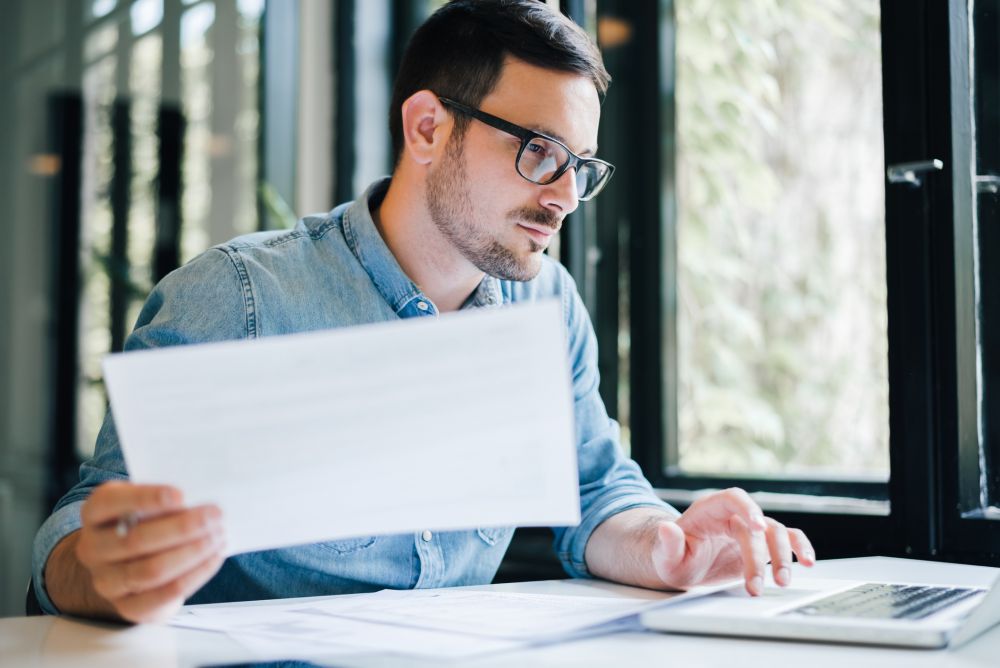 Is an Online Finance Degree Worth It?
Finance is an essential business function, making it one of the most stable career paths you can choose. It's also a field benefiting from significant growth.
According to the Bureau of Labor Statistics, employment in business and financial operations occupations is projected to grow 7%from 2018 to 2028. That's faster than the average for all occupations and will add about 591,800 new jobs in the United States. Salary outlook is also bright. The median annual wage for business and financial occupations was $69,820 in May 2019, which was higher than the median annual wage of $39,810 for all occupations.
For working professionals who don't want to take time off from their career to get ahead, online finance degrees are increasingly popular. However, the biggest question prospective students ask themselves is will an online finance degree be worth it?
Let's break down the different options for getting your finance degree and the benefits of choosing to get your finance degree online.
What is a Finance Degree?
A finance degree focuses on grounding you in principles of accounting, statistics, economics and business law. While a general business degree focuses more on the interpersonal aspects of running a business, finance is focused on the monetary aspects. It's all about how money is made, managed, grown and reported.
The Two Primary Types of Online Finance Degrees
If you're exploring online finance degrees, you will find two types of programs: the financial management degree and the financial planning degree. See how these two degree programs set you up for different finance career paths.
Financial Management Degree: This is your general finance degree. It prepares you for a career in corporate finance and provides more career flexibility in the long run. After completing your degree in financial management you can go on to a wide range of finance careers in areas like financial analysis, risk management, credit analysis, investment strategy and more.
If you pursue your B.S. in Financial Management, expect to take courses in:
Financial and Managerial Accounting: Learn the ins and outs of financial reporting and how to detect what financial information is really saying about a business and use data to make more strategic decisions.
Money, Banking and Financial Markets: Understand the interrelated roles of currency, central banks and financial markets and how they impact the global economy.
Investments: Interested in the stock market? Learn how to evaluate investment options, evaluate risk vs. return and choose between the different types of investments to create a balanced portfolio. 
Financial Management: Dive into the fundamentals of managing corporate finances—from capital budgeting, structuring and management to asset evaluation and return on investment.
Career Outlook: According to the Bureau of Labor Statistics (BLS), financial analysts average $85,660 per year and job outlook by 2028 anticipates 6% growth.
Financial Planning Degree: This is a more focused finance degree, preparing you to become a financial planner or advisor. It's a defined career path where you work one-on-one with individuals or businesses to manage their wealth and maximize their investments. 
If you pursue your B.S. in Financial Planning, expect to take courses in:
Principles of Financial Planning: Get a broad view of what it takes to help individuals and businesses comprehensively and effectively manage their finances. From the planning process to executing a plan, you'll learn concepts and techniques from real-world case studies.
Retirement Savings and Income Planning: Gain insight into retirement planning concepts and how to help clients identify their retirement objectives and ensure they have enough money to fund their future.
Estate Planning: From living trusts to life insurance and charitable contributions, gain the skills to help clients conserve and transfer wealth. 
Tax Planning: Taxes are a fact of life. Learn about the implications of federal income tax and how to help your clients comply with tax policies while maximizing their deductions and savings.
Career Outlook: According to the BLS, personal financial advisors have a median salary of $87,850 per year and the job outlook by 2028 anticipates 7% growth.
But if you're interested in both areas of finance, you don't necessarily have to choose. Many students will choose to double major in both financial management and financial planning to clear the path to any financial career they choose. 
If you're convinced a finance degree is right for you and want to get your degree online, the key to success is finding a respected online finance degree.
Are Online Finance Degrees Respected?
The popularity and prominence of getting your degree online continues to rise. According to Harvard Business Review, a majority (61%) of hiring leaders view credentials earned online as equal to or better than those completed in person. As long as you choose a well-respected online college with high-quality degree programs, employers should view your online finance degree favorably.
How do you know if an online college is respected? Know the ABCs:
Accreditation: Employers respect degrees from regionally accredited universities because their degrees are evaluated for quality and meet the highest educational standards. National accreditation may not be viewed as favorably by employers.
Brand: The power of brand recognition is real. Traditional and increasingly prestigious institutions have boosted the credibility of online education—so look for a well-known school with strong employer relationships. Franklin University works in partnership with employers across business, government and nonprofit sectors to develop educational programs that develop top talent. From tuition discounts to tailored professional development certificates, employers trust Franklin to educate their employees.
Campus: Even if you never step foot on campus, according to the Society for Human Resource Management (SHRM), 92% of employers view online degrees from brick-and-mortar schools as favorable. Only 42% of those surveyed would consider a candidate with an online degree from a university that operates solely online. Franklin University offers the best of both worlds—prominent online programs and a campus anchored in the heart of downtown Columbus, OH.
As a working professional, if you find the right college you can experience significant benefits of earning your finance degree online.
6 Reasons an Online Finance Degree is Worth It
There are many ways to measure worth. Of course, there's obvious monetary value. However, worth can also be measured in personal and professional benefits that may be harder to quantify.
These benefits of getting your finance degree online make it truly worthwhile:
Earn your degree as quickly—or as slowly—as you want to based on your personal, financial and professional circumstances.
Reduce the total cost of your finance degree by continuing to generate income while earning your degree and getting the benefit of lower tuition rates offered by online colleges.
Learn real-world finance skills from instructors who have practical experience applying theory to solve business challenges.
Expand your professional network through peers, professional mentors and industry connections that can be facilitated by your online finance degree program.
Benefit from a greater diversity of peers with backgrounds, experiences and perspectives that bring additional value to course content.
Take coursework that qualifies you to take exams for must-have industry credentials like the Chartered Financial Analyst (CFA) or Certified Financial Planner (CFP).
When it comes to flexibility, diversity and job-ready skill sets, online finance degrees are hard to beat.
Online Finance Degrees Are Worth It—If You Find the Right One
Franklin University is a regionally-accredited institution with a long history of success in both in-person and online instruction. Our online finance degree programs are designed to give working professionals the in-demand technical and soft skills needed to succeed in the finance industry. Upon completing your online finance degree at Franklin, you'll also be prepared to sit for industry-standard certifications—an added value of our certified CFP and CFA curriculums.
Explore our B.S in FInancial Management and our B.S. in Financial Planning to determine which online finance degree is right for your career goals.
 
Download Now
Where to Find Free Money to go Back to School
Learn how to get grants to cut college costs.