We're Sorry
There was an unexpected error with the form (your web browser was unable to retrieve some required data from our servers). This kind of error may occur if you have temporarily lost your internet connection. If you're able to verify that your internet connection is stable and the error persists, the Franklin University Help Desk is available to assist you at helpdesk@franklin.edu, 614.947.6682 (local), or 1.866.435.7006 (toll free).
Just a moment while we process your submission.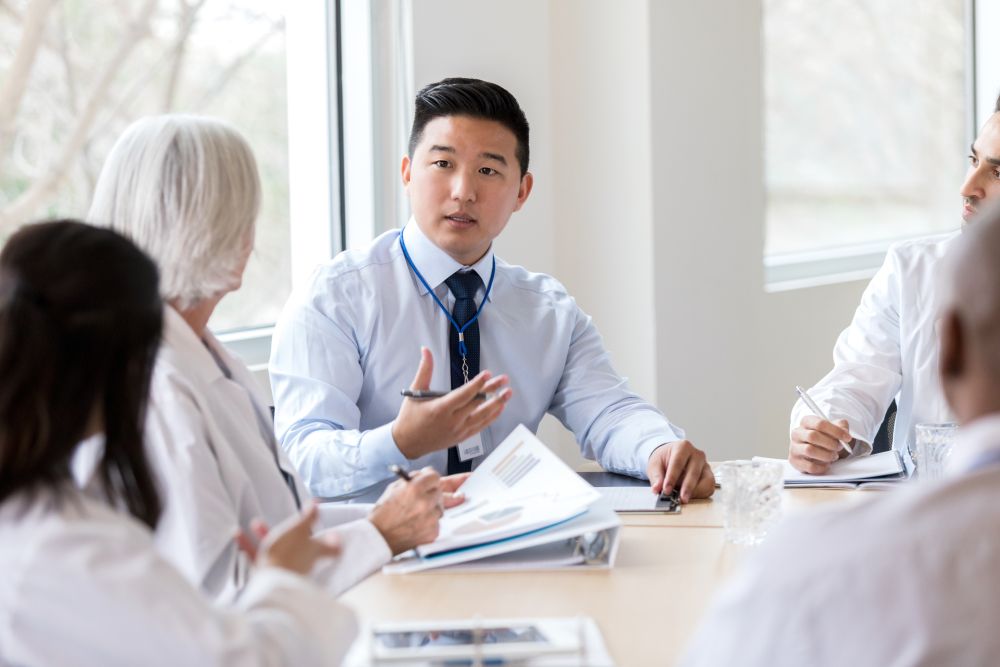 Nursing Administration Degree: Everything You Need To Know
Nursing administration degrees have become increasingly popular as the demand for nursing leaders rises. According to Lightcast™, completion of nursing administration degrees at the master's level increased by 78.9% between 2012 and 2020 while Nursing administration degrees at the doctoral level increased by 60.7% in the same time period. 
Online nursing administration degrees have become especially popular, making it more accessible than ever for busy, working nurses to complete an advanced degree. If you are interested in the nursing leadership path, you are likely weighing your options for advanced nursing education. This article will help break down the field of nursing administration and showcase the best-fit degrees for the career paths in the field.
What is Nursing Administration?
Nursing administration is a broad category of nursing leadership roles within healthcare organizations. Due to the specialized work nurses perform and their role in patient care, it's important for nurses to be represented at leadership levels. 
While nursing administrators move away from day-to-day patient care, they take on new responsibilities that are equally important to patient outcomes. The following list represents the major responsibilities of nursing administrators.
Oversee nursing and support staff within their unit or department, which includes hiring, training and scheduling
Identify issues, problems and trends and create plans to address them
Ensure a high quality of patient care that aligns with best-practice care standards
Write reports on staff, unit performance and patient outcomes to share with leadership
Collaborate with other departments to reach larger organizational goals
Establish desired outcomes and implement plans to ensure these outcomes are achieved.
How Do I Become a Nurse Administrator?
According to the American Nurses Association (ANA), an outstanding nursing administration department will enhance the quality and performance of the nursing practice at their facility. Leading at these levels takes a combination of education, credentialing and experience. Let's break down the major milestones in becoming a nurse administrator.
1. Complete a Nursing Degree Program
To become a registered nurse (RN), you must complete an associate degree in nursing or a bachelor's degree in nursing (BSN). Some nurses choose to complete an associate degree and get their RN license before completing a BSN program.
A BSN degree is valuable because it will help accelerate your path to nursing administration, as many top healthcare organizations require BSN-qualified nurses. A 2020 AACN survey of healthcare organizations found that over 41% of hospitals and facilities require RNs to hold BSNs.
Time to complete: Two to four years
2. Earn Your a RN License
After successful completion of a nursing degree program, you must pass the NCLEX exam, which ensures you have the foundational knowledge to practice as a nurse. After passing the NCLEX, you will apply for licensure with your state nursing board.
For nurses who choose to get their RN before a BSN, RN-to-BSN programs are also available to help nurses put themselves on the path to leadership and prepare for graduate programs.
Time to complete: Approximately 12 weeks
3. Gain Work Experience
RNs should gain at least a year of clinical experience before pursuing graduate degrees. If an RN decides to complete an advanced degree online, they will continue to gain professional experience while completing their degree, which is a bonus when being considered for management and leadership positions.
Time to complete: Minimum one year
4. Complete a Graduate Degree in Nursing Administration 
Most major healthcare institutions will require earning an MSN or higher to move into management positions. There are two options for advanced degrees that will prepare you for a career in nursing administration—a Master of Science in Nursing (MSN) with a focus in administration and a Doctor of Nursing Practice (DNP) with a focus in leadership.
Let's explore these two advanced degree paths to help you determine which is right for your career goals.
The MSN in Nursing Administration Path
The MSN in Nursing Administration is designed for nurses who want to become managers, directors or executives and be responsible for strategic planning and administrative oversight within healthcare settings. This degree is ideal for positions such as nurse manager, nurse administrator, clinical leader and director of nursing. 
What You'll Learn: Examine the advanced role of the nurse leader in the administration of healthcare delivery, management of change and interdisciplinary collaboration.  
Program Prerequisites:
Bachelor's degree in nursing or associate degree in nursing (for the RN to MSN Pathway) that meets minimum GPA requirements
Evidence of active RN license
English language proficiency
Degree Cost: According to U.S. News & World Report, investing in an online master's of nursing degree can cost anywhere from $35,000 to more than $60,000 in tuition and fees depending on the school and degree focus. The total tuition for Franklin University's MSN-Nurse Administrator program is under $25K and with automatic scholarships, it's closer to $20K. Franklin's program is accredited by the Commission on Collegiate Nursing Education, which showcases its dedication to the highest quality standards, in addition to being an accessible degree.
Graduation Requirements:
Successful completion of all required courses
Minimum cumulative grade point average (GPA) of 3.00
Completion of MSN practicum experience
Pay all required tuition and fees
Time To Complete: An MSN typically takes one to two years to complete based on how many courses a nurse chooses to take at once, as well as any transfer credit they may receive. Franklin's MSN-Nurse Administrator program allows you to finish in 16 months when taking one class at a time. 
Accelerated Completion Options:RN to MSN programs allows nurses who do not have a bachelor's degree to complete a bridge course and then enter directly into an MSN program. After a 12-week bridge course, the MSN program can be completed in as few as 16 months.
The Doctor of Nursing Practice-Leadership Path
The DNP-Leadership program is designed for nurses who want to help transform healthcare using evidence-based research skills. This degree will help you put innovative concepts into practice in healthcare, public health or educational settings. A DNP with a leadership focus is ideal for positions such as chief nursing officer, healthcare system chief executive officer (CEO), nurse educator or higher education faculty or dean of nursing at a university. 
What You'll Learn: Learn to synthesize research and data and apply it to healthcare systems and technology to improve quality, safety and outcomes.
Program Prerequisites:
Completion of a BSN or MSN with a cumulative GPA of 3.0
Evidence of an active nursing license
English language proficiency
Degree Cost: According to NurseJournal, DNP programs typically cost anywhere from $40K-$70K. Franklin University's DNP-Leadership program can be completed for around $30K due to its competitive cost per credit hour, low fees and generous transfer credit policies. 
Graduation Requirements:
Successful completion of all required courses
Minimum cumulative grade point average (GPA) of 3.00
Completion of required DNP clinical and practicum hours
Pay all required tuition and fees
Time To Complete: DNP programs typically take two to three years to complete. Franklin University's online DNP-Leadership program can be completed in as few as two years while balancing your other work and personal commitments.
Accelerated Completion Options:BSN to DNP programs allow students to complete MSN-related bridge courses and enter directly into the DNP program. After completing two 12-week bridge courses and the required practicum hours, the DNP program can be completed in as few as two years. Students may also be able to transfer up to 500 hours of clinical hours from transfer credit or residency.
Find the Right Nursing Administration Degree for Your Career Goals
If you aspire to become a nursing leader in a healthcare organization or higher education institution, an advanced degree is a great way to accelerate your career. For busy nurses, online degrees offer the flexibility to earn a degree on their schedules.  
Franklin University offers multiple paths to a thriving career as a nurse administrator. The MSN-Nurse Administrator program and RN to MSN pathway can help RNs seamlessly transition from patient care to management. For nurses who aspire to executive roles and educational leadership, the DNP-Leadership program and BSN to DNP pathway will expand your opportunity to be a transformational and innovative healthcare leader. Explore these opportunities in depth to determine if they are right for your career advancement.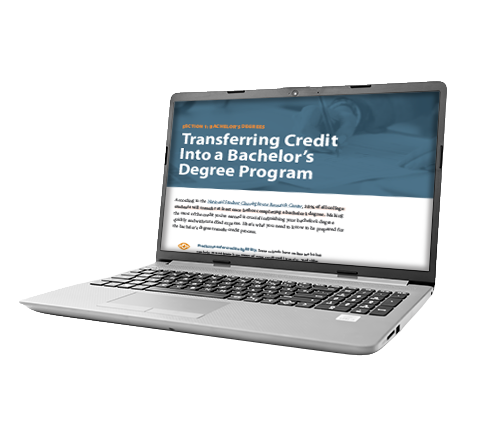 Download Now
Maximizing Your College Transfer Credit
Learn the five things you need to know, at every academic level, to make the most of your transfer credit – including credits from technical/community college and military training.