Next Start Date
Jun 26, 2023
About Start Dates
Additional future start dates include:
Fall 2023
Aug 14, 2023

Start dates for individual programs may vary and are subject to change. Please request free information & speak with an admission advisor for the latest program start dates.
Placement Tests
GMAT/GRE not required for admission
Accreditation
CCNE
Accreditation Information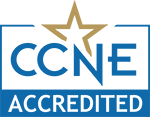 The Bachelor of Science in Nursing program and the Master of Science in Nursing program at Franklin University are accredited by the Commission on Collegiate Nursing Education, 655 K Street NW, Suite 750, Washington, DC 20001, 202-887-6791.
---
The Doctor of Nursing Practice program and post-graduate APRN certificate program at Franklin University are pursuing initial accreditation by the Commission on Collegiate Nursing Education (http://www.ccneaccreditation.org). Applying for accreditation does not guarantee that accreditation will be granted.
Be a Change Leader with an MSN in Nursing Administration
As a registered nurse, you have an insider's perspective on what works in healthcare – and where improvements can be made. If you aspire to lead quality improvement initiatives, champion strategic change or manage teams, Franklin University's M.S. in Nursing-Nurse Administrator track can help you realize your goal. You'll gain the knowledge necessary to provide strategic planning and administrative oversight, while helping to create a clinical environment that supports advanced training and education for nurses. 
Finish in as Few as 16 Months
Earn your degree and prepare for advancement faster.
$2,000 Smart Start Scholarship
New students in the MSN-ADM program qualify for an automatic $2,000 scholarship.
100% Online Coursework
Balance earning your degree with other work-life commitments.
Interdisciplinary Study
Compliment your nursing master's with your choice of elective courses.
 
Learn from the Best
Benefit from the experience of your instructors – seasoned, in-field practitioners.