We're Sorry
There was an unexpected error with the form (your web browser was unable to retrieve some required data from our servers). This kind of error may occur if you have temporarily lost your internet connection. If you're able to verify that your internet connection is stable and the error persists, the Franklin University Help Desk is available to assist you at helpdesk@franklin.edu, 614.947.6682 (local), or 1.866.435.7006 (toll free).
Just a moment while we process your submission.
RN to BSN Requirements: What's Required For Admission?
The need for exceptional nurses in America has never been greater. A combination of COVID-19 pandemic stresses, the aging of the Baby Boomer generation and the impending retirement of nearly a quarter of the nursing workforce stands to exacerbate an already serious shortage of nurses in hospitals and medical centers across the nation. At the same time, some hospitals and medical centers have made a higher credential—the Bachelor of Science in Nursing (BSN)—an employment requirement for new hires. 
"To get a job in most U.S. hospitals right now, you need to have a BSN or be working toward one," says Dr. Melanie Brewer, RN, FNP-BC, NEA-BC, FAANP, chair of Franklin University's RN-BSN program. "There's been a lot of research done that shows the difference in quality of care between BSN-prepared nurses and registered nurse (RN)-prepared nurses. The critical thinking processes are different, and that's important for maintaining high-quality patient outcomes." 
 
If you are an RN, now is the perfect time to advance your career—and help meet a tremendous societal need—by enrolling in an RN to BSN degree program. Continue reading to gain a better understanding of the requirements needed to start an RN to BSN program.
Standard RN to BSN Requirements
Although institutions may differ slightly in their admission requirements, these criteria are required by the majority of RN to BSN programs:
Application and Fee. All institutions will ask you to submit a form to apply for their program, and most will charge a fee to process your application. Fees generally range between $50-$100, but many institutions will offer discounts or waivers in certain circumstances, such as documented financial need. Some institutions, including Franklin University, do not charge an application fee.
Associate Degree in Nursing or Nursing Diploma. Most RN to BSN programs require an Associate Degree in Nursing (ADN) or Nursing Diploma. They also may require proof that you've completed basic courses such as anatomy, microbiology, chemistry, psychology, sociology and statistics. Generally, a minimum overall GPA (usually 2.0, but sometimes higher) and/or grade (generally C, but sometimes higher) in these specific courses is required for admission. Before applying to an institution, make extra sure you have the proper academic prerequisites. Not having them may affect not only your eligibility but also how quickly you can complete the RN to BSN program. 
RN Licensure. An RN to BSN program will likely require you to hold and maintain an active RN license to maintain your eligibility in the program. Some programs require enrolled students to work up to 30 hours per week. If you're planning to take time away from working to complete your program, some institutions will allow you to waive the working requirement through an equivalency exam or other means.
Background Check. Nearly all institutions will require you to submit to a background check to be granted admission. The check also needs to be current. If your employer ran a background check for your current position more than two years ago, you may need to undergo an updated check. Ask an admissions representative from the institution to which you're applying for clarity on this requirement.  
Program-specific RN to BSN Requirements 
Most RN to BSN programs request additional documentation or engagement before granting admission. Some common items include:
 
Entrance Exams
Some institutions require entry exams that are designed to determine whether prospective students are likely to pass certification exams that will come later in the program. One commonly used test is the Health Education Systems Inc. (HESI) Exam. Preparing for and taking these exams often costs money. Keep this in mind before applying to a program that has a testing requirement. 
 
Interview and/or Personal Statement
Some programs require prospective students to complete an interview with faculty and/or alumni during the admission process. These interviews give the institution an opportunity to gain context about a prospective student's qualifications and the student an opportunity to determine if the program is a good fit for them.  
 
Like an interview, a written personal statement can help the institution better understand the student's background and motivations for enrolling in an RN to BSN degree program. 
 
Wondering where to start preparing for your interview or personal statement? Here are some ideas: 
Lean into your passion for nursing: What inspired you to become a nurse?
Draw on your educational, working and volunteer experience: What have you learned and/or achieved?
Address why this program is a fit for your educational and career goals: How will having a BSN help you reach them? 
 Résumé and Letters of Recommendation
Just as a transcript proves your educational bona fides, a résumé and letters of recommendation serve as evidence of your work experience and ethic. Ensure both your résumé and letters of recommendation highlight the parts of your experience that you feel match well with the strengths of the institution to which you're applying. 
 
Documentation of Financial Need
RN to BSN programs vary in cost for online programs and for campus-based programs. Institutions also vary in how much financial aid they can offer students. It's always a good idea to apply for scholarships and financial aid to give yourself the best chance at receiving support. You can also speak with admissions or financial aid representatives to explore any employer-supported tuition grants they offer, as well as loans for which you may be eligible.    
 
What Should You Look For In An RN to BSN program?
An institution is discerning in which students it admits, and students must be equally choosy in selecting a program that best fits their needs and goals. Here are a couple of key factors to consider when considering RN to BSN programs:
 
Proper Accreditation
If the school you're considering is not accredited, drop it from your list. Most hospitals and medical centers will not hire you if your degree is from an unaccredited institution—and for good reason. Accreditation is the primary way that the nursing profession ensures that graduates meet the same standards and criteria, and that the programs they graduate from are up-to-date with the latest advances in nursing and healthcare. The three most prominent accrediting agencies are the Commission on Collegiate Nursing Education (CCNE), the Accreditation Commission for Education in Nursing (ACEN) and the Commission for Nursing Education Accreditation (CNEA).
 
Learning Format
Institutions deliver RN to BSN programs in traditional, hybrid and online formats. Be sure to understand the differences between the three and choose an institution that offers a program that fits your personal and professional situation the best. In a nutshell: 
Traditional programs require you to take courses on-site at the institution's campus or at an affiliated institution and are best suited for students who wish to have face-to-face interaction or have the flexibility to take time away from work. 
Hybrid programs combine face-to-face experiences (such as labs or clinical rotations) with predominantly online coursework and is well suited for working RNs.
In online programs—like the Franklin's RN to BSN programs—nearly all requirements are completed remotely and coursework is often asynchronous—offering maximum flexibility for students who wish to complete their programs faster or slower as their life commitments require. 
 Transfer Acceptance
RN to BSN programs can vary widely in what kind and how many transfer credits they will accept. This matters because it affects how quickly you can finish your degree—which in turn can affect the cost of your degree. Many programs have generous transfer options as well as agreements with nearby community colleges that allow students to complete credits required for both the ADN and BSN degrees simultaneously, shortening the student's time to graduation. 
At Franklin, the average incoming RN to BSN student transfers 74 credits, putting them more than 60% of the way toward their degree. 
What Should I Know About Franklin's RN to BSN Program and Admission Requirements? 
Franklin offers a completely online program—including simulation labs—and it's designed with working nurses in mind. Most courses are asynchronous, meaning that you don't need to be at your computer at the same time, on the same day, for the length of the course. Franklin also offers a wealth of support for online RN to BSN students, including a dedicated advisor to help plot a course plan to meet your goals and an online writing center that provides quick, high-quality advice to improve your projects.  
 
Ready to apply? Applicants to Franklin's RN to BSN program must:
Hold an associate degree or diploma from a nursing program that's recognized by the U.S. Department of Education or international equivalent
Hold and maintain a current RN license granted in the United States or by an associate member of the National Council of State Boards of Nursing (for applicants outside of the United States, additional documentation may be required)
Earn a minimum grade of C or better in all required courses
Demonstrate English language proficiency
 The bottom line? The nursing profession and the broader U.S. healthcare system desperately needs more nurses, especially those with the specialized skills a BSN degree can provide—and it needs them now. There are hundreds of great RN to BSN programs, including Franklin's, that can offer you an achievable path to both meet this societal need and put yourself on a path toward faster career advancement and higher earnings.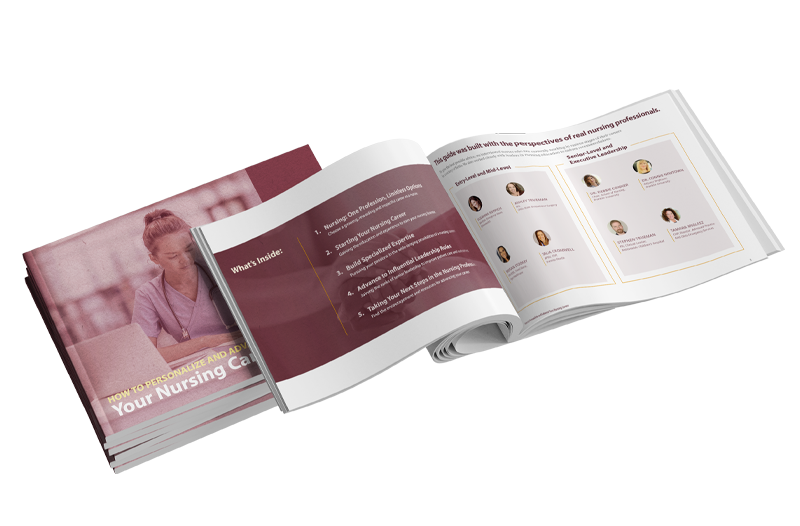 Download Now
How to Personalize and Advance Your Nursing Career
Find out how to take your nursing career further with advice from real nursing professionals.