We're Sorry
There was an unexpected error with the form (your web browser was unable to retrieve some required data from our servers). This kind of error may occur if you have temporarily lost your internet connection. If you're able to verify that your internet connection is stable and the error persists, the Franklin University Help Desk is available to assist you at helpdesk@franklin.edu, 614.947.6682 (local), or 1.866.435.7006 (toll free).
Just a moment while we process your submission.
RN to BSN Curriculum: What Types of Courses Can You Expect?
A Bachelor of Science in Nursing (BSN) is an increasingly popular option for Registered Nurses (RNs) who want to get ahead in the nursing profession.
In April 2021, the National Council of State Boards of Nursing released findings from the 2020 National Nursing Workforce Survey. These results showed that 65.2% of the RNs surveyed were prepared at the baccalaureate level or higher. The survey also found that the baccalaureate degree was the most common credential pursued by nurses seeking licensure to enter the nursing profession.
Many RNs who pursued a diploma or associate degree to enter the field are now seeing the value of earning their bachelor's degree. Whether they want to remain competitive in the field, open the door to new opportunities or increase salary expectations, the BSN offers a multitude of advancement opportunities.
However, it can be intimidating to consider earning a degree while continuing to balance a full-time career as a nurse and personal responsibilities. This guide helps demystify the path from RN to BSN, helping you better understand these programs and what to expect as an RN to BSN student.
 
What Content Can Nurses Expect to Learn During an RN to BSN Program?
Earning a BSN degree requires completion of 120 credit hours. However, a transfer-friendly RN to BSN degree-completion program is designed specifically for registered nurses with an associate degree (ADN) or nursing diploma. These programs can accept up to 90 transfer credits, which means licensed RNs can complete their BSN degree in as few as 12 months.
RN to BSN curriculum is designed to build on your existing education and experience as a nursing professional. You'll gain the in-demand skills healthcare organizations are looking for in key competencies of nursing by taking the following common courses.
Nursing Leadership and Management: Explore concepts in strategic planning, quality improvement, patient safety, change theory and communication to build vital leadership skills that will help nurses effectively navigate healthcare organizations.
Health Assessment and Promotion: Broaden and enhance current knowledge and skills in health promotion—such as disease, injury and illness prevention—and assessment, which focuses on a holistic approach to recognizing patient issues.
Nursing Research and Evidence-Based Practice: Gain skills in the research process, which includes methodology, design and interpretation of findings. Learn to translate research into new processes and care practices that promote high quality and safe patient care.
Community Health Nursing: Develop a strong foundation of health promotion and disease prevention tactics at both the individual and population level in order to improve health outcomes for individuals, families, groups and entire populations.
Health Informatics: Learn about the design and challenges of healthcare informatics infrastructure, as well as current issues in healthcare data management including HIPAA legislation and electronic health records.
Healthcare Law and Ethics: Develop a strong foundation of health law, which enables nurses to address common legal and moral issues facing nurse interaction with patients on a daily basis.
Career Outcomes Provided by an RN to BSN Program
Today's top employers are seeking to hire, promote and retain nurses who earn their BSN. According to Lightcast™, the BSN is the top-sought degree in job postings for RNs. This data shows how the BSN is quickly becoming the standard of nursing care.
An RN to BSN degree program provides the skills and credentials to enhance a nurse's patient care abilities and make them more marketable within the nursing field. By completing an RN to BSN program, nurses will gain distinct career advantages. BSN-qualified nurses are prepared to:
Deliver superior, evidence-based care by translating research into on-the-ground nursing practices
Become a leader within their current organization and take on new management-level responsibilities 
Directly apply lessons learned and new skills to drive quality improvement processes and improve patient safety
Increase adoption of new technologies in the patient care setting
Employ effective communication that allows collaboration and efficiency across departments and seniority levels
Provide better care to populations across the spectrum of age, race, culture and community
The value is clear—but how manageable is completing a degree while working as a full-time nurse?
Is an RN to BSN Program Difficult? 
An RN to BSN program includes rigorous coursework that takes nursing skills to the next level. However, the level of difficulty of an RN to BSN program often lies in how the program is designed. 
There are common levers that can make earning your BSN more difficult. Here's what to look out for when determining whether an RN to BSN program will truly support you in accomplishing your goals. 
To complete your degree more efficiently, avoid programs with:
Instead, focus on finding a high-quality, accredited online RN to BSN program that will help you achieve your goals on your terms.
Advantages of the Online RN to BSN Curriculum At Franklin University
Franklin University offers a leading RN to BSN program built for the lives of busy, working nurses. Franklin's program stands out because it offers:
100% online curriculum with no in-person requirements
Affordable tuition rates, an automatic $3,000 scholarship and no hidden fees
Generous transfer credit where, on average, students transfer in nearly two-thirds of the credits required for the BSN
Accreditation from the Commission on Collegiate Nursing Education
As a student in the RN to BSN program at Franklin University, you can also expect to benefit from industry-leading curriculum, which is developed and taught by professionals with extensive nursing experience. Innovative curriculum includes:
Genetics in Nursing and Healthcare, which focuses on human variation in health and diseases and will prepare you to better care for more diverse populations.
Health Policy, which will broaden your perspective on the role politics and policymaking play in the field and prepare you for leadership roles in which you must navigate these policies to reach organizational goals.
Health Information Governance, which will provide insight into how healthcare data can be used as a vital asset to improve patient care and a strategic asset for improving an organization.
This is just a small glimpse at what you can learn at Franklin. Learn more about the Franklin RN to BSN program curriculum and how it can benefit your career.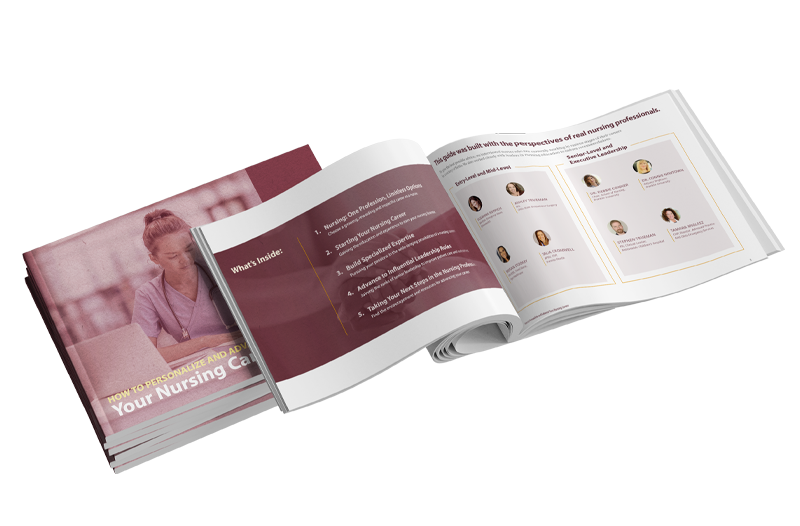 Download Now
How to Personalize and Advance Your Nursing Career
Find out how to take your nursing career further with advice from real nursing professionals.