We're Sorry
There was an unexpected error with the form (your web browser was unable to retrieve some required data from our servers). This kind of error may occur if you have temporarily lost your internet connection. If you're able to verify that your internet connection is stable and the error persists, the Franklin University Help Desk is available to assist you at helpdesk@franklin.edu, 614.947.6682 (local), or 1.866.435.7006 (toll free).
Just a moment while we process your submission.
BSN Nurse Salary: How Much Do Nurses With BSNs Make?
There are multiple paths to becoming a Registered Nurse (RN). One of the most advantageous is earning a Bachelor of Science in Nursing (BSN) degree. Although a bachelor's degree is not a requirement to become an RN, it is becoming more and more of an expectation. According to the 2020 AACN survey of healthcare organizations, 41% of hospitals and healthcare facilities require RNs to hold BSNs. 
As demand for BSN-prepared nurses increases, RNs who do not hold BSNs are trying to determine the value of the degree, especially in terms of salary expectations. This comprehensive guide will review the major factors that influence salaries for RNs, with a specific focus on the value of being a BSN-prepared nurse.
How Much Do BSN Nurses Make?
According to the Bureau of Labor Statistics, the median salary for all registered nurses is $77.6K. RNs with BSNs can also expect to command higher than average salaries. According to aggregate job posting data from Lightcast™, the median advertised salary for an RN with a BSN is $82.3K, which is a 6% increase from BLS reported median salaries.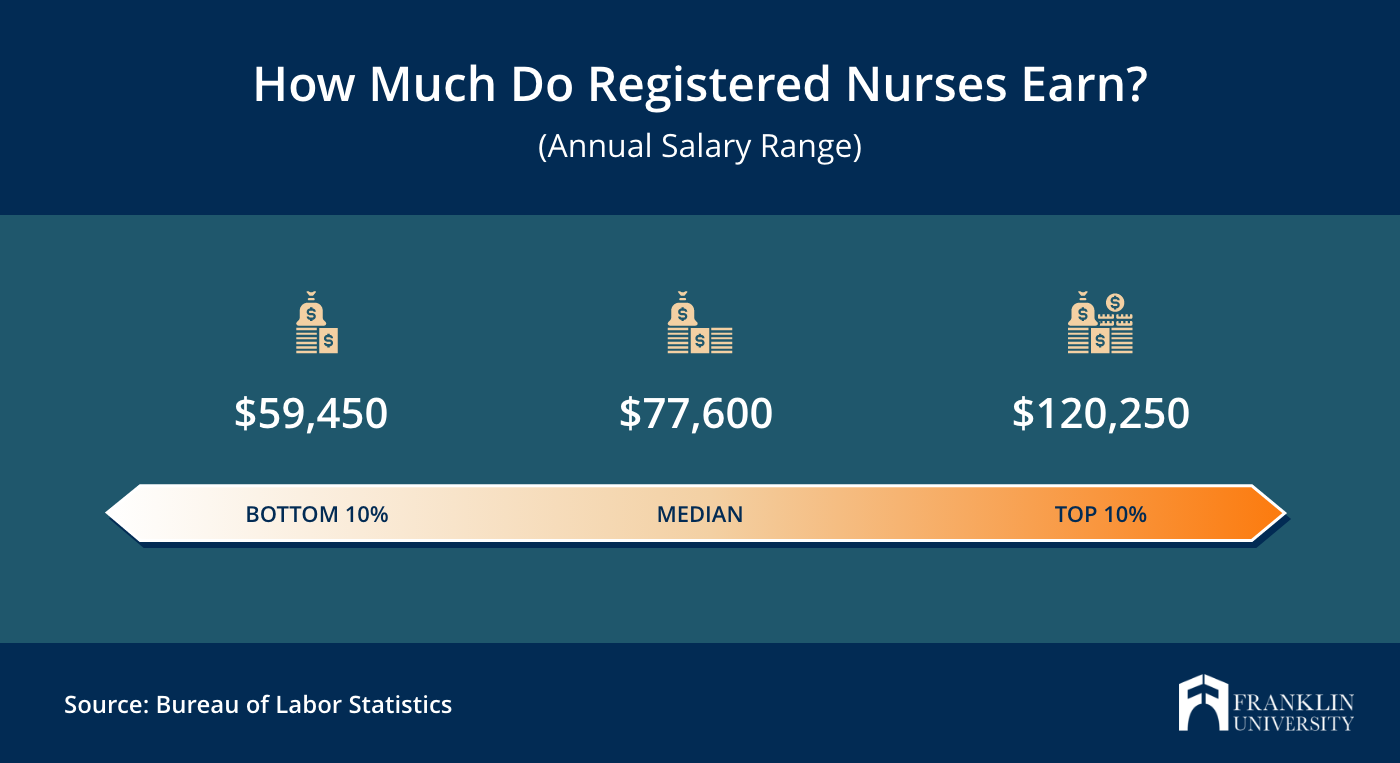 However, these median salaries only tell part of the story. There is a wide salary spectrum in the nursing field because many factors influence expected salaries. Some of the most common include employment industries, nursing specializations and geographic location. Let's dive into each of these factors to see how salaries for nurses with BSN degrees are impacted and how that translates into annual salaries.
BSN Nurse Salary Benchmarks Across Six Popular Industries
While healthcare is an obvious choice for a career in nursing, there are many other industries that also seek out the expertise of BSN-prepared RNs. A career as a BSN nurse can open the door to employment opportunities in industries such as:
Public administration: Nurses who work in government, nonprofit and community organizations to improve public health. The median advertised RN with BSN salary in this industry is $69,000 per year. 
Educational services: Nurses who work for educational institutions—whether in a nursing capacity, such as school nurses, or in a teaching capacity, such as nurse educators. The median advertised RN with BSN salary in this industry is $72,400 per year. 
Finance and insurance: Nurses who translate their knowledge of patient care into how insurance covers medical expenses. The median advertised RN with BSN salary in this industry is $75,000 per year. 
Professional, scientific and technical services: Nurses who work in a research or informatics capacity to translate scientific data into improved patient outcomes. The median advertised RN with BSN salary in this industry is $77,100 per year. 
Healthcare and social assistance: Nurses who act as direct patient care providers across all patient populations—from neonatal to gerontology—and in all types of healthcare organizations—from doctor's offices and hospitals to outpatient and long-term care facilities. The median advertised RN with BSN salary in this industry is $81,200 per year. 
Management of companies and enterprises: Nurses who work as consultants or top-level leaders in organizations across sectors. The median advertised RN with BSN salary in this industry is $89,900 per year. 
10 High-Paying Jobs for Nurses with BSNs
Becoming a BSN-prepared nurse opens the door to many specialized nursing roles. Nurses who focus on a specific area of care, or take on clinical leadership responsibilities, will garner higher than average salaries. One of the highest paying roles is for travel nurses, who are willing to help address nursing shortages by relocating to high-need areas.
Where Do Nurses Get Paid The Most (And Least)?
Median nursing salaries vary widely based on where you live and work—from $60,510 per year in Alabama to $125,340 per year in California. While these median annual salaries represent all RNs, keep in mind that there is often a pay bump if you have your BSN degree. You will also qualify for higher-paying opportunities at top-tier facilities
| | |
| --- | --- |
| | 2021 Median Annual Salary for All RNs |
| California | $125,340 |
| Hawaii | $111,070 |
| Oregon | $99,410 |
| Alaska | $99,110 |
| Washington | $96,980 |
| New York | $96,170 |
| Massachusetts | $94,960 |
| New Jersey | $94,690 |
| Connecticut | $83,860 |
| Nevada | $79,360 |
| Minnesota | $79,100 |
| Rhode Island | $78,900 |
| Maryland | $78,350 |
| New Mexico | $78,340 |
| Arizona | $78,260 |
| Colorado | $78,070 |
| Illinois | $77,580 |
| Texas | $77,320 |
| New Hampshire | $77,230 |
| Pennsylvania | $76,940 |
| Virginia | $76,900 |
| Michigan | $76,710 |
| Wisconsin | $76,560 |
| Idaho | $75,560 |
| Delaware | $75,380 |
| Vermont | $75,380 |
| Georgia | $75,040 |
| Maine | $75,040 |
| Florida | $75,000 |
| Montana | $75,000 |
| Utah | $75,000 |
| Wyoming | $75,000 |
| Ohio | $74,080 |
| North Dakota | $73,250 |
| South Carolina | $72,650 |
| North Carolina | $72,220 |
| Louisiana | $64,450 |
| Nebraska | $64,000 |
| Kentucky | $62,480 |
| Indiana | $62,400 |
| Tennessee | $62,390 |
| West Virginia | $62,390 |
| Oklahoma | $62,170 |
| Missouri | $61,920 |
| Iowa | $61,790 |
| Kansas | $61,790 |
| Arkansas | $61,530 |
| Mississippi | $60,790 |
| South Dakota | $60,550 |
| Alabama | $60,510 |
Source: CareerOneStop, sponsored by the U.S. Department of Labor, data as of August 16, 2022
When weighing your salary prospects from a geographic perspective, keep in mind that cost of living plays a large role. States that pay more often have a higher cost of living, so do your research to see how far your salary will stretch in any given location.
Conclusion: Is a BSN Nurse a Good Career?
High growth expectations, rising salaries and long-term job stability make nursing a top career choice. The outlook is especially strong for nurses with a BSN degree, as these professionals are even more in demand. 
If you're an RN who is seeking to grow professionally and reap the positive benefits of a BSN degree, there are specific RN to BSN programs designed to accelerate your career. Franklin University understands the demands of a nursing career – from the 12-hour shifts to the variable week-to-week schedule. A traditional program can't meet your needs, which is why Franklin offers a 100% online RN-to-BSN program that can be completed on your terms.
Franklin's accredited RN to BSN program can help you earn your BSN online in as few as 12 months. Franklin accepts up to 90 transfer credits, which is 75% of the required credits to earn a BSN degree. Combined with an automatic $3,000 Smart Start Scholarship, you can achieve your goals of becoming a BSN-prepared RN faster and more affordably.
Explore more about Franklin University's online RN to BSN program to see how you can grow your clinical and leadership skills to set yourself up for long-term career success.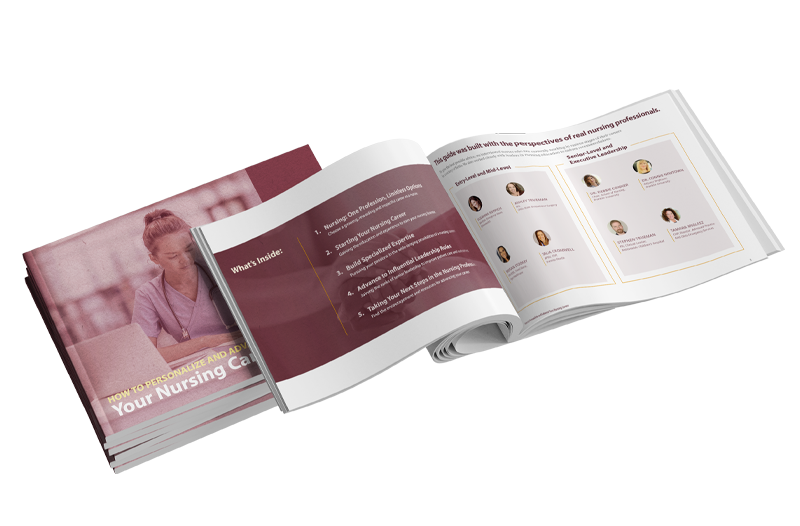 Download Now
How to Personalize and Advance Your Nursing Career
Find out how to take your nursing career further with advice from real nursing professionals.