We're Sorry
There was an unexpected error with the form (your web browser was unable to retrieve some required data from our servers). This kind of error may occur if you have temporarily lost your internet connection. If you're able to verify that your internet connection is stable and the error persists, the Franklin University Help Desk is available to assist you at helpdesk@franklin.edu, 614.947.6682 (local), or 1.866.435.7006 (toll free).
Just a moment while we process your submission.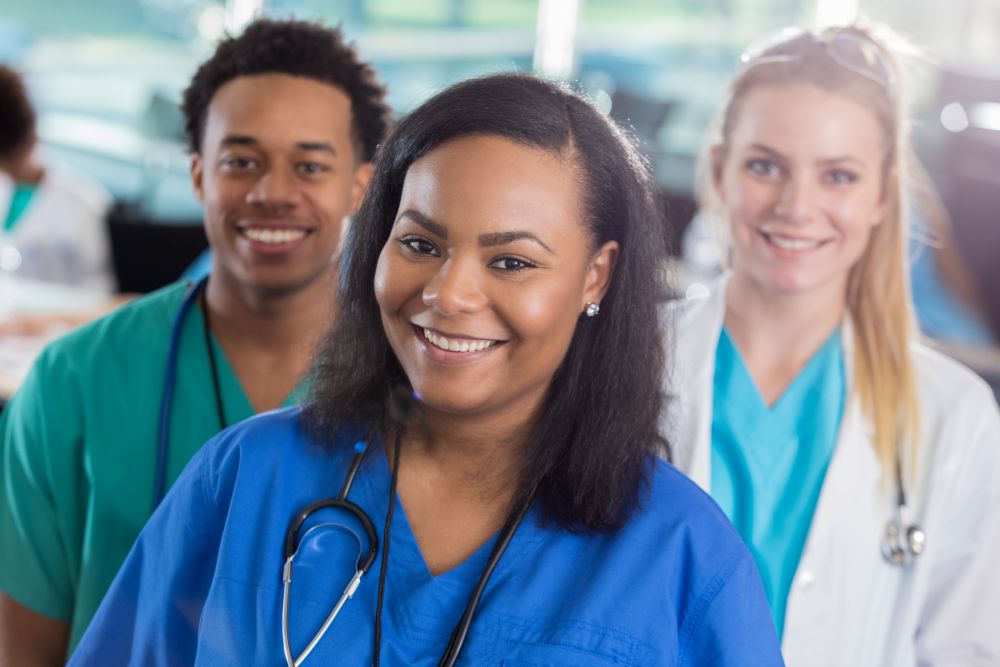 RN vs. BSN: What's the Difference and Why It Matters
An RN and a BSN are two different credentials. An RN (Registered Nurse) is a designation determined by a state licensure process, while a BSN is a four-year Bachelor of Science in Nursing degree that's granted by a higher education institution. 
Professionals who graduate from a BSN program go on to earn their RN licensure. However, not all RNs earn their BSN. The minimum education required to earn an RN, depending on state of licensure, may be a nursing diploma or an associate degree in nursing. 
It may seem like a small distinction, but choosing an RN vs. a BSN can have real career implications. Let's compare the differences between being an RN with and without a BSN degree.
RN vs. BSN: Roles & Positions 
RN and BSN-prepared RNs often begin their careers as bedside nurses, undertaking similar responsibilities. These responsibilities include:
Assessing, monitoring and communicating with patients
Recording details about medical history and symptoms on a patient's chart or health record
Getting patients ready for exams or treatment performed by a nurse practitioner or doctor
Administering medications, treating wounds and assisting in procedures as needed
Collecting blood, urine or other specimens for lab work
Providing guidance to patients and families to help effectively carry out treatment plans
Where these two paths diverge is in their ability to advance to more diverse roles, including management and leadership positions. An RN with a BSN is prepared beyond technical patient care skills, making them a well-rounded professional with critical thinking abilities who is qualified to also undertake responsibilities such as:
Performing administrative work, such as scheduling nursing staff 
Collaborating and communicating with professionals in other departments
Participating in more advanced procedures under a doctor's supervision
Overseeing the training of nursing students
Monitoring patients after complex procedures or surgeries 
Taking on more specialized roles within the continuum of care
Due to these advantages, the career opportunities look different for RNs with and without a BSN degree. Let's compare the career outlooks for nurses with each of these credentials. 
RN vs. BSN: Career Outlook
According to the U.S. Bureau of Labor Statistics, the demand for RNs is projected to grow 9% between 2020 and 2030. Due to an aging population, high retirement rates and diverse healthcare demands, RNs of all kinds will continue to find job stability and opportunities.
Even so, BSN-prepared nurses are in greater demand than their RN-only counterparts. One of the main drivers—nurses who earn their BSN degrees are better prepared to care for patients, improve outcomes and perform under the pressure of an emergency. The American Association of Colleges of Nursing aggregated data and found that nurses with their baccalaureate had:
Lower patient mortality rates
Lower failure-to-rescue rates
Higher proficiency at diagnoses and evaluating nursing interventions
In addition, some leading employers and professional organizations are demanding more BSN-prepared nurses.
The nation's Magnet hospitals, which are recognized for nursing excellence and superior patient outcomes, have moved to require all nurse managers and nurse leaders to hold a baccalaureate or graduate degree in nursing. 
Branches of the military, the VA system and U.S. Public Health Service have established the baccalaureate degree as either the minimum preparation for service or the minimum requirements for advancement beyond entry-level positions.
The National Advisory Council on Nurse Education and Practice (NACNEP) calls for at least two-thirds of the nurse workforce to hold baccalaureate or higher degrees in nursing. Currently, only 56% of nurses hold degrees at the baccalaureate level and above.
With this momentum building, it's likely that a BSN will be required by more and more employers. A BSN may also become a requirement for RN licensure by state nursing boards. New York is currently leading the charge as the first state to require a BSN as a prerequisite for an RN license.
RN vs. BSN: Salary Comparison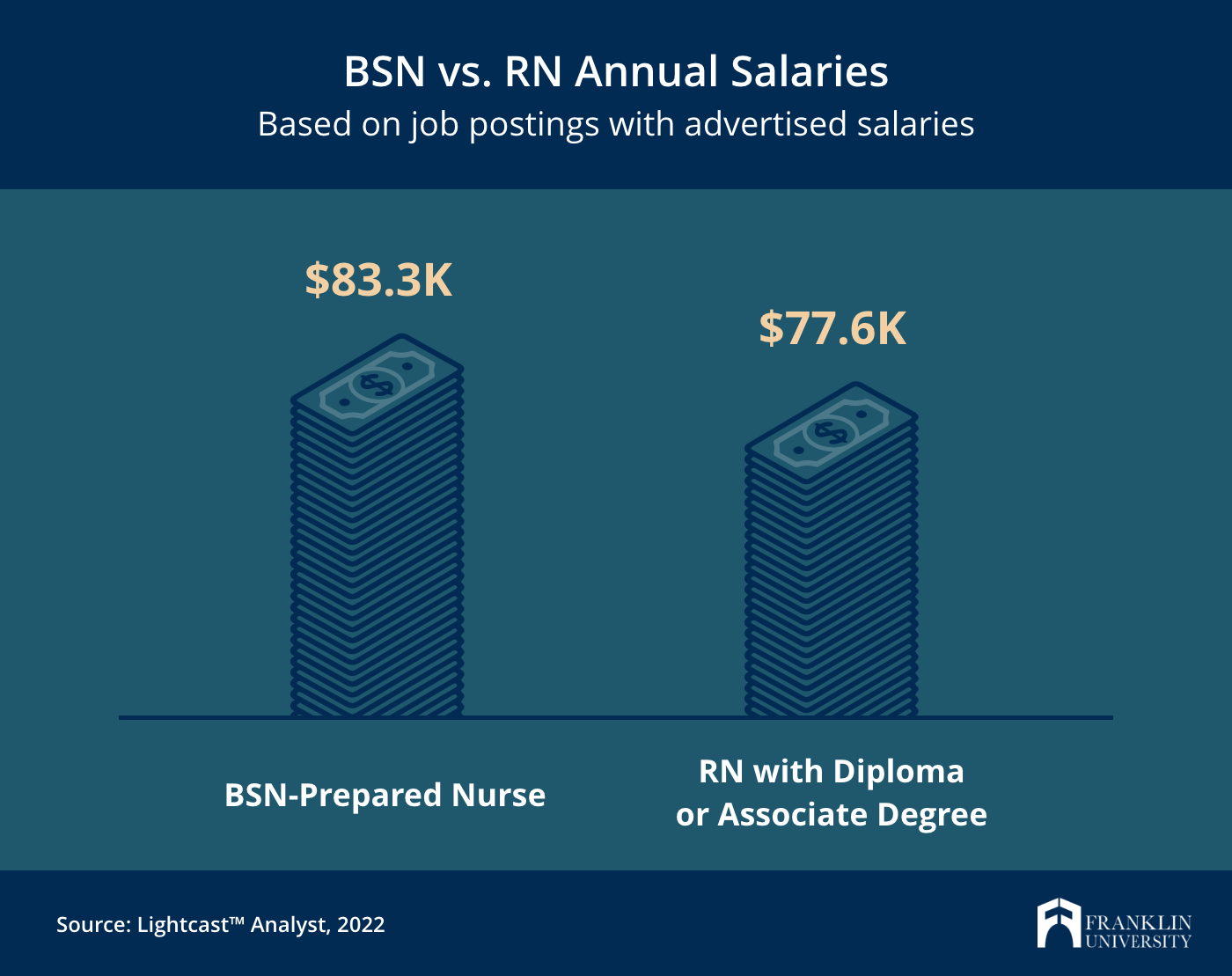 An increase in educational level of attainment directly correlates to higher salaries. According to Lightcast™, a leading labor market analytics firm, job postings for BSN-prepared nurses advertise a median salary of $83.3K, compared to $77.6K for RNs with a nursing diploma or associate degree.
This salary gap only tends to widen throughout the course of a nurse's career. As BSN-prepared nurses can climb the ranks to management positions, RNs without BSNs can have a difficult time moving beyond entry-level, bedside nursing roles. 
With a BSN degree, nurses can open the door to well-paying specializations or management positions such as:
Emergency Room Nurse Manager | $88.1K: Oversee nursing operations, staffing and management of the emergency department in hospitals.
Assistant Nurse Manager | $98.6K: Support nursing leadership within an organization by undertaking administrative and personnel management functions within a unit or department.
Medical Surgical Nurse Manager | $101.1K: Assess, plan, implement and evaluate patient care plans in consultation with healthcare professionals as part of the pre- and post-surgery process.
Unit Manager | $103.7K: Manage hiring, supervise staff, develop budgets and communicate with patients, physicians and staff members at all levels of an organization.
ICU Nurse Manager | $105.9K: Ensure patients in critical condition receive the best possible care and that nurses are properly trained and equipped to provide care within
The opportunities for BSN-prepared nurses also span across industries and types of employers, giving them more career mobility than RNs without a BSN.
RN vs. BSN: Popular Industries and Employers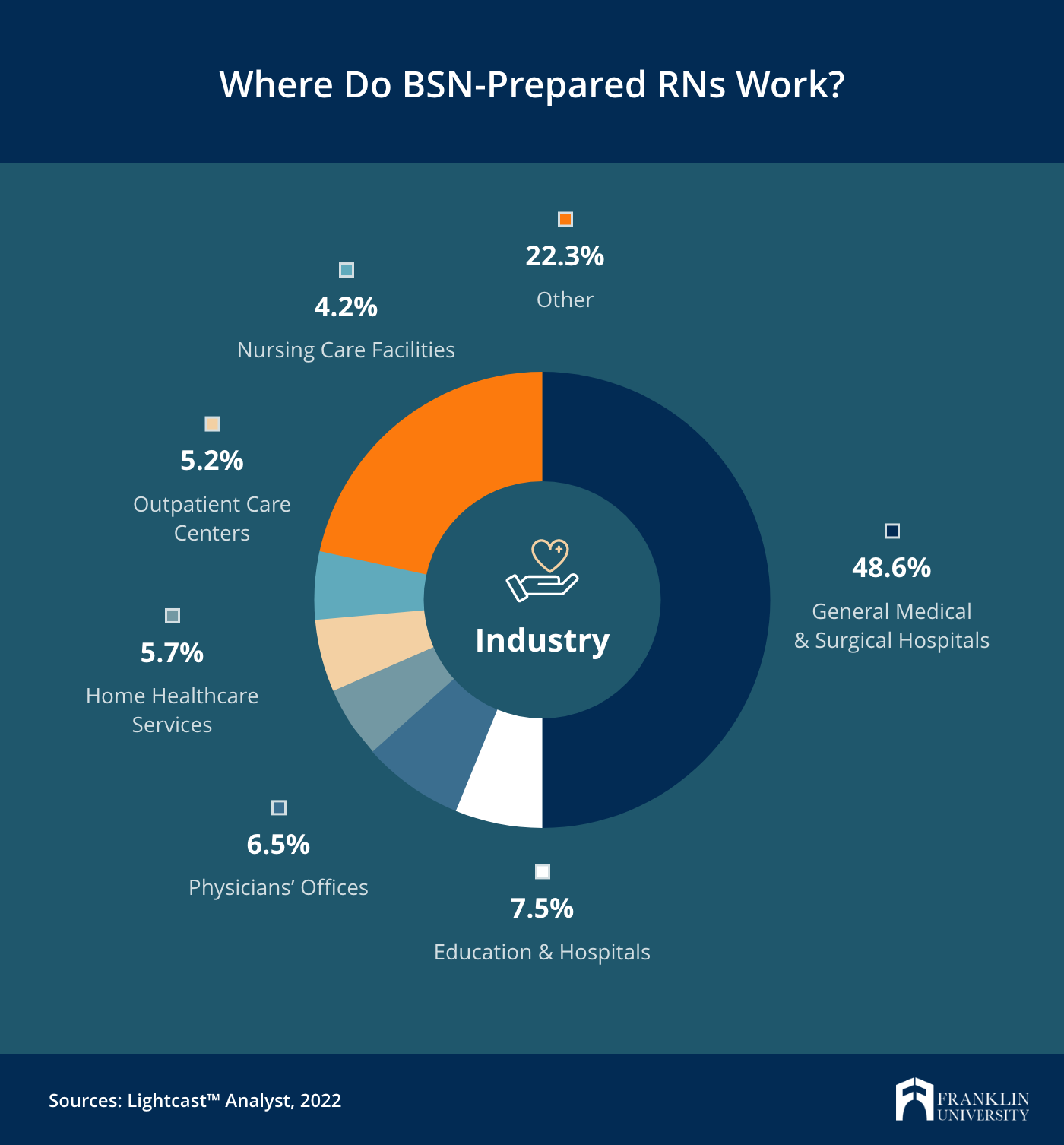 The majority of RNs, including BSN-prepared RNs, work in the healthcare and social services industry. This industry is made up of a wide variety of healthcare organizations, including:
General Medical and Surgical Hospitals: Provide direct patient care within a specific hospital department, such as emergency departments, intensive care units, operating rooms, neonatal or pediatric care and more.
Education and Hospitals (Local Government): Work within government-funded organizations, such as local hospitals, community health centers or schools, to provide nursing care.
Physicians' Offices: Intake patients, record vitals, take samples and perform pre-exam questions to prepare physicians for patient care.
Home Healthcare Services: Provide nursing care to people in their homes, often caring for elderly patients or those recovering from major surgeries. 
Outpatient Care Centers: Prep patients for outpatient surgeries, procedures or testing, as well as assist physicians during procedures and provide post-procedure care.
Nursing Care Facilities: Provide care to residents who are elderly, disabled or in hospice care.
However, RNs with BSNs can also advance their careers in other industries or specialty functions. Opportunities for BSN-prepared nurses include:
Consulting: BSN nurses can work for third-party consulting firms that help provide insight, analysis and recommendations for how healthcare organizations can operate more efficiently, improve patient outcomes and safety and avoid unnecessary risk.
Informatics: Nursing informatics places an emphasis on healthcare data and how it can be harnessed to create more effective processes, as well as how to effectively protect private patient data.
Research: BSN-prepared nurses can help design, perform and analyze research studies that focus on studying various aspects of health, illness and health care to help inform evidence-based care best practices.
Pharmaceuticals: Working within the pharma industry, BSN nurses can help provide education on new medicines, their uses and side effects to help new medicines go to market.
Insurance: BSN-prepared nurses interact with clients regarding their current health, medication, and treatment plans, and assess the health needs of their patients to help promote preventive care and minimize major medical events.
RN vs. BSN: Which Is Right For You?
Getting a BSN degree is an undertaking that requires time, energy and dedication. Here are five questions to consider when determining if getting your BSN is right for you.
Do you want to move beyond the bedside into nursing management or leadership positions?
Do you want to set the foundation for becoming an Advanced Practice Registered Nurse?
Do you want a more consistent schedule or to work different hours?
Do you want to work outside of a hospital or direct patient care setting?
Do you have a support system that will allow you to make earning your degree a priority?
If you answered "Yes" to the majority of these questions, getting your BSN degree can set you up for achieving your career goals.
Choose the Right Program to Go from RN to BSN
Earning your BSN degree is more attainable than ever before. With an RN to BSN program, you can receive credit for the education, experience and training you already have, while deepening your patient care knowledge and leadership skills.
Franklin University offers a 100% online RN to BSN program that's accredited by the Commission on Collegiate Nursing Education and can be completed in as few as 12 months. The industry-aligned curriculum is taught by experienced nursing practitioners, giving you skills that you can translate into your daily job from day one. Plus, Franklin accepts up to 90 transfer credits, or 75% of required credits, and offers RN to BSN students an automatic $3,000 Smart Start Scholarship.
Explore all of the ways Franklin's RN to BSN program can help you accelerate your nursing career quickly and affordably.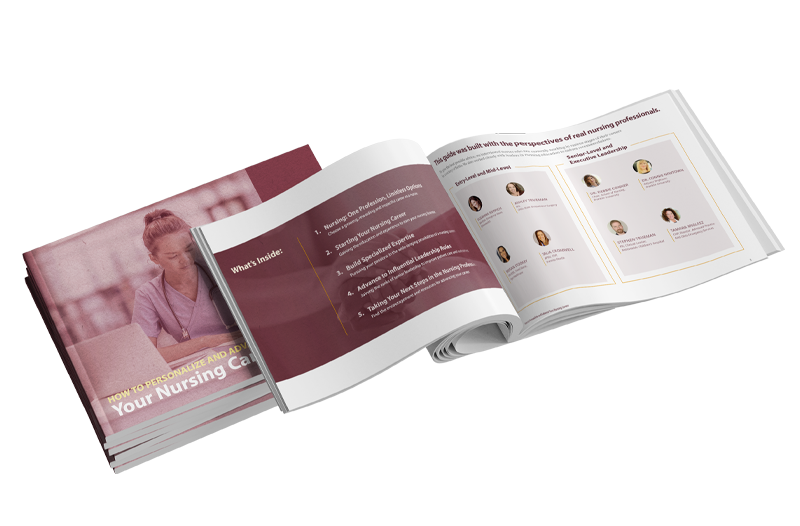 Download Now
How to Personalize and Advance Your Nursing Career
Find out how to take your nursing career further with advice from real nursing professionals.