We're Sorry
There was an unexpected error with the form (your web browser was unable to retrieve some required data from our servers). This kind of error may occur if you have temporarily lost your internet connection. If you're able to verify that your internet connection is stable and the error persists, the Franklin University Help Desk is available to assist you at helpdesk@franklin.edu, 614.947.6682 (local), or 1.866.435.7006 (toll free).
Just a moment while we process your submission.
Best Online RN to BSN: 7 Tips For Finding The Best Programs
Online BSN programs have gained significant popularity in the last 10 years. From 2012 to 2020, there were 100,665 BSN degrees completed online, a 154.2% increase during that time period. In the same time period, in-person BSN completions have actually decreased by 8.8%.
The popularity of online BSN programs provides additional flexibility and options for RNs with associate degrees or nursing diplomas who want to complete their BSN degrees. More institutions are now offering tailored RN to BSN programs as part of their online offering, which can make it difficult to determine which programs are best. 
Most RNs are concerned with cost, time to completion and the ease or convenience of earning an RN to BSN online. Let's break down these factors and more to help you become better informed when making the pivotal decision to go from RN to BSN online.
 
6 Traits of Great Online RN to BSN Programs
There are many factors you should consider when choosing the best online RN to BSN program. To streamline your research process, start with these six influential considerations so you know what to look for in a top-tier program.
Accreditation Status
When a university or program is accredited, it means that it has been fully vetted by an independent, third-party organization to ensure it meets the highest standards. One of the first and easiest ways to determine the quality of an online RN to BSN program is its accreditation status.
What to look for: Program-level accreditation by a reputable, independent organization recognized by the U.S. Secretary of Education, which includes The Accreditation Commission for Education in Nursing (ACEN) and The Commission on the Collegiate Nursing Education (CCNE).
Affordability
One of the primary factors when considering an online RN to BSN program is the cost of the education and the return on investment it will provide. Remember, cheapest is not always best. You want to find the right balance between affordability and quality to ensure you make the most of your degree.
What to look for: Transparent pricing without hidden fees, plus any funding resources provided by the university.
At Franklin University, new students in the RN-BSN program qualify for an automatic $3,000 scholarship. Franklin also offers a competitive tuition rate of $298 per credit hour—with no clinical, textbook or hidden fees.
Flexibility
Online programs are inherently more flexible than traditional in-person instruction. However, the implementation of an online program will vary depending on the university you choose. Make sure you understand how you will take classes, complete coursework and interact with faculty and peers before making your decision.
What to look for: Universities with online courses that offer, but don't necessarily require, online meet sessions, plus easy-to-use technology.
Time To Degree Completion
Online RN to BSN programs are designed to accelerate the completion of your baccalaureate degree. These programs build on the foundation of your previous education and nursing experience, which helps you graduate faster. 
What to look for: Transfer-friendly universities that maximize transfer credit to reduce time to graduation.
Curriculum and Instructors
Nursing is a field that is continually evolving. One of the benefits of an RN to BSN program is elevating your skills, expanding your knowledge and mastering the latest technology. Doing so will not just help your career, it will help improve patient outcomes.
What to look for: Industry-aligned curriculum taught by real-world practitioners, so you can meet the demands of today's patient care environment. 
Program and University Reputation
Program and university reputation are important, but remember, reputation is measured in much more than top-10 lists. The best way to evaluate the rigor and respectability of an online RN to BSN program is through employer connections, professional partners and student outcomes.
What to look for: Programs with involved industry and alumni advisory boards and strong employer relationships.
Franklin University uses a true community mentality when it comes to developing its RN to BSN program and promoting superior outcomes for its RN to BSN students. Franklin's program advisory board includes directors of nursing, CEOs, presidents and other professional and educational leaders from some of the most well-known organizations in the area, including OhioHealth, Nationwide Children's Hospital and Ohio State Wexner Medical Center. Based on these connections and a strong career development center, Franklin students go on to secure positions at leading organizations in Ohio and beyond.
7 Insider Questions To Ask When Comparing Online RN to BSN Programs
When comparing online RN to BSN programs it's important to do your research. Here are some questions you should consider—and if the information isn't available online you should always reach out to the university to ask these questions directly.
Is your RN to BSN program accredited?
What is the student to faculty ratio for most classes?
How often do you reevaluate your curriculum to ensure it stays industry relevant?
How easy is it to enroll and how will courses work with my busy nursing schedule?
What support services are available for online students?
What percentage of students graduate from the program?
Where do graduates typically find jobs after graduation?
"One of the most important factors to consider when evaluating online RN to BSN programs is student engagement," says Dr. Melanie Brewer, RN-BSN program chair at Franklin University. "Prospective students should be able to speak with a recent graduate or ask the dean or program chair what they are most proud of related to their RN to BSN program."
If programs make it difficult to engage with them as a prospective student, it doesn't bode well for their communication and engagement with you when you become a student. 
What To Avoid In An Online RN to BSN Program
When gathering information about RN to BSN programs, there are normal variations between programs. However, there are also some red flags that point to lower-quality programs that may not result in a strong return on investment.
"When considering an online RN to BSN program, one red flag is the lack of accreditation by the Commission on Collegiate Nursing Education (CCNE) or the Accreditation Commission for Education in Nursing (ACEN)," says Dr. Brewer. "Proper accreditation is the first thing prospective students should look for in any online RN to BSN program."
In addition to a lack of accreditation, avoid online RN to BSN programs with these characteristics:
Show a lack of faculty engagement in the admission process
Have low graduation rates for the program 
Aren't transparent about their transfer credit process
Won't provide exact tuition figures or have high fees
Don't provide insight into student outcomes, including employers and types of positions
Best Online RN to BSN Programs: How to Choose One That Works For You
The best online RN to BSN program may not be the same for everyone. To ensure a program meets your needs, create a detailed checklist of all the program features you want and need to be successful. Try to group them into categories based on priority—from must-have to nice-to-have. Now that you're armed with your checklist, and know what to look for, you're ready to find the best program for you.
Franklin University's online RN to BSN program meets all of the foundational criteria for a strong program, plus it offers opportunities other universities may not. Franklin University accepts up to 90 transfer credits, which equates to 75% of the credits required to graduate. Students who transfer this much credit can complete their degree in as few as 12 months.
"Franklin University provides opportunities to gain skills that are relevant in the healthcare marketplace," says Dr. Brewer, "These specializations, such as informatics and leadership, may not be available at other universities. It's these skills that will make you stand out from other BSN graduates."
Explore more about Franklin University's top-quality online RN to BSN program to see if it meets your criteria for advancing your career.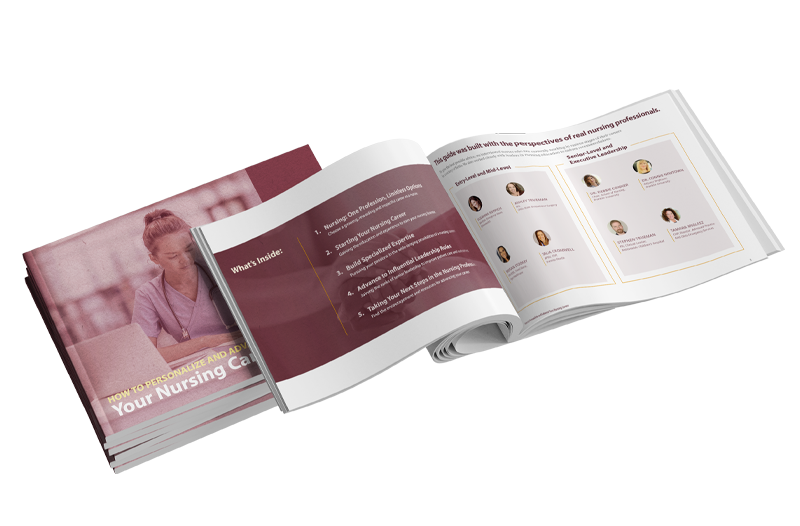 Download Now
How to Personalize and Advance Your Nursing Career
Find out how to take your nursing career further with advice from real nursing professionals.