Next Start Date
Jun 26, 2023
About Start Dates
Additional future start dates include:
Fall 2023
Aug 14, 2023

Start dates for individual programs may vary and are subject to change. Please request free information & speak with an admission advisor for the latest program start dates.
Placement Tests
GMAT/GRE not required for admission
Accreditation
CCNE
Accreditation Information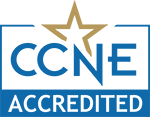 The Bachelor of Science in Nursing program and the Master of Science in Nursing program at Franklin University are accredited by the Commission on Collegiate Nursing Education, 655 K Street NW, Suite 750, Washington, DC 20001, 202-887-6791.
---
The Doctor of Nursing Practice program and post-graduate APRN certificate program at Franklin University are pursuing initial accreditation by the Commission on Collegiate Nursing Education (http://www.ccneaccreditation.org). Applying for accreditation does not guarantee that accreditation will be granted.
Expand your role in patient care with an MSN-FNP
If you are a registered nurse with a desire to expand your role in patient care, Franklin's M.S. in Nursing-Family Nurse Practitioner (MSN-FNP) track is a great option for you. You'll be prepared to work in the primary care setting managing the health of individuals and families. You'll gain the knowledge and clinical skills necessary for the assessment and management of common acute and chronic illnesses, health promotion and disease prevention for individuals throughout their lives. Upon completion of your degree, you will be eligible to apply to sit for the Family Nurse Practitioner certification examinations offered by the American Nurses Credentialing Center (ANCC) or the American Association of Nurse Practitioners (AANP).
Program Availability
Other nursing programs that are available in :
Finish in as Few as 27 Months
Earn your degree and prepare for advancement faster.
100% Pass Rate
To date, all of Franklin's grads have passed the FNP certification exam. 
Online Coursework
Balance earning your degree with other work-life commitments.
Contemporary Curriculum
Evaluate and study trending nursing topics throughout the program.
Learn from the Best
Benefit from the experience of your instructors – seasoned, in-field practitioners.