Student Services at Franklin University
You're busy. We get that. Pursuing your education while balancing work, family, and other responsibilities shows incredible initiative on your part.
At Franklin, you can spend your time focusing on your education – we'll focus on connecting you with the appropriate resources. Our helpful university student services staff is committed to helping you transition through each stage of your educational journey. Franklin students have access to a variety of services and resources to support their success, because when you succeed so do we. A complete list can be found under Student Services on the left side of this page.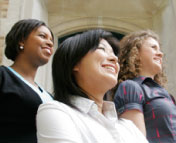 Ready to start an application?
Franklin's student-centered philosophy is one of the many reasons so many students choose us!
START YOUR APPLICATION