Class Type
Online coursework, 6 & 12-week courses
Next Start Date
Nov 8, 2021
About Start Dates
Additional future start dates include:
Spring 2022
Jan 3, 2022
Feb 14, 2022
Mar 28, 2022

Start dates for individual programs may vary and are subject to change. Please request free information & speak with an admission advisor for the latest program start dates.
Cost Per Credit
Tuition Guarantee
Lock-In Your Tuition Rate from Day One
The Franklin University Tuition Guarantee locks-in your first-term tuition rate for the duration of your associate, bachelor's or master's degree program, for as long as you remain actively enrolled.
Accreditation
CCNE
Accreditation Information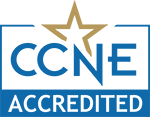 The Bachelor of Science in Nursing program and the Master of Science in Nursing program at Franklin University are accredited by the Commission on Collegiate Nursing Education, 655 K Street NW, Suite 750, Washington, DC 20001, 202-887-6791.
---
The Doctor of Nursing Practice program and post-graduate APRN certificate program at Franklin University are pursuing initial accreditation by the Commission on Collegiate Nursing Education (http://www.ccneaccreditation.org). Applying for accreditation does not guarantee that accreditation will be granted.
Take charge of your nursing career with an online RN to BSN
In nursing, a baccalaureate-level education matters. A 2020 AACN survey of healthcare organizations found that over 41% of hospitals and facilities require RNs to hold BSNs. Why? Studies show that when the percentage of baccalaureate-prepared nurses is higher, so are patient outcomes. Elevate patient care while you accelerate your career with Franklin University's B.S. Nursing. Our RN-to-BSN degree-completion program can help strengthen both your clinical and leadership competencies.
Take the next step toward your degree!
Request free program information or submit your online application.
Finish Faster
Get 24 hours of technical credit.
Real-World Practitioners
Benefit from the experience of healthcare professionals.
Industry-Aligned Curriculum
Learn from a curriculum informed by leading professional standards.
Online Coursework
Balance earning your degree with other work-life commitments.
Hands-On Simulations
Gain practical experience through media-rich virtual activities and gaming.