We're Sorry
There was an unexpected error with the form (your web browser was unable to retrieve some required data from our servers). This kind of error may occur if you have temporarily lost your internet connection. If you're able to verify that your internet connection is stable and the error persists, the Franklin University Help Desk is available to assist you at helpdesk@franklin.edu, 614.947.6682 (local), or 1.866.435.7006 (toll free).
Just a moment while we process your submission.
Is a Master's in Human Resources Worth It?
Great companies need great people. From talent acquisition to training, a master's in human resources degree provides HR professionals with the advanced skills they need to solve complex people problems and guide companies to meet strategic goals. 
As managing people becomes more complex and employee turnover rises, demand for advanced HR skills continues to grow. According to labor market analytics firm EMSI, 15% of human resources manager advertised jobs currently require a master's degree. There is a projected 7.8% increase for all target positions that hold a master's degree in human resources.
If you're looking to advance your career in human resources, a master's degree can lead to high-level positions and boost your earnings potential. However, the value of a master's degree depends on your personal interests and career goals. Is it really worth the time and effort?
This guide will answer the top questions about the value of a master's degree to help you determine if it's the right fit for your career.
When Is A Masters In HR A Good Choice? 
Earning a master's degree is a serious undertaking. You want to make sure the time you're investing will be worth it. Determining if a master's degree can help you reach your career goals is the first step to setting yourself up for success. Let's look at common career goals that best align with a master's in HR degree.
Career Goal 1: Fast-track opportunities for promotion 
A bachelor's degree is sufficient for a variety of entry-level positions in HR. However, a master's degree gives you a competitive advantage when applying for senior level positions in the field. Employers recognize the need for strong leaders with functional expertise in critical areas of HR, such as labor regulations and diversity and inclusion. If you're competing for a promotion, an advanced degree helps you meet these qualifications and makes you a more marketable candidate for leadership roles. 
Career Goal 2: Boost your earnings potential
While an upfront investment is necessary to earn a master's degree, the lifetime value of a degree more than offsets the cost. According to EMSI, the median salary for a management-level position for an HR professional with a bachelor's degree is $82,800. If you have a master's in HR, the median salary for a management-level position jumps to $102,100. While you may be able to reach a management position with a bachelor's, master's degree holders command higher salaries. 
Career Goal 3: Influence your organization's strategic decision making
As companies place increasing emphasis on human resources as a competitive advantage, human resources professionals are being given a bigger seat at the leadership table. As an HR leader, you have tremendous influence when it comes to making key decisions about the future of the company. An advanced degree will equip you to effectively advance organizational goals, as well as advocate for employees and improve company culture. 
While there's a lot of upside to earning your master's, there may be scenarios where it's not the right fit. Make sure you ask yourself these questions before committing to a program.
Am I sure which direction to take my career? If you just finished your undergraduate degree, you may want to earn some experience in the field before starting a graduate program. Work experience is a valuable way to help you choose which of the numerous HR career paths you want to specialize in. 
Does a master's degree offer tangible benefits toward reaching my career goals? Many rewarding positions don't require a master's. Strong certifications such as the SHRM Senior Certified Professional (SHRM-SCP) distinction can help qualify you for management and director level positions in recruitment, talent management and more. Make sure to research whether a master's degree or certification is needed to earn the job you want.
As a career changer, is a master's degree enough to qualify me to enter a new field? For those who are working in another field and want to break into human resources, a master's degree isn't always enough to qualify for high-level positions. Some companies require that you have a related bachelor's degree or work experience in the field before advancing you to the executive level. 
What New Skills Will You Gain From a Master's in HR?
The skills you obtain in a master's program are significantly different from an undergraduate degree. While bachelor's programs cover the fundamental knowledge needed to perform basic job functions, a master's program focuses on applying knowledge. You'll build the critical-thinking, leadership and interpersonal skills needed to solve the complex problems facing organizations. 
With an master's in HR degree you will gain advanced skills that enable you to:
Analyze workplace planning strategies to proactively address core skill gaps and resource shortages. 
Build an organizational culture that promotes respect, trust and high professional competence, positioning the organization as an employer of choice. 
Effectively communicate with other business leaders and employees at all levels to inform the strategic future of your organization. 
Coach leaders in key areas such as communication, decision making, performance feedback, skills gaps and productivity.
Lead training and continuing education programs, helping employees across an organization drive meaningful professional development. 
Is It Hard to Earn a Master's Degree in Human Resources?
Completing a master's in human resources degree requires a serious investment of time and energy. Coursework covers subjects like labor, economics, finance and business law. You'll be expected to apply rigorous quantitative thinking to help businesses develop strategic approaches to people management. 
Typical program requirements range from 45 to 60 credits and can take full-time students 18 months to two years to complete. Finding the right program is key to making the process more manageable. 
Look for a program that offers unique benefits to help accelerate your time to graduation. 
Online degrees: Flexible learning options such as fully online programs can help busy professionals achieve their goals while balancing work and family.
Built-in HR microcredentials: Some programs integrate credentials into degrees, helping to prove your competency in specific areas. For example, Franklin's M.S. in Human Resources program offers credentials in Employee & Labor Relations, Human Resource Management, and Strategic HR Leadership.
Transfer friendliness: Transfer-friendly schools like Franklin University make an effort to maximize your transfer credits, helping you finish your degree faster and save money. If you've earned professional certifications through the Society of Human Resources Management (SHRM) or HR Certification Institute (HRCI), ask your advisor if you can earn transfer credit. 
Faculty with strong industry experience: Look for faculty with real-world HR experience who can translate course content into practical learning experiences. 
Student-centered resources: Support is vital to student success. Ensure the program provides access to advisors and learning services to propel you forward. 
Find The Right MSHRM Program For Your Career Goals
Earning a master's in HR is a big commitment, but it's absolutely worth it if your goal is to position yourself to solve the complex problems at the forefront of human resources. Finding the right program can make earning your degree easier than you think. 
Franklin University provides a flexible M.S. in Human Resource Management program built for working professionals. Courses are taught by faculty with deep human resources expertise. You'll be equipped with the leadership and communication skills necessary to solve real-world challenges you face as an organizational leader. Franklin's program can be completed in as few as 16 months. 
Explore Franklin's M.S. in Human Resource Management degree to see how it will help you achieve your career goals.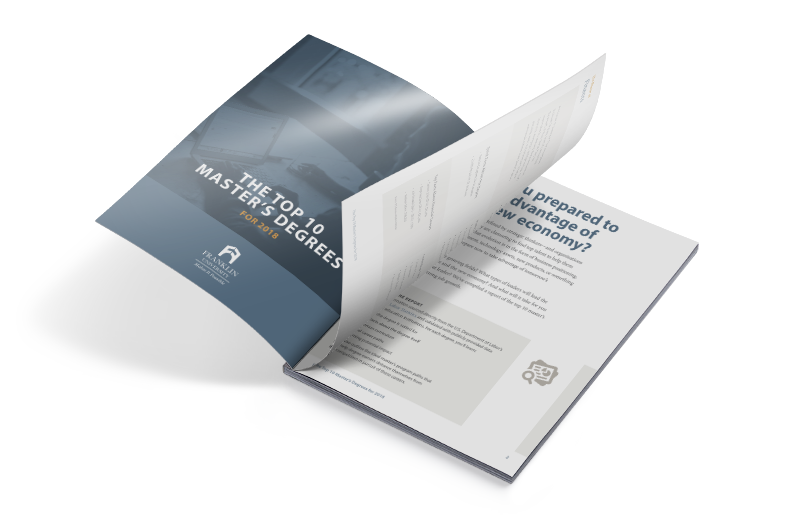 Download Now
Discover 10 of the most in-demand master's degrees based on salary and job growth.