We're Sorry
There was an unexpected error with the form (your web browser was unable to retrieve some required data from our servers). This kind of error may occur if you have temporarily lost your internet connection. If you're able to verify that your internet connection is stable and the error persists, the Franklin University Help Desk is available to assist you at helpdesk@franklin.edu, 614.947.6682 (local), or 1.866.435.7006 (toll free).
Just a moment while we process your submission.
GMAT or GRE: Which Exam Should You Take When Applying to an MBA Program?
Even the thought of standardized testing can be enough to make a qualified applicant anxious. We're here to break down the ins and outs of the GMAT and GRE, helping clarify which exam (if any) you need to take to secure admission to an MBA program.
When it comes to applying for an MBA, the GMAT has long been the standard for business schools—it's accepted by all institutions internationally. More recently, GRE acceptance has grown with over 1,200 business schools worldwide accepting GRE scores for MBA applications. Some schools have waived a testing requirement all together, a move accelerated by the COVID-19 pandemic that some schools intend to make permanent.
How do you know if you need to take the GMAT or GRE? If both are an option for the MBA programs you're considering, which should you choose? We'll provide an overview of the GMAT and GRE, and provide guidance on how to choose the exam that will give you the best chance of getting into your desired MBA program.
What You Need to Know About the GMAT Exam
The GMAT, or Graduate Management Admission Test, is a business school entrance exam designed to determine your readiness for an MBA program. For over 60 years, it has been the most widely used exam for MBA programs and is used almost exclusively for this purpose.
The GMAT is a computer adaptive test that can be taken online or in testing centers. Adaptive means when you start a section, the first question you see will be medium difficulty. If you answer correctly, the next question will be slightly harder, while if you answer incorrectly, the next question will be slightly easier.  
The GMAT contains both verbal and quantitative evaluations. Let's look at how the content of the GMAT breaks down into sections.
Total GMAT scores are based on both the accuracy of your answers on the verbal and quantitative sections, as well as the difficulty level of the questions that you answer. According to U.S. News and World Report, MBA experts say a GMAT score between 650 and 690 is good, and a score of 700 or higher is great.
What You Need to Know About the GRE Exam
The GRE, or Graduate Record Examination, is the most widely accepted graduate admissions test worldwide. The GRE has more flexible applications than the GMAT—from graduate and business school to professional programs like law.
The GRE is a computer-delivered test that features questions that resemble the kind of thinking you'll do—and the skills you will need to be successful—in demanding graduate programs. Similar to the GMAT, the GRE is a section adaptive test, where increasing or decreasing question difficulty is based on answers to previous questions. 
The GRE contains both verbal and quantitative evaluations, as well as a writing section. Let's look at how the content of the GRE breaks down into sections.
According to ETS, the GRE assessment provider, the average score for all GRE test takers is currently a 150 for Verbal and a 152 for Quantitative. Since the GRE is accepted by such a wide variety of graduate programs, there will be different standards for what scores will make you competitive for admission. 
GMAT vs. GRE: 6 Big Questions Answered
Now that you have a better understanding of the different structures of these exams, we'll help you answer some of the top questions prospective MBA students have about the GMAT and GRE.
Is the GMAT or GRE easier? 
Both tests are difficult and require extensive preparation. Which test will be "easier" depends on your individual skill set. If you excel at quantitative and analytical problem solving, including interpreting data, charts and tables, the GMAT may be better suited for you. 
On the other hand, the GRE math section is more straightforward and allows you to use a calculator for all quantitative questions. When it comes to verbal reasoning, strong editors may gravitate to the GMAT while those with vast vocabularies may find the GRE preferable. You can get a feel for which exam may be better suited for you by taking free, online GMAT and GRE practice tests.
Does the GMAT or GRE cost more to take? 
Both tests are similar in cost, although the GRE is slightly more affordable at $205 vs. $250 for the GMAT. Keep in mind, some people choose to take a test more than once if they aren't satisfied with their score, so factor that into your cost analysis.
Does the GMAT or GRE require more preparation? 
You can't cram for the GMAT or GRE. Both tests require extensive preparation—plan to devote 4 to 12 weeks to studying. The best way to determine how much and which type of preparation is best for you is to take a sample test as a baseline and measure that against your desired score. Then figure out where your weaknesses lie and study to close the gap.
Some MBA programs don't require the GMAT or GRE for entry into the program. These programs consider your holistic application—from undergraduate GPA to professional resume—to make an admission determination.
For how long are GMAT and GRE scores valid?
Both GRE and GMAT scores are valid for 5 years, so keep that in mind when preparing to apply for your MBA. You may decide to take the test further in advance if you have a busy work and personal life you need to balance.
Do MBA programs view the GMAT or GRE as more credible or impressive?
According to U.S. News & World Report, when 96 MBA programs were surveyed in October 2020, 86% of programs reported that one test was not advantaged over the other during their admissions process. Meanwhile, 13% said GMAT test-takers had a leg up and 1% said GRE test-takers had an edge. The most important factor is your individual ability to excel—whichever exam gives you the best chance of success has a better chance of setting you apart.
How do business schools measure the GMAT and GRE against one another when considering accepting students?
Most MBA programs that accept both the GMAT and GRE have a method for evaluating the scores against one another. ETS, the provider of the GRE, has a calculator that helps put a GRE score in the context of a predicted GMAT score. When comparing applications, this type of evaluation tool can help make the comparison between the two tests easier.
The Third Choice: A Program With No GRE or GMAT Requirement 
The GMAT or GRE aren't your only options. There are plenty of top-quality accredited MBA programs that do not require a standardized entrance exam. 
"A standardized test score isn't indicative of success," says Dr. Kristin Martin, Chair of the MBA Program at Franklin University, "Personally, I have terrible test anxiety. I sympathize with strong candidates who just aren't strong test takers. At Franklin, we take a holistic approach to evaluating MBA applicants. We look at bachelor's degree GPAs, resumes and personal motivation. We make every effort to give passionate and driven candidates the opportunity to succeed. In certain cases, we'll even offer conditional admission if a candidate doesn't meet certain criteria but shows they're dedicated to getting their MBA. They can then prove their readiness by achieving a B or better in their first 3 courses."
Franklin's Online MBA program is designed for flexibility to empower busy working professionals. It is also IACBE accredited, showing it meets the highest standards for curriculum according to industry best practice standards. Our instructors have extensive industry experience, helping translate your curriculum into real-world knowledge and skills that will take your career to the next level.
See how our 12-month online MBA program can help you achieve your goals.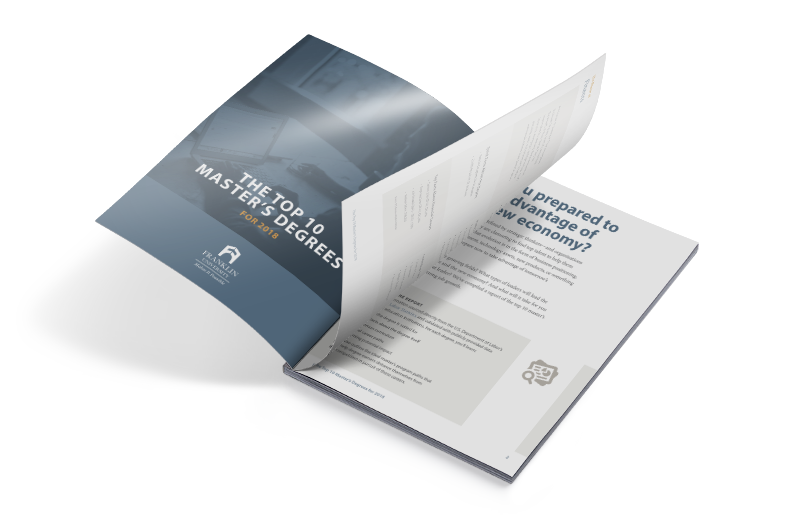 Download Now
Discover 10 of the most in-demand master's degrees based on salary and job growth.