We're Sorry
There was an unexpected error with the form (your web browser was unable to retrieve some required data from our servers). This kind of error may occur if you have temporarily lost your internet connection. If you're able to verify that your internet connection is stable and the error persists, the Franklin University Help Desk is available to assist you at helpdesk@franklin.edu, 614.947.6682 (local), or 1.866.435.7006 (toll free).
Just a moment while we process your submission.
How Long Will It Actually Take To Earn Your MBA?
Wondering how long an MBA program will take to complete?
You may read articles that promise 12 or 14 month programs. In reality, the timeline is a lot more complicated than that. What you really need to know is how long the whole process will take from start to finish—from when you start researching possible schools and programs through to graduation.
That answer can vary based on several scenarios and considerations.
How long will it take you to earn your MBA? Follow this guide to effectively plan your timeline and establish your expectations.
How Long Will It Take To Find an MBA Program
Deciding you want to get your MBA isn't a decision you make overnight.
There's a lot to consider—finances, schedules, logistics and life adaptations. Adding to the complexity, no two programs are alike. You'll want to thoroughly research programs, interview program directors and former students, and potentially visit the campuses of your top schools.
If you don't have a school in mind, you should give yourself around six months to build your shortlist of programs to which you want to apply. Even If you've been referred to a program by an employer or mentor, it's still a good idea to do some research to ensure you're making the best choice for you.
Here are some key questions to ask during your research
Is the college a regionally accredited institution? The most common type of accreditation is regional. Most credits received previously from any regionally accredited college or university will transfer to another regionally accredited institution.  In addition, accreditation is a decisive factor in whether the school is eligible for participation in both federal and state financial aid programs, and corporate tuition assistance plans. For example, Franklin's MBA is IACBE-accredited (International Accreditation Council for Business Education), and another accreditation to look out for is the AACSB (Association to Advance Collegiate Schools of Business).
What are the program outcomes? What does the institution list as specific program outcomes? Do those align with your personal goals for achieving this degree?
Do they offer student support? In what format? Will the school offer access to academic advisors, library resources, included APA and research assistance, and tutoring?
What is the curriculum advisory board like? Many curriculum advisory boards will be a great resource by offering support in the form of advice and perspective in relation to the MBA program.
Does the school offer any career resources for students and alumni? Is career guidance available? What about resources to nourish career development? Will the school connect you with a professional network to find opportunities?
Once you've gathered all your research, take some time to weigh the pros and cons of your potential programs and rule out any options with dealbreakers.
How Long It Takes to Apply to a School
Once you have decided on your top programs, you'll want to start the application process.
Applying to grad school typically includes a few major components: there's the physical application form (and fee), the entrance exam (GMAT or GRE), an admission essay, and an interview with the program directors. It's important to note that some schools (including Franklin) do not require the GMAT or GRE, which would knock some time off your total investment.
This process requires a significant amount of time. If you're looking at attending a school that requires the GMAT or GRE, all in all, you will likely need to plan for 225 hours of work and hustle. If you're able to spend 10 hours a week pursuing your MBA dream, that equates to building a five-month timeline. This can sound overwhelming, but remember you're only spending 10 hours per week. If you have more time to dedicate to applying, you can adjust your timeline accordingly.
And, If you'd like to save even more time, you can look for programs that don't require the GMAT or GRE. By skipping this step, you can cut the total number of hours down to about 135-145. This means you can fit everything into a 3 month timeline if you need to pace yourself, or less than 4 weeks if you have come concentrated time available.
Here's a breakdown of each major milestone in the process, and the time budget you should consider for each as you build your timeline.
The Application Forms: Timespan: 1-2 weeks | Budget: 10 hours
You will fill out applications to your top programs. Typically, these applications include some short answer questions—which are opportunities to further differentiate yourself beyond a test score in front of the program directors. You'll want to reserve about three hours for each application, giving you enough time to fully complete the application and proofread it before submitting to your top programs.
The Admission Essay:Timespan: 3-4 weeks | Budget: 70 hours
The import of the admission essay cannot be understated. In a defined amount of words, you are tasked with wooing over program leaders to accept you into their program. At this stage, you may be writing essays for your top three programs.
Build Your Reference List:Timespan: 1-2 weeks | Budget: 15 hours
Most programs will ask for a reference list when vetting you for their program. This list should be quality individuals (who are not related to you), who validate your character, ambition or drive. This time should be spent compiling your list, contacting them, and prepping them for what to expect when they are contacted.
The Interview (not mandatory for all schools): Timespan: 2-3 weeks | Budget: 15 hours
In schools that conduct interviews during this process, program leaders will call you in for a face-to-face or video conference interview if they are seriously considering you for admission into your program. This time includes prep for the interview, travel when necessary, and the interview itself. If the school of your choice doesn't include an interview, you can remove this budget from your timeline.
Financial Aid: Timespan: 4-6 weeks | Budget: 25 hours
A critical component of going back to school is determining how you will pay for the program. You'll want to spend this time understanding the financial options available at your top institutions, applying for scholarships, submitting your FAFSA, and researching additional tuition-supplementing options.
With the above in mind, it's easy to see why so many students start their MBA planning two years in advance of their target start date.
What's Required to Complete Your MBA
Before we talk about how long it will take to earn your MBA, it's important to understand the key milestones involved in the process.
An MBA degree typically requires 60 credit hours. At Franklin, our MBA curriculum is broken down into the following sequence of 36 hours:
MBA Foundations (4)
Business Environment (4)
Operations Management (4)
Marketing Management (4)
Financial and Managerial Accounting (4)
Human Resource Management (4)
Managerial Economics (4)
Corporate Finance (4)
Strategic Management (4)
It's important to note here that course hours are not a true metric for the time that will be required to complete your MBA. And what you really want to determine now is how much total time will it require to achieve the 36-60 credit hours to earn your MBA.
In general, for every hour of in-person class you have, you'll have 2 hours of outside work to complete. For example, in many competitive MBA programs, students will have one 3-hour course per week. This gives them an additional 6 hours of outside work, adding up to 9 hours of class and outside work per week. Multiply that by the 15 week semester, and you're looking at around 135 hours of total work per semester.
At Franklin, we follow a different rule, as we have fewer traditional face-to-face classes and more online courses. It goes as follows: you'll have 30 hours of effort—meaning class time and assignments—per credit hour. For example, with a 4-credit-hour course, you can expect to spend 120 hours of effort on the course in total. Our courses are set at six-week periods, which then breaks down to 20 hours of effort per week.
In addition, Franklin's Balanced Learning Format (BLF) takes the guesswork out of planning your study time. Each course is laid out in detail on its own course website – week by week, assignment by assignment. This is available 10 days before the class begins, so you know what's due when, and can plan for the amount of time you'll need to set aside for each assignment.
So, now that you know what it takes, let's talk about why you're really here. How long will this take once you're enrolled into a program?
How Long It Takes to Earn an MBA, Full Time
If you choose a full-time program, you set yourself up on a faster track to earning your degree.
Full-time status is determined differently between undergrad and grad programs. In undergrad programs, a student must take a minimum of 15 hours per semester to be determined full-time. In graduate programs, a student enrolled in 9 semester hours is considered a full-time student. This is an important metric to consider if you are relying on being enrolled full-time in order to receive financial aid.
For full-time students, the path to 36 hours typically takes 14 months, and is relatively straightforward. You'll take nine credit hours per semester—which equates to roughly three courses. If you are enrolled in three, 3-credit-hour courses per semester, and each class meets once per week, you're looking at anywhere from 6-18 hours of additional outside work to complete, amounting in 9-27 total hours per week. This can amount to over 400 hours of work per semester.
For this reason, many busy professionals choose the part-time route.
At Franklin, to finish in 14 months, you take three classes for three trimesters. With this set up, it's still possible to fast-track your MBA without completely dropping your day-to-day duties, like work and family commitments.
How Long It Takes to Earn an MBA, Part Time
For part-time students, the path to 60 hours will take a bit longer.
A part-time MBA student may only take one, or possibly two classes per semester. This reduces the workload to a more manageable 135-270 hours per semester, as mentioned above. For professionals balancing hectic home/life/work schedules, this is a far more enticing option.
The part-time MBA student is more likely to earn their degree within 36 months.
At Franklin, we work on trimesters, and our MBA students take one 4-credit-hour class every six weeks. Students are required to take 9 courses to complete the degree, which adds up to 54 weeks of class time (but keep in mind, there are term breaks in between).
Options to Expedite the Process
With the above in mind, you may be looking for alternative options or creative programs to fast-track your MBA degree. After all, that promotion or incentivization strategy is waiting on the other end. The good news is there are options to do this—if you know what to look for.
Fast-track your MBA degree by choosing a program that:
Doesn't require a GMAT or GRE. Yes, there are credible programs that don't require GMAT/GRE scores if you've achieved a certain GPA or higher in your bachelor's work. This will save you both time and money (the GMAT costs $250, and the GRE costs $165) as you pursue your MBA.
Professional Credits. Some programs will translate relatable work experience into program credit hours. Look for a program that takes advantage of your career to help you speed up the path to graduation.
Trimester Formats. If you have the flexibility in your schedule, and don't need the break, you may also want to consider a program that operates in trimesters rather than semesters. This will allow you to fit more courses in per year by reducing the downtime between semesters.
With the above considerations, you can complete an MBA program in as little as 14 months as a full-time student. If you choose a part-time path, you can complete your program in as little as 24 months.
Is An MBA Worth It? How Long It Takes to Achieve ROI
A major question that everyone wants to know the answer to is: is an MBA worth it? According to research conducted by the GMAC (Graduate Management Admission Council), it takes less than four years to recoup the entire investment in a graduate program. According to the study:
3 in 4 alumni say their degree provided them with faster career advancement.
4 in 5 say their degree has increased their earnings power.
Business school alumni earn a median cumulative base salary of $2.5million (US) over 20 years after graduation.
So, how do you measure the return on investment you can expect? A quick formula is to take the actual cost of your MBA [(tuition + fees + costs) – (scholarships + grants + tuition credits)] and divide it by the amount you expect to increase salary.
For example, after financial grants scholarships, let's say you're going to pay $40,000 for your MBA. You expect to earn an increase in salary of $56,000 per year. After you graduate, you can assume that it will take you 1 year to see a positive return on your MBA degree.
The degree will pay for itself – and quickly. From there, it's all new income that you wouldn't have seen without the MBA. That's what we call profit.
Choose Your Own Path
In this article, we've outlined some general timeframes that you can expect to earn your MBA. From researching schools to holding your degree, you can consider 25 months to be a realistic goal. But, the real timeline is up to you.
Audit your time and activities, determine what's manageable for your schedule, and choose a right-fit program to earn your MBA in a timeframe that makes sense for you.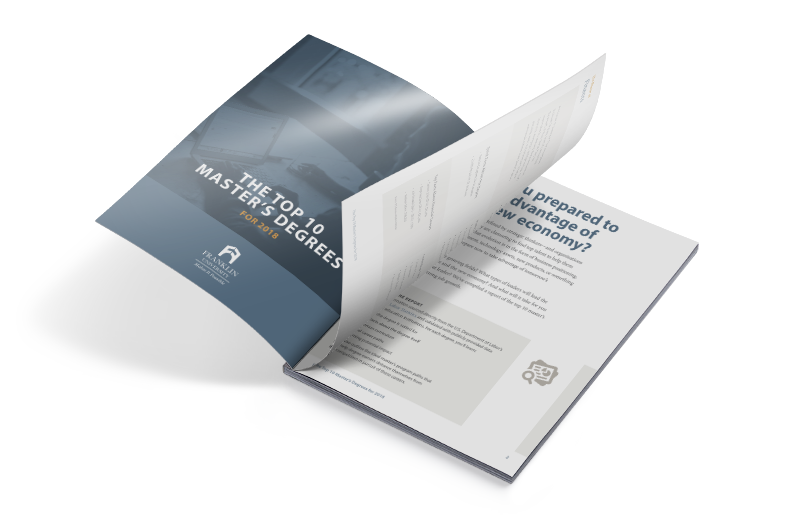 Download Now
Discover 10 of the most in-demand master's degrees based on salary and job growth.