We're Sorry
There was an unexpected error with the form (your web browser was unable to retrieve some required data from our servers). This kind of error may occur if you have temporarily lost your internet connection. If you're able to verify that your internet connection is stable and the error persists, the Franklin University Help Desk is available to assist you at helpdesk@franklin.edu, 614.947.6682 (local), or 1.866.435.7006 (toll free).
Just a moment while we process your submission.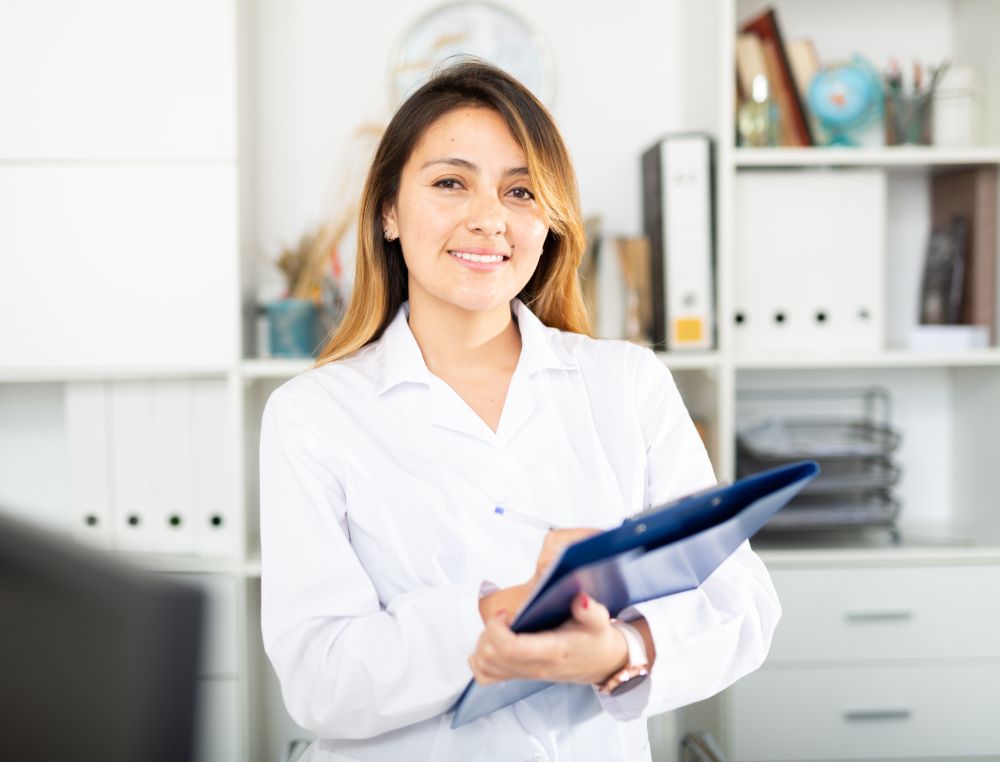 How to Become a Nurse Administrator
It's no secret that nurses are the backbone of healthcare today. They provide direct patient care in a variety of environments–from senior care centers to hospitals to physician offices–and make sure everyone's healthcare needs are met. 
Just as nurses are essential to keeping patients well, so too are nurse administrators to keeping nurses supported. Nursing administrators work behind the scenes, guiding and managing the nursing staff; keeping the department, organization and facilities running efficiently; and ensuring patients receive high-quality, cost-effective care.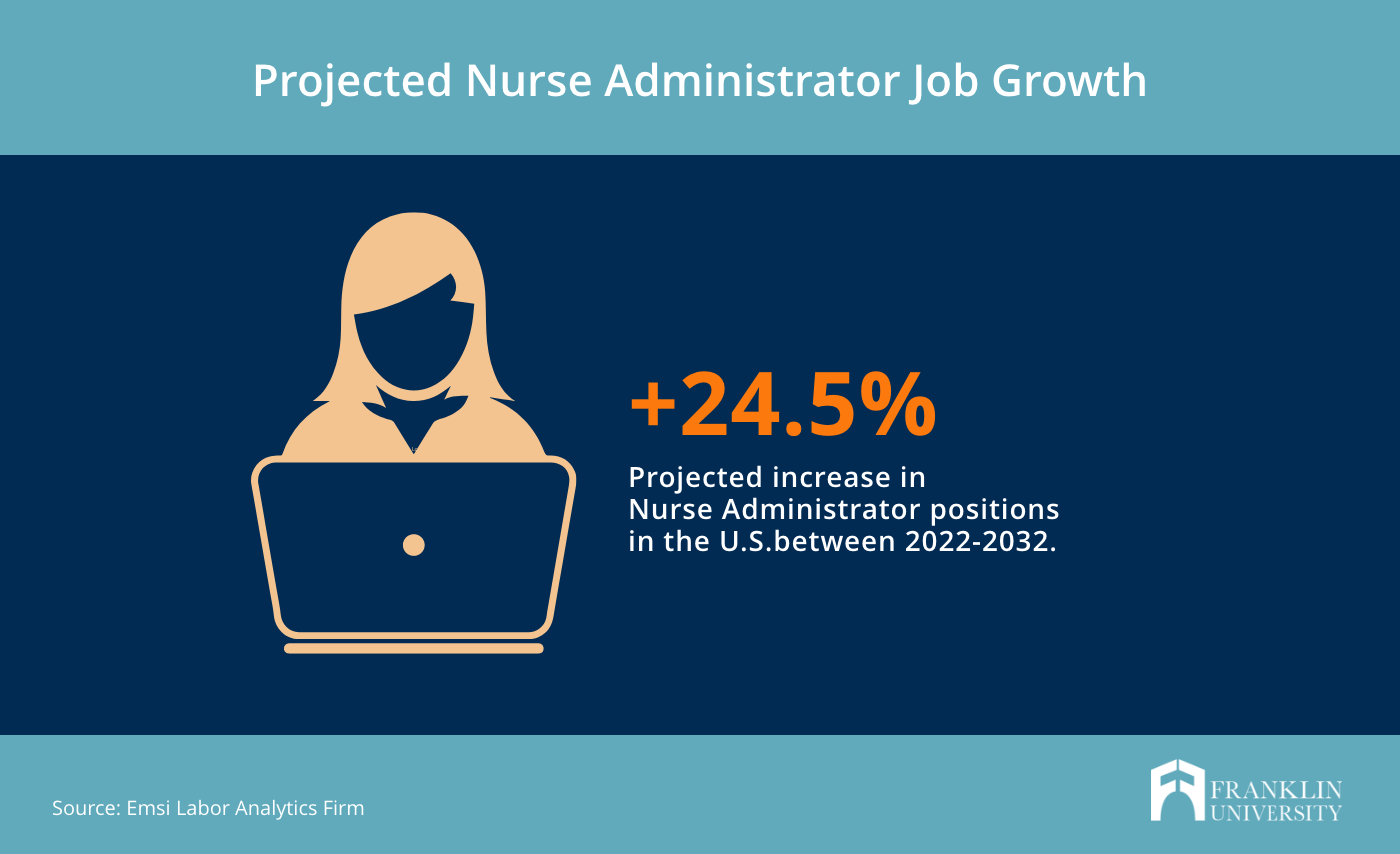 Nurse administrators are not only essential to creating an encouraging workplace environment for nurses and other healthcare employees, they also play a critical role in the healthcare industry. In fact, leading labor market analytics firm Emsi projects that the number of available positions for nurse administrators will increase by 24.5% over the next 10 years. 
It's clear the demand for nursing administrators is high and will only be increasing in the near future, but you may be wondering if becoming one is right for you. Let's look closer at the role to determine if it fits with your career ambitions. We'll cover the role's responsibilities and what steps you should take to become a nursing administrator.
Step 1: Decide If Nursing Administration is Right for You
Nursing administrators have many responsibilities, but "their primary role is always to help guide an organization or unit to provide the best patient outcomes," says Dr. Debbie Conner, Program Chair, DNP, Chair, School of Nursing, and Chief Nurse Administrator at Franklin University. "Their goals are to ensure care is cost-effective and delivered efficiently and, of course, they want patients to have the best health outcomes." 
Nurse administrators work to achieve those goals by focusing on core duties such as:
Creating goals and objectives for the department
Recruiting, training and supervising employees
Managing finances of the facility
Keeping records organized
Finding ways to improve efficiency and quality of services 
They also work closely with other healthcare workers, including physicians, laboratory technicians, researchers, other administrators, and–of course–nurses. 
Does being a nurse administrator seem like a career you'd enjoy and thrive in? Keep reading to see what steps to take to get there.
 
Step 2: Become a Registered Nurse and Gain Experience
Achieving your nurse administrator career starts by becoming a registered nurse (RN) through an accredited program and there isn't one predetermined way to get there. You have flexibility in how you'd like to earn your RN license. Here are some options to consider for your RN journey.
Finish a bachelor's degree: This is the most common and traditional route individuals choose in their pursuit of becoming an RN. A Bachelor of Science in Nursing (BSN) is the entry-level, four-year professional degree in nursing and gives you a solid foundation for graduate studies.
Complete a nursing bridge program: Bridge programs are available to individuals who already have experience working as a non-RN nurse or nurse aide and are ready to further their career. These programs tend to provide more flexibility, allow students to continue working and can accelerate the path to RN licensure.  

CNA-to-RN programs: These programs enable Certified Nursing Assistants (CNAs) to transition to a more advanced RN position. CNAs will typically receive hands-on training, gain technical skills and learn essential knowledge needed for RN positions. 
LPN-to-RN programs: These programs prepare Licensed Practical Nurses (LPNs) to advance their career and take on more responsibility, increase job opportunities and earn more. According to the U.S. Bureau of Labor Statistics, in 2020 RNs earned approximately $26,510 more per year than LPNs.

Earn your RN licensure: To officially gain RN licensure, you must pass the six-hour National Council Licensure Examination (NCLEX-RN). The NCLEX-RN is an adaptive exam, meaning once students have completed or failed a certain number of questions, the exam ends. It will cost $200 to complete.
Once you're officially an RN, gaining clinical experience is an important part of moving toward an administrative role. Hands-on experience not only allows you to fulfill a requirement an employer may want on your application, but it gives you an invaluable inside perspective of what works in healthcare and what doesn't. 
Your experience can also give you an advantage during the interview process and help you stand out from the competition when seeking administrative roles. Your deep knowledge will enable you to provide strategic planning and administrative oversight while helping to create an environment that supports advanced training and education for your nursing staff. 
 
Even though experience is an essential part to becoming a nurse administrator, it's important to remember that, "there isn't a predetermined number of years you need to work as an RN before applying for an administrator role," says Conner. "Each employer sets its own requirements so it's best to gain the amount of experience that makes you feel prepared and comfortable in your new role." 
Step 3: Earn an Advanced Degree
If you're serious about pursuing a career as a nurse administrator, earning an advanced degree, such as a master's or doctoral degree, is the next step you must take, as most healthcare systems now require advanced education for the role.
"While some employers will hire nursing administrators without a master's degree, most require it now for advancement–especially hospitals," says Conner. "Sometimes having your master's degree can be the difference of being hired or not if an employer is between two candidates."
It may be daunting to think of earning an advanced degree while continuing to work full time as an RN. However, online programs often work well for working professionals with full schedules.
"Our Master of Science in Nursing with a focus on nurse administrator is such a great option for working professionals," says Conner. "Our program is really geared toward the working nurse. We know our students have a lot on their plates–work, family, other obligations–and that's why we offer the degree 100% online. We also allow students to fast-track the program so they can get it done in a year and a half or less." 
Some online programs make getting an advanced degree even more attainable by offering credit for national certifications you may have already earned in your current nursing job.  
"If students have a national certification in their field that has comparable study time and rigor to Franklin courses, we award them up to four credits that can be applied toward an elective," adds Conner. "This helps students get that much closer to graduation. They can save the time of taking the class and the tuition costs."
Visit nurse.org to see a common list of nursing certifications that may apply for Franklin University credit. Please note that all certifications are evaluated on an individual basis and some may not be awarded credit. Students may work with their advisors or professors to see if their certification qualifies.
Choosing the Right Advanced Degree
Master's Degree
Most employers prefer nurse administrators to at least hold a Master of Science in Nursing, but according to the U.S. Bureau of Labor Statistics, there are a few other degree options that focus on health services management, health economics, or health information systems that may be accepted by employers. 
Master of Healthcare Administration (MHA): These programs help prepare students to undertake senior managerial and planning work in a variety of healthcare settings. Healthcare administrators often lead organizations through operational challenges, such as process improvement, managing with physicians and risk management. 
Master of Business Administration (MBA) – Healthcare: These programs teach students how to take a business-focused approach to emerging healthcare trends, policies and procedures. Foundational business courses are taken through a healthcare lens to provide students with knowledge that will guide them in making day-to-day decisions from a healthcare administration perspective. 
Franklin University offers both of these degree options for students who may be interested in a master's education that isn't grounded in clinical care. Franklin's MBA-Healthcare degree can be completed in 21 months while the MHA degree has a 14-month completion.
Doctoral Degree
Taking your education even further by obtaining a doctoral degree can give you the additional training and expertise to enable you to be an innovative leader capable of tackling the complex, ever-evolving challenges faced by all healthcare institutions today. 
Earning a Doctor of Nursing Practice (DNP) degree allows you to achieve the highest level of nursing practice and align your capabilities and career with evidence-based practice, performance management and innovative leadership. The interest in obtaining a DNP degree has been steadily growing over the past 10+ years, and according to the American Association of Colleges of Nursing, the number of students enrolled in DNP programs nationwide increased from 32,678 to 36,069 between 2018 and 2019. So, what exactly is a DNP degree?
Doctor of Nursing Practice (DNP): These programs are designed to help registered nurses who hold a Master of Science (MSN) in Nursing or a Bachelor of Science in Nursing (BSN) attain the highest level of education and advance their careers. DNP curriculum focuses on evidence-based practice and quality improvement.
Franklin University offers a Doctor of Nursing Practice - Leadership Focus degree that you can finish in as few as two years while continuing to work. 
Step 4: Go For Certification
Some nurse administrators may wonder if certification is worth it. While certification is not a requirement to practice in your career, organizations may prefer employees to hold a certification or request that you become certified. 
"I always tell students that getting certified is valuable," says Conner. "Certifications are nationally recognized and are an excellent way to prove to employers they are dedicated to being a life-long learner and implementing industry best practices."
According to the American Nurses Credentialing Center (ANCC), nursing administrators have two options for certification:
Nurse Executive Certification (NE-BC): This certification is competency based and is ideal for nurses who are accountable for a group of nurses or other staff members. Nurse administrators should take this exam if they are in charge of daily, tactical decisions. 

Price: $295 for American Nurses Association members; $395 for non-members
Exam: 3 hours; 150 questions
Credential and certification are valid for 5 years after the credential is granted
 

Nurse Executive, Advanced Certification (NEA-BC): This certification is competency based and is ideal for nurses who are accountable for multiple groups of nurses and non-nurse personnel. Nurse administrators should take this exam if they make higher-level decisions and focus on strategy, resource management and system integration.

Price: $295 for American Nurses Association members; $395 for non-members
Exam: 3 hours; 150 questions
Credential and certification are valid for 5 years after the credential is granted
Step 5: Apply for Jobs, Interview and Begin Your New Role
Interviewing for a nurse administrator position should be similar to other interviews you've had in the past. We recommend preparing in the same way you've done before. Here are some tips to take into consideration:
Do your homework about the organization you're interviewing with. Review the organization's mission, vision and purpose to ensure you'll fit in with the culture. 
Since you will be interviewing for a leadership role, reflect on your own management and leadership styles and be ready to share your insight. 
Make a list of questions you have about the organization. Remember, they are interviewing you, but you are also interviewing them!
Stay up to date on the latest relevant news, research and healthcare legislation. 
Within 24 hours of finishing your interview, email your interviewer to thank them for their time and to ask any follow-up questions you may have.
Now, the best part of this process happens–you begin your new career! After an intense and rewarding journey, you're finally a nursing administrator. Congratulations on your accomplishments.
Choose the Program to Advance Your Nursing Career 
If you're ready to become a nurse administrator, take the next step in your career by choosing a master's or doctoral degree program that will put you first.   
Franklin University's Master of Science in Nursing-Nurse Administrator and Doctor of Nursing Practice - Leadership Focus are flexible, online degree programs that meet the demands of working professionals. Franklin's programs are led by working nurses with deep expertise and real hands-on experience in the field. 
Explore how Franklin's nursing programs will help you advance your career.
Download Now
8 Ways to Maximize Your FAFSA Benefits
Get insider tips to help you avoid common FAFSA mistakes and receive the maximum benefit possible.