We're Sorry
There was an unexpected error with the form (your web browser was unable to retrieve some required data from our servers). This kind of error may occur if you have temporarily lost your internet connection. If you're able to verify that your internet connection is stable and the error persists, the Franklin University Help Desk is available to assist you at helpdesk@franklin.edu, 614.947.6682 (local), or 1.866.435.7006 (toll free).
Just a moment while we process your submission.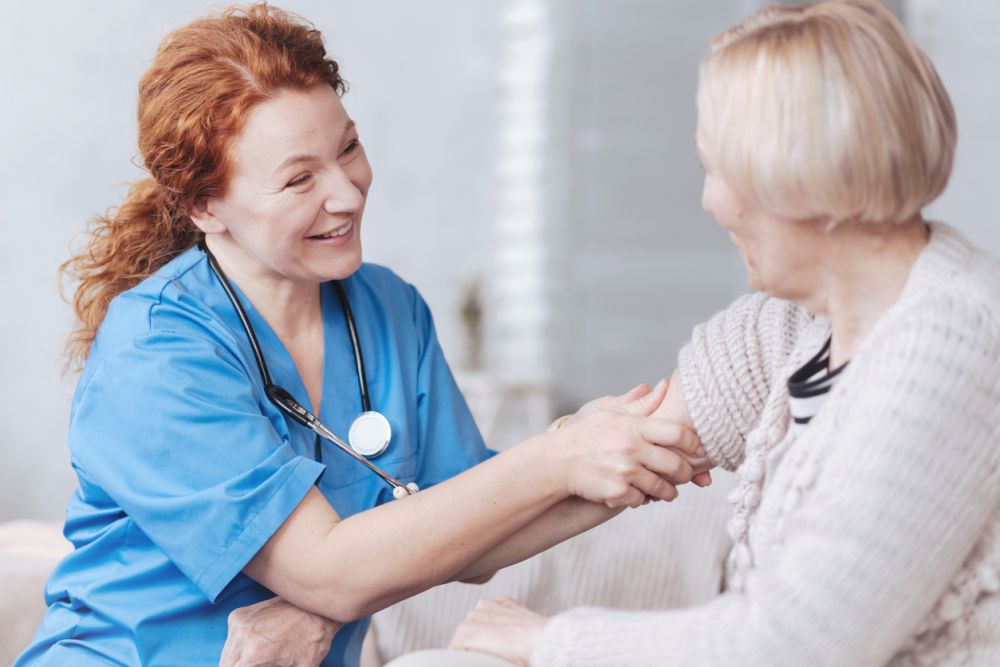 What is a Family Nurse Practitioner (FNP) and How Do I Become One?
The need for primary care is rapidly rising in the American healthcare system. As Americans get older and live longer, nurse practitioners (NPs) will play a crucial role in meeting this demand. Family nurse practitioners (FNPs), whose services often fill a similar role as primary care physicians, will be especially critical.
According to the American Association of Colleges of Nursing, the number of new nurse practitioners graduating each year is rapidly rising, and within the next few years, is expected to surpass the number of new physicians completing training.
This shift provides an opportunity for registered nurses (RNs) to advance their career to meet growing healthcare needs in a more cost-effective manner. For aspiring nurse practitioners, it creates an opportunity for more autonomy in patient care and a growing number of career options.
What does a Family Nurse Practitioner (FNP) Do?
Let's start with the basics. An FNP is a family nurse practitioner, or a nurse practitioner who specializes in family medicine.
An FNP is able to perform many of the same tasks as a primary care physician. They are trained, licensed and independent healthcare clinicians who focus on managing patients' health conditions, while also aiding in prevention.
Because FNPs are able to care for a large variety of patients, they can be found in nearly every care setting and in the larger healthcare industry. FNPs can choose to open independent private practices, work in physicians offices and large hospitals, as well as teach in schools, work in state and local health departments, and provide care in community clinics and ambulatory care facilities.
Currently, there is no national standard for the services and care an FNP can provide. The autonomy of FNPs also varies by state. FNPs may be given full practice authority, be able to practice independently if they enter into a collaborative physicians agreement, or practice under direct supervision of a physician.
How Does an FNP Compare to Other Advanced Nursing Roles?
A nurse practitioner, in Ohio referred to as a Certified Nurse Practitioner (CNP), is a type of Advanced Practice Registered Nurse License (APRN). There are four nationally recognized advanced practice roles for nurses. In Ohio, the titles used for these roles are:
Certified Nurse Practitioner (CNP), of which FNP is a specialty
Certified Nurse-Midwife (CNM)
Certified Registered Nurse Anesthetist (CRNA)
Clinical Nurse Specialist (CNS)
To gain any of these licenses, a Bachelor's of Science in Nursing (BSN) must be completed, followed by a graduate degree, and necessitate passing a national certification. Depending on the nursing program, RNs who do not have their BSN may be able to complete both degrees within one program.
 
How does an FNP compare to a Doctor of Medicine (MD)?
Family nurse practitioners are also often compared to primary care physicians because of their similar roles within the family care setting. However, there are distinct differences in the education, training and certifications needed for these two roles.
Level of Degree. An MD is a doctorate-level degree, while NPs are only required to have a master's degree.
Length of Training. It takes an average of 11 years of post-secondary education and training to become a practicing physician, compared to the six to eight years of education and training for NPs.
Prescription Authority. MDs can also prescribe medication in a 50 states, while the level of autonomy NPs have to prescribe medications, medical devices and certain treatments varies by state and can require direct supervision from MDs.
An FNP is often seen as the bridge between an RN and an MD. With the similar job responsibilities to a primary care physician, an FNP is an ideal career choice for RNs who are looking to advance their career without having to attend medical school or fulfill residency requirements.
As the physician shortage continues to grow and healthcare evolves, there is more opportunity for FNPs to grow their responsibility and practice independently. Also, becoming an FNP allows you to maintain close patient relationships and provide direct care, a main motivator for many to become nurses over doctors.
What is the Average Salary and Projected Job Growth for FNPs?
There is a rising demand for family nurse practitioners. The U.S. Bureau of Labor Statistics expects a growth of around 19% in this field by 2020, and a 31% increase over the 10-year period between 2016 and 2026.
The average salary for FNPs is currently $89,960, however this number varies greatly depending on your location and patient care setting. For nurse practitioners who choose to practice in rural and underserved communities, where demand is often highest, salaries may be lower.
The average RN salary in 2017 was $70,000, which varies by location and years of experience. Job growth for RNs is projected at 15%, making the pursuit of an advanced nursing degree, like an FNP, both beneficial in terms of salary and job prospects. You can also benefit from an increased variety of patient care settings as an FNP over an RN.
How do You Become an FNP?
There are distinct education, certification and licensure requirements for becoming an FNP. There are no national standards for practicing as an FNP, so each state determines the exact requirements for licensure and the scope of practice.
Complete an Accredited Registered Nursing Program. To get your RN license, you must complete an accredited degree program. Several options are available, including nursing diplomas, associate degrees or bachelor's degrees. However, to become an FNP, you must complete a bachelor's program.
Get your Registered Nurse (RN) License. After you complete your degree program you are eligible to take the NCLEX-RN examination. After passing this exam, you can get an RN license in your state.
Complete your BSN (If Not Already Completed). If you are an RN with a nursing diploma or an associate's degree, you will need to complete your BSN before you can get a master's degree. Depending on the master's program you select, you may be able to complete these courses in combination with your master's program.
Find a Master's Degree Program with an FNP specialty. The Master of Science in Nursing (MSN) is the most common track to pursuing a career as an FNP. Finding a program that specializes in FNP education will prepare and qualify you to take the national certification exams and will help prepare you for family practice.
Take your Board Certification Exam. You must pass the national ANCC Family Nurse Practitioner Board Certification exam to prove competency in entry-level clinical knowledge and practice.
Obtain Your State APRN License. Meet the license requirements for the state in which you intend to practice.
Pursuing Your Master of Science in Nursing to Become an FNP
For many nurses, it's impractical to attend school full-time and give up their current salary, as well as their ongoing practical experience as a licensed nurse.
There are an increasing number of flexible degree programs to help RNs advance their careers. The Franklin University MSN-FNP, an accelerated program that includes online coursework, is an ideal option for nurses who are balancing their current career with their future as a nurse practitioner. Using Shadowhealth and iHuman, state-of-the-art simulation software, students are exposed to assessment, diagnoses, planning and management prior to on-site clinical experiences. This course is specifically designed for in-career professionals and can be completed in as few as 27 months.
As an MSN-FNP student you can expect to take coursework that covers patient assessment and management, diagnostic and prescriptive duties, as well as patient care and advocacy. You will learn the ins-and-outs of comprehensive care, preparing you to care for patients of all ages with a full range of medical problems.
Ready to Pursue a Career as an FNP?
Advancing your career as an FNP will give you the opportunity to gain more autonomy and responsibility, while increasing salary and job prospects. You will also maintain the close relationships that come with providing outstanding care to patients on a one-on-one basis.
To start your journey to become an FNP, research master's degree programs that will prepare you both for certification and family practice. Explore Franklin University's MSN-FNP admission requirements and program specifics to see how we can help you further your career!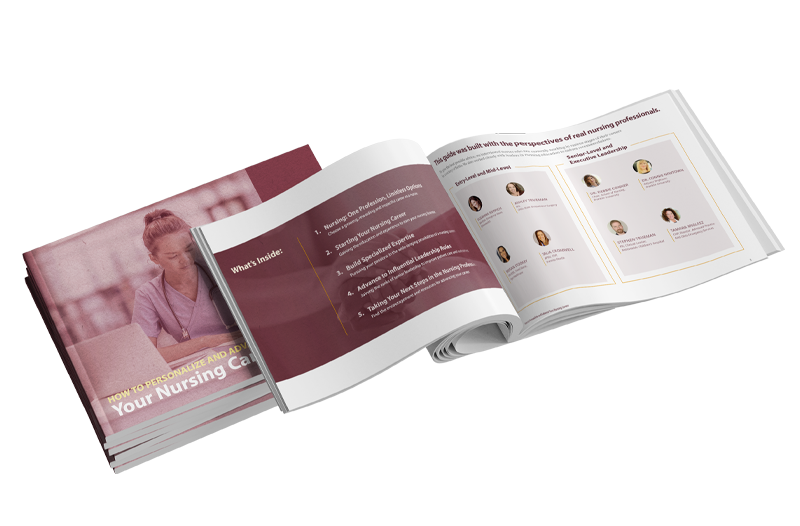 Download Now
How to Personalize and Advance Your Nursing Career
Find out how to take your nursing career further with advice from real nursing professionals.