We're Sorry
There was an unexpected error with the form (your web browser was unable to retrieve some required data from our servers). This kind of error may occur if you have temporarily lost your internet connection. If you're able to verify that your internet connection is stable and the error persists, the Franklin University Help Desk is available to assist you at helpdesk@franklin.edu, 614.947.6682 (local), or 1.866.435.7006 (toll free).
Just a moment while we process your submission.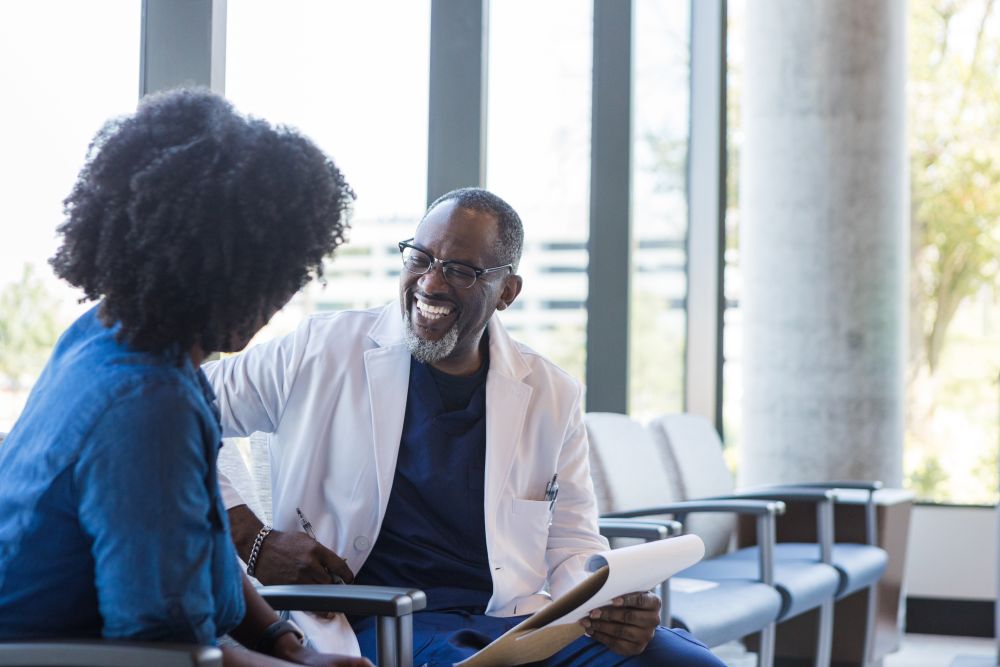 MSN to FNP: The Path to a Career as a Family Nurse Practitioner
The demand for Advanced Practice Registered Nurses (APRNs) is accelerating rapidly. The Bureau of Labor Statistics (BLS) expects the need for APRNs to increase by 45% between 2020 and 2030, which is much faster than average. 
APRNs perform many of the same services as physicians. A continuing physician shortage, combined with expected retirement rates, is expected to drive the need for APRNs. Family Nurse Practitioners, or FNPs, in particular will be increasingly used in team-based models of care, particularly in hospitals, offices of physicians, clinics and other ambulatory care settings, where they will be needed to provide preventive and primary care. 
According to Lightcast™, 1,543 people completed their MSN degree in 2020. The Bureau of Labor Statistics projects about 29,400 openings for APRNs on average each year over the decade. This will provide ample opportunities for new graduates to start their career as an FNP.
How do you transition from MSN graduate to practicing FNP? Let's break down the differences in these credentials and the process for transitioning to a career as an FNP.
Is MSN the Same as FNP? 

Some may think earning an MSN automatically makes a nurse an FNP, but in reality, it doesn't. While these credentials can be interrelated, they serve different purposes.
An MSN is a Master of Science in Nursing, which is awarded by a higher education institution for the successful completion of advanced nursing coursework. An MSN can be a generalist degree or focus in multiple different pathways, including family practice.
An FNP, or Family Nurse Practitioner, is an Advanced Practice Registered Nurse who specializes in family medicine and provides patient care at all life stages. FNPs fill the role of primary care provider in areas such as private practice, urgent care, outpatient care and community health.
An MSN can be a crucial step to becoming an FNP, but there are additional requirements for bridging the gap between earning your master's degree and a career as an FNP.
How Nurses with Advanced Degrees Can Transition into the FNP Speciality
If you already earned your MSN, Ph.D. in Nursing, or Doctor of Nursing Practice (DNP), you can change career paths to pursue family care by earning a post-graduate FNP certificate. 
An FNP certificate is a graduate-level program of study intended to prepare, upgrade, or retrain nurses and provide the knowledge and clinical skills necessary to provide family-focused care to individuals across their lifespans.
Let's tackle some of the common questions nurses have about transitioning into the FNP career path through a certificate program.
What can I expect from an FNP Certificate program? An FNP Certificate program should combine coursework, patient care simulations, clinical experiences and real-world internships to provide the hands-on education you need to prove mastery in primary care.
How long does it take to earn an FNP Certificate? An FNP Certificate can typically be earned in 24 months. However, if you qualify for transfer credit, which typically includes courses from accredited master's degree programs in areas such as advanced pathophysiology, advanced pharmacology and advanced physical assessment, you may be able to earn your certificate sooner. Just be aware that credits typically need to have been earned in the past 3-5 years to qualify for transfer credit.
Why do I need an FNP Certificate? By completing a specialized certificate in family practice, you will be ​​eligible for the Family Nurse Practitioner certification examinations offered by the American Nurses Credentialing Center (ANCC) or the American Association of Nurse Practitioners (AANP). These certifications are mandatory in many states to earn an APRN license and practice as an FNP.
How much will it cost to earn an FNP Certificate? Cost varies by university and the number of transfer credits you receive. Look for a program with competitive tuition rates to ensure an FNP Certificate is a professional investment you can feel confident about. For example, Franklin University's FNP Certificate offers tuition rates and fees that are lower than many other programs.
Earn the Proper Credentials to Practice as an FNP
After earning an advanced degree or a post-graduate certificate in family practice nursing, you must also earn FNP certification and an APRN license in order to practice as an FNP. 
Let's look at what's required to complete both of these steps to becoming an FNP.
Earn Your FNP Certification
FNP certification is typically the first step toward licensure, as it is required by most states to earn an APRN license. FNP certification is earned by meeting specific education, experience and professional criteria, and passing an exam. The two most prominent nationally recognized certifying agencies are the American Academy of Nurse Practitioners (AANP) and the American Nurses Credentialing Center (ANCC). 
The ANCC's version, the FNP-BC, places more emphasis on policy and professional topics, as well as nursing theory, so some in academia choose to pursue this certification. 
The AANP's exam for the  FNP-C focuses primarily on clinical knowledge across the different developmental stages. Patient care-focused nurses routinely pursue this certification.
To qualify for certification, individuals must meet certain prerequisites. Typical prerequisites for FNP certification include:
Graduate of an accredited master's, doctoral, or post-graduate NP program
Completed required APRN core courses: advanced pharmacology, physiology and advanced health assessment
Minimum of 500 clinical hours 
Valid RN license
Once these prerequisites are met, individuals must pass an FNP certification exam. Here is what you need to know about the FNP certification exams.
Both exams are pass/fail exams with 150-175 questions. 
The exams test clinical and domain knowledge across the patient care spectrum, which includes assessment, diagnosis, planning, implementation (FNP-BC only) and evaluation. 
Examination fees range between $240–$395 depending on the exam and membership status with either organization.
Apply for Your APRN License
APRN licensure requirements are determined at the state level, so they will vary based on where you reside and decide to practice. Education requirement is a master's degree or doctoral degree in nursing, as well as passing the national FNP certification exam that is approved by the state's board of nursing. Make sure that the state's board of nursing recognizes certification exams prior to choosing which certification exam to take.
APRN license requirements vary by state, but typically include:
Application fee
Social security number
University transcripts
Proof of certification
Valid RN license 
Upon being awarded an APRN license, you will officially be ready to practice as an FNP.
How Long Does it Take to Go From MSN to FNP?

After earning an MSN-FNP or post-graduate FNPcertificate, the amount of time it takes to become a practicing FNP varies based on factors such as application timing, document review, exam and license processing, among others.
Here are guidelines that will help you set expectations and stay on top of the certification and licensure process.
FNP Certification Application: Average processing time for an initial application takes 3 to 6 weeks, assuming all requirements are met and documents are submitted in a timely manner.
FNP Certification Exam: You typically have a 120-day window to complete the exam after being approved to test.
State APRN Licensure: Expect 4-12 weeks for processing of licensure application, possibly longer in some states.
Employer Verification: Expect at least 7 days for processing when your prospective employer verifies your credentials.
Tips for expediting the application process:
Apply for certification prior to graduation: If you are an MSN or graduate certificate student, you may be able to apply up to 6 months in advance of graduation. This can help expedite the process, although final transcripts will be required before taking the exam.
Have all of your documentation in order: Ensure you have all documentation at hand or are prepared to request items, such as final transcripts, from your university. Staying on top of documentation, as well as submitting all documentation virtually, will help accelerate the process.
​​Once you have earned your FNP certification, it must be renewed every five years to continue practicing.  
Find the Right Program to Start Your Career as an FNP
Becoming an FNP starts with having the right educational foundation. Whether you are considering an MSN program or have already completed an advanced degree, there are multiple pathways to a career as an FNP.
Franklin University provides options across the spectrum to meet the needs of a wide range of students. By combining online coursework, robust simulations and built-in practicum hours, Franklin helps busy nurses reach their goals. 
Explore Franklin's MSN-FNP, FNP Certificate and DNP-FNP programs to see which is the right fit for accelerating your career as a family practice nurse.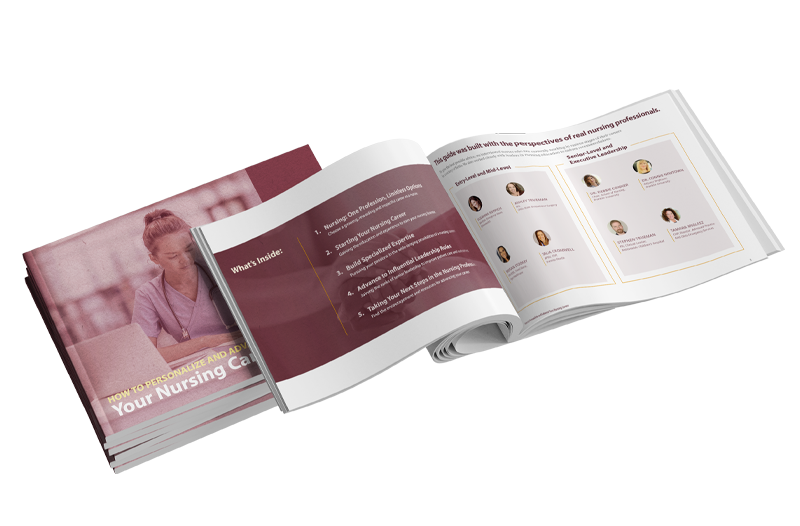 Download Now
How to Personalize and Advance Your Nursing Career
Find out how to take your nursing career further with advice from real nursing professionals.