We're Sorry
There was an unexpected error with the form (your web browser was unable to retrieve some required data from our servers). This kind of error may occur if you have temporarily lost your internet connection. If you're able to verify that your internet connection is stable and the error persists, the Franklin University Help Desk is available to assist you at helpdesk@franklin.edu, 614.947.6682 (local), or 1.866.435.7006 (toll free).
Just a moment while we process your submission.
What Can You Do With a Master's Degree in Nursing? 
Nursing leaders play a pivotal role in our healthcare system. These professionals ensure high-quality patient care and create efficiencies in a complex system. They also educate the next generation of nurses—a critical challenge facing the healthcare industry today.
According to Fortune, some experts estimate that last year marked the largest retirement of nurses ever recorded in the U.S., and forecasts predict an additional 500,000 nursing retirements by 2022, which will leave the country with a nursing shortage totaling an estimated 1.1 million.
With this widening gap comes a gap in nursing leadership. A master's degree in nursing, or MSN, is a great way to prepare for these roles. However, you may be questioning if the degree is a good option for you and your ambitions. So, what can you do with an MSN? Let's dive into the benefits of earning a master's degree in nursing and the in-demand roles for which it will prepare you.
Do You Need A Master's Degree in Nursing?
If you want to advance beyond bedside nursing roles, you will need to earn an MSN. 
"Many nurses want more options in their career choices," says Dr. Gail Baumlein, Program Chair, MSN & RN-BSN at Franklin University, "For example, they want a job that doesn't require weekend work or has a higher pay grade. If nurses want to be a director or division leader, they will find they need an advanced degree. There will be competition for those roles and the higher pay, additional responsibilities and better hours they provide." 
The demand for nurses with MSN degrees is evident both in the number of nurses completing advanced degrees and the projected increase of jobs for MSN graduates. According to leading labor market analytics firm EMSI, from 2012 to 2020, the number of nurses completing MSN degrees increased by 78.5%. EMSI also projects that jobs for MSN-qualifed nurses will increase 13.9% by 2031.

Now that you understand the demand for nurses with a master's degree, let's look at the type of roles you qualify for with an MSN degree.
 
Choose Your Path: High-Paying Careers for MSN Graduates
An MSN provides career flexibility and opens doors to new opportunities. There are three common paths for nurses who choose to earn their MSN—advanced practice roles, administrative and leadership positions and specialized roles. Let's dive into some of the highest-paying roles in each of these career paths.
Advanced Practice Nursing Roles
An advanced practice nurse is a nurse with post-graduate education and training in nursing. Advanced practice nurses are often primary care providers who are on the front lines of providing preventive care to the public. Nurses who work at this level will choose to practice in either a specialist or generalist role. 
Family Nurse Practitioner (FNP)
FNPs provide primary care services and treatment to the entire spectrum of patient populations. FNPs provide multifaceted healthcare services, including treating illness and injuries, as well as teaching people about healthy lifestyles and disease prevention.
Median Advertised Salary: $100.2K
Adult-Gerontology Nurse Practitioner (AGNP)
AGNPs specialize in the care of adults and geriatric populations. These nurse practitioners focus on preventing illness and injury, assisting in the healing process, easing the effects of chronic disease, and acting as advocates for the health of older adults. Commonly, AGNPs work in either an acute care setting, which is a short-term-care facility such as a hospital, or a primary care setting, such as a doctor's office or long-term care facility.
Median Advertised Salary: $114.9K
Psychiatric Mental Health Nurse Practitioner (PMHNP)
A PMHNP provides mental healthcare services to individuals and families with psychiatric disorders, drug addiction and other innate brain disorders. This specialized role involves diagnosing mental health conditions, developing treatment plans and prescribing medications for patients having psychiatric-mental health problems. 
Median Advertised Salary: $143.1K
Administrative and Leadership Roles
Another career path for nurses with an MSN degree is to pursue an administrative or leadership role. These nurses focus on providing strategic leadership, team management and process efficiency in an effort to improve patient care and outcomes.
Clinical Nurse Leader
Clinical nurse leaders are responsible for developing, managing and evaluating client care by coordinating, delegating and supervising the care provided by a healthcare team at the clinical level. They are responsible for promoting evidence-based practice to ensure that patients receive the best care and the nursing department makes full use of the latest advancements in care delivery.
Median Advertised Salary: $87.3K
Patient Care Director
A patient care director manages health services or facilities. They are responsible for providing top-level supervision and leadership for programs devoted to the welfare of patients. Both administrative and nursing skills are necessary to ensure services are high quality, efficient and within established budgets.
Median Advertised Salary: $112.4K
Chief Nursing Officer
A chief nursing officer is responsible for advising senior management on best nursing practices, as well as representing nurses at board meetings. They are also responsible for high-level management of nursing staff, including creating employee retention programs, establishing compensation levels and managing nursing budgets.
Median Advertised Salary: $129.8K
Specialized Nursing Roles
An MSN also offers options for nurses to move into specialized roles outside of clinical nursing, including jobs in technology and education.
Nurse Informatics Specialist
Nurse informaticists analyze data to help improve patient care practices and help healthcare facilities administer new technology. These professionals advocate for patients in a completely different way—using data to improve outcomes and safety in an entire unit, facility or healthcare system.
Median Advertised Salary: $84.2K
Nurse Educator
Nurse educators teach and guide current and future nurses in both educational and clinical settings. These professionals design educational programs and provide training to aspiring nurses or licensed staff. They also regularly evaluate research to improve clinical practice within their institutions.
Median Advertised Salary: $91.5K
5 Benefits of Earning a Master's Degree in Nursing
An MSN opens the door to new career opportunities in the short and long term. Some of the top benefits of earning your MSN degree include:
Achieving a nursing specialization. Unlike the BSN curriculum, which is standardized, there are many different paths you can take within an MSN program. You can choose the area of care you're most passionate about or advance your skills in non-clinical areas like administration or technology. 
Qualifying for positions with more predictable schedules. As a bedside nurse, you likely work 12-hour shifts, weekends and holidays. An MSN can help you advance to management roles, which typically come with better work schedules.
Employing the principles of evidence-based practice to improve patient care. Evidence-based practice is a diligent, problem-solving approach to clinical nursing practice. It incorporates the best available evidence from well-designed studies, patient values and preferences—combined with a clinician's expertise—to make informed decisions about patient care.
Increasing salary expectations without changing roles. If you're passionate about providing bedside care, a master's degree can still positively influence your salary expectations. According to EMSI, the median advertised salary for an RN with a bachelor's degree is $81.8K compared with $93.4K for an RN with a master's degree.
Pursuing personal development and gaining lifelong learning skills. The healthcare industry and clinical practice are always changing. Earning an MSN degree can help promote greater curiosity and help you continuously gain new skills to stay at the forefront of nursing. 
Accelerate Your Career Growth With An MSN Program Designed For Working Nurses
As a busy working nurse, you need an MSN program that will make it easier for you to balance professional, personal and education priorities.
Franklin University offers accredited online MSN programs that allow you to further your career and choose the specialization that aligns with your goals. Choose from specializations in family practice, administration, gerontology, mental health or a generalist track that can prepare you for a wide range of career opportunities. Franklin also offers an RN to MSN program that can help you fast-track your MSN, even if you don't hold a BSN degree.
Explore your options and see which MSN program is right for you.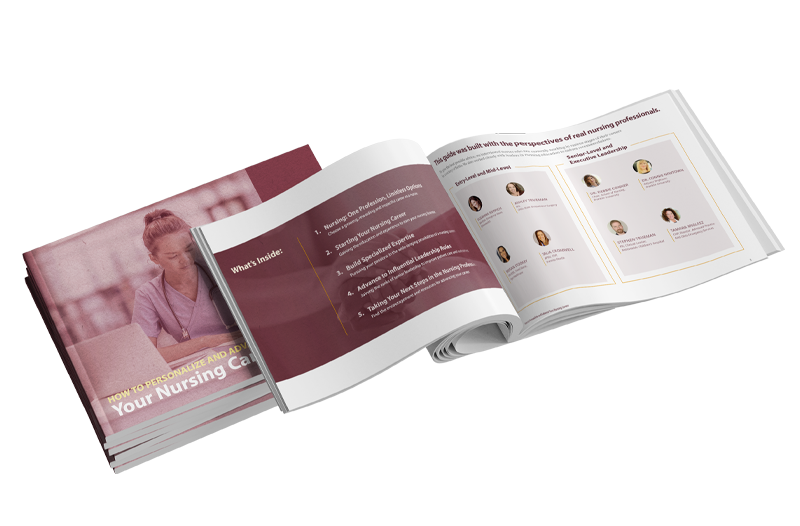 Download Now
How to Personalize and Advance Your Nursing Career
Find out how to take your nursing career further with advice from real nursing professionals.