We're Sorry
There was an unexpected error with the form (your web browser was unable to retrieve some required data from our servers). This kind of error may occur if you have temporarily lost your internet connection. If you're able to verify that your internet connection is stable and the error persists, the Franklin University Help Desk is available to assist you at helpdesk@franklin.edu, 614.947.6682 (local), or 1.866.435.7006 (toll free).
Just a moment while we process your submission.
Master's in Nursing Options: Paving Your Path to Advanced Nursing Roles
The healthcare industry is becoming increasingly complex and expensive. It's also experiencing distinct disruption from rapidly advancing technology and changing regulations. Many believe that making nurses full partners and leaders in the industry is key to revolutionizing healthcare in the United States.  
According to leading labor market analytics firm EMSI, jobs for nurses who hold a master's degree in nursing are projected to grow by 13.9% by 2031. Advanced practice nursing roles, such as nurse practitioners or nurse anesthetists, are projected to see an even greater increase in demand—with jobs growing by 45% by 2030 (Bureau of Labor Statistics). 
Whether you want to continue providing direct patient care or move into administrative roles, today's nurses need master's degrees to rise through the ranks and become leaders in all facets of healthcare. 
6 Popular Master's Degree Options for Nurses

An advanced nursing degree opens the door to new job opportunities, increased responsibilities and higher salaries. A master's degree in nursing also offers the opportunity to specialize in the area of healthcare about which you're most passionate. 
Within the field of nursing, there are many different specializations in terms of patient populations and care settings. Let's look at the different Master of Science in Nursing (MSN) degree options and the career paths with which they align. 
 
1. The Flexible Pathway: Master of Science in Nursing (MSN-Generalist)
The foundational Master of Science in Nursing degree is a generalist program that opens the door to a wide variety of career paths. 
You can expect to take courses spanning advanced patient care, health policy and the role of research in evidence-based practice. The MSN-Generalist degree can also be tailored based on your chosen electives. You can choose from in-demand areas like healthcare analytics, healthcare laws and ethics, learning management systems and more.
    
The MSN-Generalist path may be right for you if you want to:
Elevate your patient care skills using principles of evidence-based healthcare.
Get your MSN in order to pursue a doctoral degree in nursing.
Be qualified to assume an advanced leadership role in a wide variety of care settings.
Become a nurse educator—now or later in your career.
Franklin University's MSN-Generalist degree can be completed in as few as 18 months.
2. The Primary Care Pathway: Family Nurse Practitioner (MSN-FNP)
In an MSN-FNP program you'll gain the expertise and clinical skills necessary to assess and manage common acute and chronic illnesses, promote healthy habits and help prevent diseases for individuals throughout their lives.
According to the American Association of Colleges of Nursing, the number of new nurse practitioners graduating will likely exceed the number of new physicians completing training. This opens the door for nurses to gain more autonomy and assume the role of primary care provider for individuals and families.
The MSN-FNP path may be right for you if you want to:
Work in a primary care office with more consistent work hours.
Develop strong, lasting relationships with patients.
Synthesize research and apply concepts through evidence-based patient care.
Franklin University's MSN-FNP degree can be completed in 27 months.
3. The Geriatric Care Pathway: Adult-Gerontology Primary Care Nurse Practitioner (AGPCNP)
According to the Bureau of Labor Statistics, one of the primary drivers of growth for nursing is the increasing size of our elderly population, who typically have more medical problems than younger people. 
In an AGPCNP program, you'll learn and practice a variety of specialized skills to enhance the lives and care of the aging population. From suturing, biopsy and diagnostics, to differential diagnosis, objective assessments and evidence-based interventions, you'll be prepared to work in a variety of care settings dedicated to elderly care.
The AGPCNP path may be right for you if you want to:
Meet the needs of the growing and diverse aging population.
Work in long-term and preventive care, hospitals, private clinics or community health centers that serve older adults.
Gain specialized skills, including caring for adults with multiple comorbidities. 
Franklin University's MSN-AGPCNP degree can be completed in as few as 28 months.
4. The Leadership Pathway: Nurse Administrator (MSN-ADM)
As healthcare delivery continues to grow more complex, nurses assuming leadership roles will be critical for navigating the challenges ahead. 
In an MSN-ADM program, you'll gain the critical thinking and problem solving skills needed to provide strategic planning and oversight, as well as expertise in healthcare delivery, change management and interdisciplinary collaboration. 
The MSN-ADM path may be right for you if you want to:
Take a step away from the bedside and direct patient care to focus on organizational leadership.
Lead quality improvement initiatives, champion strategic change and manage teams.
Create a clinical environment that supports advanced training and education for fellow nurses.
Franklin University's MSN-ADM degree can be completed in as few as 28 months.
5. The Mental Health Pathway: Psychiatric Mental Health Nurse Practitioner (MSN-PMHNP)
An MSN-PMHNP degree gives you the knowledge and skills to make behavioral and mental healthcare more accessible to individuals of any age. In this specialty program, you'll gain a crucial understanding of cognitive processes, behaviors, and how life events affect the mental health of your patients. 
The MSN-PMHNP path may be right for you if you want to:
Treat rising cases of anxiety, depression and substance abuse.
Use the latest research in cognitive sciences to improve patients' mental health.
Provide a holistic approach to diagnose acute, episodic and chronic mental health illnesses. 
Franklin University's MSN-PMHNP degree can be completed in as few as 28 months.
6. The Infant Care Pathway: Pediatric Nurse Practitioner (MSN-PNP)
An MSN-PNP program will teach you the specialized skills necessary to care for infant and youth populations. You will gain experience in diagnosing, treating, and managing illness for acutely ill and chronically ill children, as well as conducting wellness exams for healthy pediatric patients.
The MSN-PNP path may be right for you if you want to:
Focus on wellness care and disease prevention in younger populations.
Play a pivotal role in the growth and development of the next generation.
Work in pediatric offices, hospitals, specialty clinics, school-based health centers and urgent or convenient care clinics.
 An MSN-PNP can often be completed in as few as 28 months.
Ways to Make Earning Your MSN Degree More Accessible
Nursing is a demanding career with long days and varied work schedules. It can be difficult to imagine taking on the additional responsibility of earning a master's degree. However, the time and dedication required to earn a degree can pay dividends far into your future. 
As a nurse, busy schedules, varied work hours and personal commitments may make it feel impractical to get your master's degree. However, a master's degree may be more attainable than you think.
Here are four key ways to make getting your MSN degree more accessible.
Choose an online MSN program. Online degrees are typically the most popular route for practicing nurses to earn their MSN. According to EMSI, online MSN degree completions have increased 192.3% since 2012. Whether nurses work day or night shifts, an online degree offers around-the-clock options that can work into their busy schedules.
Explore RN to MSN programs. If you haven't earned your Bachelor of Science in Nursing (BSN) degree but have your RN license, an RN to MSN program provides a streamlined path to an advanced degree. Franklin University's RN to MSN program provides a direct route that will save you time and money. By successfully completing a 12-week online bridge course, you enter the MSN program directly and can graduate in 16-30 months with your MSN. 
Ask your employer about tuition reimbursement. Many employers understand that advancing the education of their nursing staff will not only benefit the individual, but the organization as a whole. As such, employers often provide nurses with a tuition stipend to help them earn an MSN degree. If you're considering an MSN, ask your employer about their reimbursement policies. If your employer offers tuition assistance and you want to avoid out-of-pocket costs, you can pace out your coursework to match your employer's funding schedule.
Build a strong support system. One of the most valuable resources you can have at your disposal is a network of personal and professional support. Ask advanced practice nurses in your workplace for advice—they've been successful and can help you do the same. On a personal level, lean on your family and friends for support in balancing current responsibilities and education priorities.
How to Choose the Best MSN Option For You
There are many MSN paths to choose from, and the right choice is always a personal one. Here are ways to navigate the decision-making process of choosing an MSN program and specialty.
Document your motivations and priorities. Are you looking for higher pay, better hours, more advancement opportunities or the ability to work with a different patient population? Maybe you want all of those and more. Make a prioritized list of what you hope to gain from getting your MSN degree to help you choose the specialty and program that is right for you.
Connect with nurses in the specializations you're considering. Gain firsthand insight from a nurse whose role you aspire to fill in the future. Work with them to go beyond the job description to understand the true day-to-day responsibilities and challenges of their specialty. These learnings are crucial in selecting a specialty you will find rewarding.
Keep your long-term career goals in mind. Maybe you are content in your current role, but imagine yourself becoming a nurse educator further down the road. Or, maybe you have a 10-year plan to become the CEO of a hospital. Whatever your goals, making an informed choice about which MSN program to pursue goes far beyond the immediate benefits of earning the degree.
Advance Your Nursing Career with an MSN Degree
An MSN offers a great opportunity to accelerate your growth, take on new leadership positions, and deliver better patient care. To be successful, you need to find a university that will provide the unique support you need as a working nurse.
Franklin University provides accredited MSN programs that offer online coursework to help you balance education, professional and personal priorities. Choose from five different specializations and multiple pathways for earning your degree. Franklin's MSN programs also offer transfer credit and incorporate built-in clinical practice hours to make it possible to finish your degree faster. 
See all of the options Franklin offers by exploring the full list of MSN programs.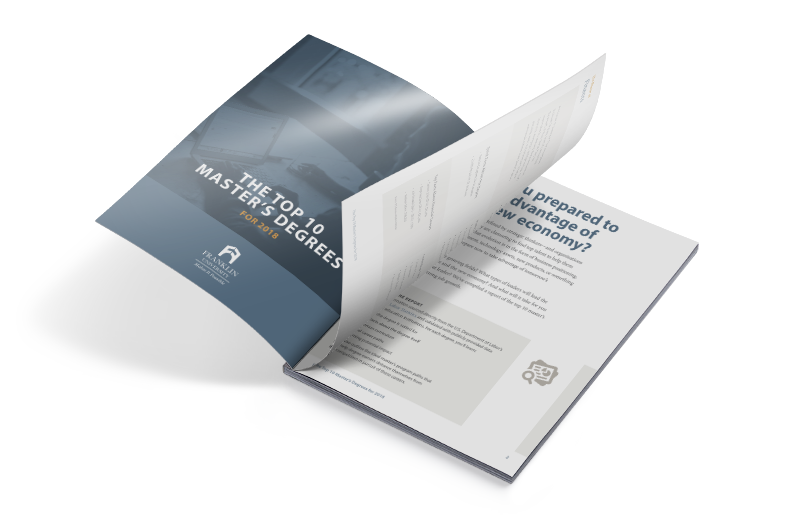 Download Now
Discover 10 of the most in-demand master's degrees based on salary and job growth.