We're Sorry
There was an unexpected error with the form (your web browser was unable to retrieve some required data from our servers). This kind of error may occur if you have temporarily lost your internet connection. If you're able to verify that your internet connection is stable and the error persists, the Franklin University Help Desk is available to assist you at helpdesk@franklin.edu, 614.947.6682 (local), or 1.866.435.7006 (toll free).
Just a moment while we process your submission.
MSN vs. DNP: Which Nursing Leadership Degree Is Right For You?
As the healthcare industry evolves, nurses are playing an increasingly important role in advancing the quality and safety of patient care. Organizations depend on qualified nurse leaders to help drive organizational change. 
The demand for nurse leaders is evident in both the number of advanced degrees completed and the strong job outlook for graduates. According to EMSI, the number of completions for a master's degree in nursing increased by 78.5% from 2012 to 2020, while the number of doctoral degrees completed increased by 283%. EMSI also projects jobs for master's in nursing degree holders to grow by 13.9% and jobs for doctoral holders to increase by 10.6%, both outpacing average projected job growth

If you're a registered nurse looking to take advantage of this momentum, a master's degree or a doctoral degree in nursing can help you take the next step in your career. However, how do you know which degree is right for you? 
The answer depends on your career goals. This guide will compare the most important facets of both degrees to help you make your decision. 
MSN vs. DNP: What's the Difference?
Both a master's and a doctoral degree in nursing can prepare you for advanced practice nursing roles and help you advance into administrative and leadership roles. However, each degree provides distinct qualifications. 
An MSN is a Master of Science in Nursing degree. MSN programs prepare you for advanced practice roles, administrative and leadership positions and specialized roles. 
A DNP, or Doctor of Nursing Practice, is considered a terminal degree in nursing. Depending on the track you choose, a DNP program can prepare you to advance patient care in a primary care setting. Some DNP programs are designed to uniquely equip nurses for leadership positions so they can take a systems-level approach to care. 

MSN vs. DNP: How Does Coursework Compare?
Now that you understand the basic differences, let's compare the coursework for each degree. While an MSN and a DNP both help nurses develop the skills to work autonomously in clinical and non-clinical settings, each program is structured differently. 
MSN Degree Pathways
MSN coursework covers advanced nursing theory, practice and research, administration best practices, education and informatics. 
If you're passionate about working in a clinical setting, a master's degree meets the minimum requirement for becoming an advanced practice nurse (APRN) or nurse practitioner (NP), opening the door to work in a variety of patient populations and care settings. 
Depending on the university you choose, MSN programs also offer opportunities to pursue specialized tracks. Franklin University offers tracks in family practice, administration, gerontology, mental health and a generalist track. 
DNP Degree Pathways
Compared to the MSN, the DNP curriculum has a stronger focus on applying evidence-based practice to improve the quality and safety of patient care. Most DNP programs require practicum hours to provide hands-on learning experience.
Like the MSN, many DNP programs offer different tracks, typically focusing on advanced patient care roles or organizational leadership roles. Franklin offers tracks in family practice and leadership. 
MSN vs. DNP: How Long Does It Take To Earn The Degree?
Advanced nursing degrees represent the highest level of nursing education. As a result, MSN and DNP programs are demanding and require a significant time investment.
The timeline and cost of completing a degree depends on the program you choose and your schedule. In general, an MSN degree can take anywhere from 1 to 3 years, while earning a DNP can take from 1 to 4 years. The cost varies by school, but the DNP is typically longer and costs more than an MSN.
However, choosing a program designed for busy working professionals can help you finish your degree faster and save money. 
For example, Franklin University's flexible online MSN programs offer built-in clinical practice hours to help you complete your degree in as few as 16 to 28 months, depending on which track you choose.
Similarly, Franklin's DNP program incorporates practicum hours that you earn as you complete coursework, enabling you to complete a DNP in as few as 1 to 3 years.
MSN vs. DNP: How Do The Admission Requirements Compare?
To qualify for an MSN program, you must be a registered nurse (RN) and have completed a BSN degree.  If you have not completed a BSN degree, some programs offer accelerated paths. Franklin University's RN to MSN program offers a streamlined way for RNs who hold a nursing diploma or Associate Degree in Nursing to earn their MSN degree without having a BSN.
To enroll in a DNP program, you must have completed a BSN or MSN degree. If you don't have a BSN degree, you can't take a direct path from RN to DNP. However, unlike many other advanced degrees, Franklin's BSN to DNP program allows those holding a BSN to advance directly to a DNP without completing a master's degree. If you have an RN, but neither a BSN or MSN, you can pursue an RN to MSN program, then complete a DNP.
MSN vs. DNP: Which Career Path Pays More?
Nurses with an advanced degree can expect to earn more responsibility and higher pay. 
While an MSN and a DNP can prepare nurses for some of the same advanced practice roles, more education typically results in a higher earning potential. According to EMSI, the median advertised salary for an RN with an MSN is $95.5K, compared to $117K for an RN with a DNP.

However, your salary can vary widely depending on which career path you choose. Let's look at top careers and average salaries for each degree.
Top-Paying Careers for MSN Graduates
The most common paths for nurses who earn their MSN degree are advanced practice roles, administrative and leadership positions and specialized roles. 
Psychiatric Mental Health Nurse Practitioners (PMHNP) | Average Salary (Payscale.com): $112,217
PMHNP is an advanced practice role that assesses, diagnoses and treats unique mental health needs including psychiatric or innate brain disorders. 
Family Nurse Practitioner (FNP) | Average Salary (Payscale.com): $97,554 
FNP is an advanced practice role that provides primary care services and treatment to a wide variety of patient populations.
Nurse Manager | Averages Salary (Payscale.com): $88,140
An MSN can help you advance to leadership and management roles. As a high-level administrator in an organization, nurse managers lead facilities and programs devoted to improving patient care.
Clinical Nurse Leader | Average Salary (Salary.com): $93,123
Clinical nurse leaders are responsible for developing, managing and evaluating client care at the clinical level. This role requires leadership and administrative skills to effectively implement evidence-based practice across an organization. 
Top-Paying Careers for DNP Graduates
In addition to preparing you for advanced practice roles, a DNP can also uniquely qualify you for leadership positions at the highest levels in healthcare. Depending on whether you choose a clinical or leadership concentration, a DNP is ideal for the following careers.
Certified Registered Nurse Anesthetists | Average Salary (Payscale.com): $163,016
If you're passionate about providing direct patient care and want to become a nurse anesthetist, you may soon be required to earn a DNP. A nurse anesthetist administers anesthesia and ensures patient wellness throughout all phases of surgery.
Hospital CEO | Average Salary (Payscale.com): $154,287
A DNP can help nurses advance to executive positions. In addition to overseeing day-to-day operations, hospital CEOs are responsible for driving the business strategy and overall vision of an organization.
Chief Nursing Officer | Average Salary (Payscale.com): $135,463
A chief nursing officer is responsible for managing the staff and operations of a healthcare  facility. Nurses who choose this career will have the opportunity to advance out of a clinical setting and drive change across an organization. 
Nurse Practitioner | Average Salary (Salary.com) $114,308
A nurse practitioner typically works in a primary care setting and helps administer all aspects of patient care, including diagnosis and treatment. While you'll also need to earn a Nurse Practitioner (NP) certification, a DNP satisfies the academic requirements and provides excellent preparation for a career as an NP.
MSN vs. DNP: Choosing the Right Degree For Your Career Goals
Both the MSN and DNP degrees have many applications. Knowing which degree is right for you depends on your career aspirations. 
Once you've chosen which degree path to pursue, choosing the right program can make it faster, easier, and more cost effective to complete your degree. 
Franklin University's online MSN programs are designed to meet the needs of busy working professionals. Franklin's programs offer the opportunity to choose specialized concentrations, including family practice, administration, gerontology, mental health or a generalist track that can prepare you for a wide range of career opportunities. 
Franklin University also offers two online DNP programs tailored to help busy nursing professionals advance their careers. The DNP - Family Nurse Practitioner Track prepares you to improve patient care through evidence-based practice that promotes innovation, safety and quality. The DNP - Leadership Track can help you rise to high-level leadership positions in a variety of settings, including roles in administration, informatics and policy. 
Explore how Franklin's degree options will help you advance your career.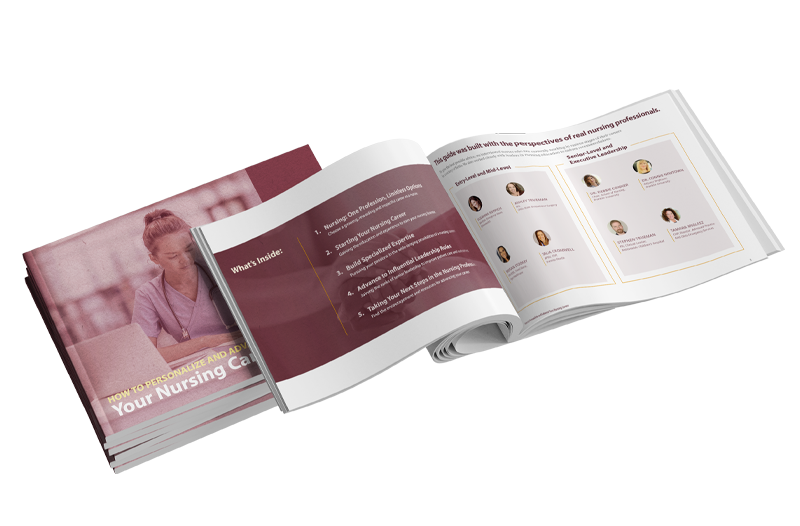 Download Now
How to Personalize and Advance Your Nursing Career
Find out how to take your nursing career further with advice from real nursing professionals.